This morning the 8th grade classes met for an assembly to hear a Freedom Fest presentation and to pass out awards.
Gregg Lanzen, one of the community members who runs America's Freedom Fest, was on hand to talk about this summer's Freedom Fest. The event will be held at the Goshen Municipal Airport on Saturday, July 1st. There will be a 5K walk/run, an airshow, and fireworks in the evening. Mr. Lanzen had previously offered the opportunity to all GMS 8th graders to enter an essay contest in connection with the Freedom Fest, for the chance to win 1 of 5 $500 scholarships for the GMS Washington D.C. trip.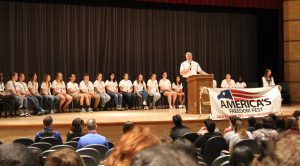 This year, there were 52 entries in the essay contest. Of those, 20 finalists were chosen, and each of them received a $10 ticket to get into the Freedom Fest this summer. The 20 finalists were: Adeline Agee, Pamela Alvarado, Ava Chupp, Josee Davidson, Alyssa Fry, Megan Gallagher, Prisma Gallegos, Misleny Guzman Moreno, Christopher Hall, Christina Herrmann, Ashely Howard, Jacqueline Jones, Noah Ortiz, Jurniee Peeler, Andrea Sandoval, Isaac Sensenig, Alex Valtierra, Noemi Vela, Mallory Wood, and Mason Yoder.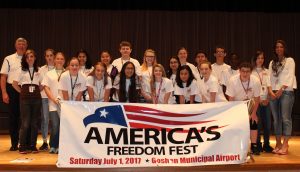 The scholarship winners (and because of very close scores this year, there were six winners instead of five) included: Christina Herrmann, Christopher Hall, Prisma Gallegos, Alyssa Fry,  Noah Ortiz, and Mallory Wood. Each scholarship winner will receive a $500 scholarship toward the cost of the GMS Washington D.C. trip which will take place next week.
While on the D.C. trip, four students will have the opportunity to lay the wreath on the tomb of the unknown soldier; they are: Alayna McLaughlin, Brenton Pham, McKenna Cripe, and Rilee Sloan.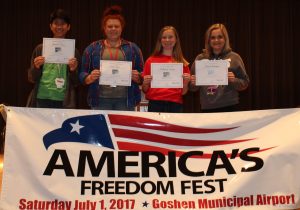 The last group of students to be recognized were the students who have achieved academic excellence for their entire GMS career. Their individual pictures will be displayed on the Academic Excellence Wall at GMS until they graduate from GHS. They include: Isaac Daniels, Kathryn Detweiler, Joya Drenth, Collin Ford, Megan Gallagher, Jarleth Gonsalves, Christina Herrmann, Lucy Kramer, Samantha Markham, Daniel Mora, Jurniee Peeler, Brenton Pham, Alexia Potter, Emily Read, Janette Rodriguez, Andrea Sandoval, Joshua Schrock, Matthew Snyder, Melissa Trejo, Anastasia Tsybulnik, Mallory Wood, Tiffany Woodka, Juliana Yoder, and Meiling Yordy.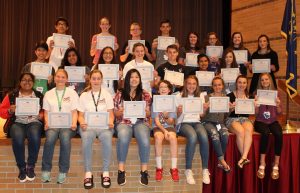 Congratulations to all of the GMS students honored this morning!