Several GMS 8th graders were recently in a table group, discussing the untimely death of their teacher Nate Long's mother. Mr. Long, a GMS science teacher and swim coach, lost his mom Wendy to her battle with scleroderma.
According to the Mayo website: Scleroderma (skleer-oh-DUR-muh) is a group of rare diseases that involve the hardening and tightening of the skin and connective tissues — the fibers that provide the framework and support for your body. In some people, scleroderma affects only the skin. But in many people, scleroderma also harms structures beyond the skin — such as blood vessels, internal organs and the digestive tract. Signs and symptoms vary, depending on which structures are affected. Scleroderma affects women more often than men and most commonly occurs between the ages of 30 and 50. While there is no cure for scleroderma, a variety of treatments can ease symptoms and improve quality of life.
The students wanted to do something more than just give their teacher sympathy cards, so they organized a fund drive to make a donation in his mother's name. Following three days of creative fundraising among their fellow students and GMS staff members, the students presented a check to Mr. Long for $824.25. The check will go to the University of Michigan Scleroderma Progam in Wendy's name, to support further research.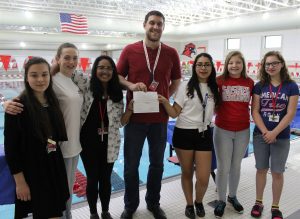 A huge thank you to the many caring students and staff members at Goshen Middle School, and heartfelt sympathies to Mr. Long.