Triple P (Positive Parenting Program) and GCS
Parenting is the most rewarding job many of us will ever have. It can also be the most challenging. Recognizing parents need support to know how to handle both everyday behaviors like tantrums, disobedience and bedtime struggles, as well as more intensive parenting concerns, Goshen Community Schools teamed up with Triple P – Positive Parenting Program – to make parenting support readily available in this community.
While Triple P is relatively new to Elkhart County, this program has been helping parents across the globe for more than 30 years. School counselors and parent liaisons at the majority of GCS schools are now able to provide individual support to parents, as well as host seminars that give parents invaluable strategies to both prevent problem behaviors with their children, as well as learn positive and effective ways to manage challenges when they do occur.
Starting this fall, parents can attend free 90-minute seminars for parents of young children or teens across the school district or call their child's school for individual support.
To see a calendar of upcoming seminars and workshops across the county, visit www.TriplePElkhartCounty.org or call Triple P's bilingual phone line at 574-226-0160 with any questions.
Below are photos from a recent Chandler Triple P seminar: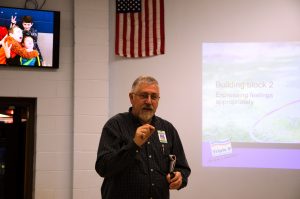 Leon Bauman, School Counselor
Alison Romero, EL Parent Liaison