"The Nature of Life is to Grow" (12) GMS Opportunities
In this edition of "The Nature of Life is to Grow", we checked in at Goshen Middle School again to observe more of the opportunities that are available to students.
The first stop was at one of the GMS modular classrooms. In one of the units, students can participate in a couple of alternative classroom options; APEX and Read180 which both use online learning, and Changing Gears, a new program this year.
Derek Gilreath is the teacher in charge of the APEX and Read180 classes, and he provides support for the students as they work on the online curriculum. Mr. Gilreath explained that none of the students are in the modular classroom all day, "some are here for maybe half of the day, and some are in and out throughout the day while also attending regular classes. Or, some students come here to our program, and then go to GOA (Goshen Online Academy) during the second half of the day….We try to be very flexible with students so that we can meet their individual needs and provide the educational settings that work best for them." Mr. Gilreath stated that he works with approximately 32 students who come and go throughout the day.
Mr. Gilreath also explained that the alternative school is not just utilized by students who, for whatever reason, do not spend the full school day in a standard classroom setting. Some students choose to add an APEX class period to their schedule in order to earn high school credit while they are still in middle school. For example, GMS students may take elective high school classes such as Health, World History, Music Appreciation, and Earth & Space Science for high school credit.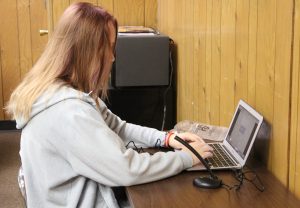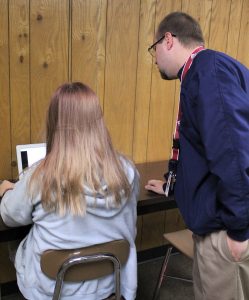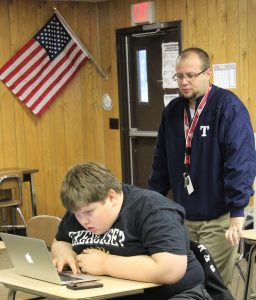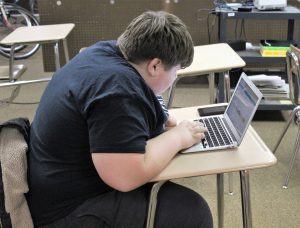 The other half of the modular hosts a new program for GMS called "Changing Gears". As you can easily tell when you walk into the space, the program involves working with and fixing bicycles. Kyle Weldy is the teacher in charge of Changing Gears, and he spent his summer learning bicycle maintenance from local pros so that he would be ready to go at the start of the school year.
The program is a good one for students as it teaches them a useful skill, builds confidence in their own abilities, and is based on a STEM (science, technology, engineering, and math) class with practical and relevant ties between academics and bicycle building. Mr. Weldy stated that the students also keep a journal on the things that they have learned and the work they are doing, which will help them practice their writing skills as well as keep a log of all the bicycle repair skills they acquire.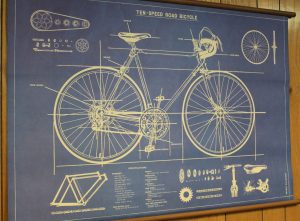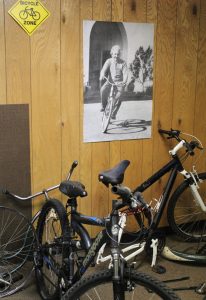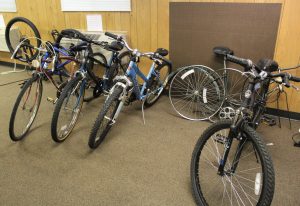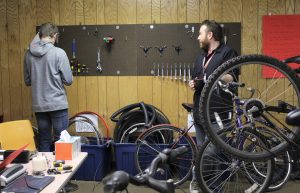 Both Mr. Gilreath and Mr. Weldy stated that there is a possibility that their two programs will be separated into the two different modular classrooms at GMS, as the other unit is not used as extensively as the one they occupy. They said that while the two programs can co-exist, they are fairly different and one certainly requires a quieter setting than the other.
Mr. Weldy stated that if the two programs were separated, he would like to see an expansion of programming for Changing Gears. "It would be nice to enhance the students' STEM skills by having a small showroom area that could house the repaired/recycled bikes which the program could sell. In so doing, the students could 1) create and maintain a website for the sale of the bicycles, 2) educate the public about the class 3) allow the students to learn about running a small business and keeping the books, and 4) manage the purchasing of parts and supplies for bicycle repair.
Below, a student works on cleaning the lines for easier shifting. Mr. Weldy noted that this particular student is a regular bike rider, and has taken care of his own bike for a while so he is a little more knowledgeable than some students in the program. "We do get students with varying skills or knowledge about bicycle repair, but everyone in the program can learn the basics."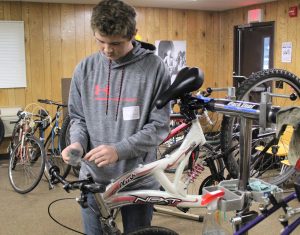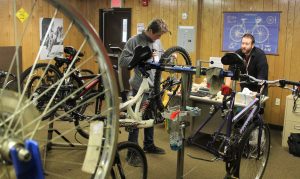 On the wall of the "shop" section of the modular is a list of Changing Gears expectations. They include: 1. Upon arrival, check the board for the day's tasks. 2. You must be actively participating in bicycle repair and maintenance. 3. Use tools responsibly and share when necessary. 4. At the end of class, all tools will be put away and the shop will be clean and ready for the next class. 5. If you want or need to take a short phone break, you must be pedaling on the exercise bike (10 minute maximum!).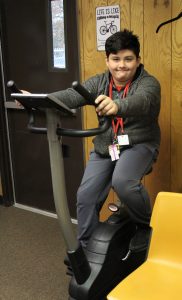 Next, we went back into the main building and found the new Engineering & Design class at GMS, taught by Yanith Springer. Mrs. Springer stated that this particular class was a class of 6th graders, who were working on a coding and electrical unit. "Each group made up their own game, created an active foot board, completed the circuit and then connected it to their computer to play the game."
The student below quickly lost us in the explanation of how he coded his game. However, we did understand that he was "making it so the zombies get harder and harder if you go to another level…I'm adding "if" statements….I couldn't figure out what was happening, but now that I went back a little bit, I realize that I misspelled something and that changed everything! I am correcting it now."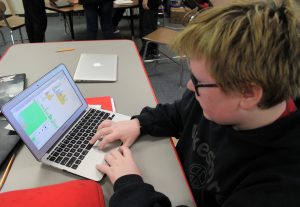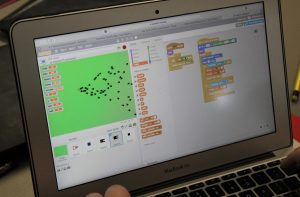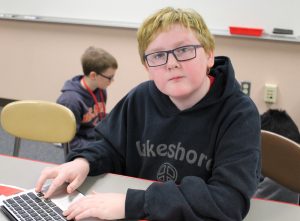 Mrs. Springer laughed and said that she often tells the students that "you have to be particular with every step, because every step is important. And that proves the point!" Mrs. Springer also pointed out a flow chart on the wall which she refers students to when they are stuck. The chart includes: Define problem (asking questions, thinking through solutions, and collecting information); Generate concepts (research past solutions, brainstorm possible solutions, EVERYONE is participating and sharing, and no judgement of ideas); Design a solution (pick one concept/idea, create a sketch of prototype, DETAILED is key, and models for the solution); Build and test (build it, test it, analyze it, reflect, and if flawed go back); Evaluate solution (test, reflect, recommend improvements, receive feedback, and go back steps if needed); and Present Solution (formal presentation, show process, brainstorming, sketches, and improvements).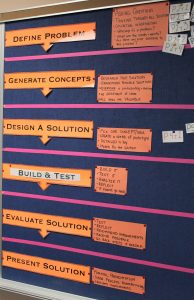 Mrs. Springer stated that the Engineering and Design class is an elective, so students are in the class if they choose to put it in their schedule. "I have all kinds of students in my classes; high ability students, students with special needs, anyone really. I just try really hard to make sure that everyone is involved in each project's process in some way, because I want everyone to feel and be successful at the end of a project."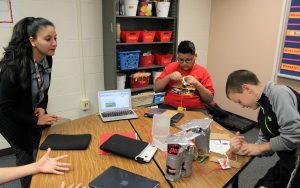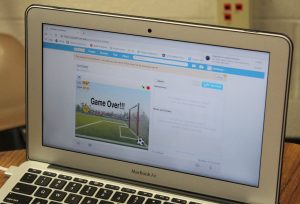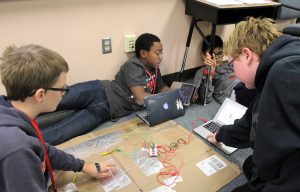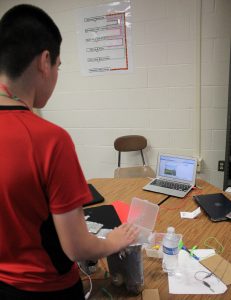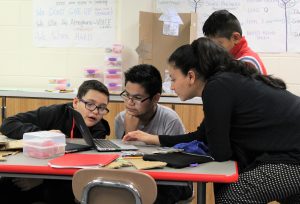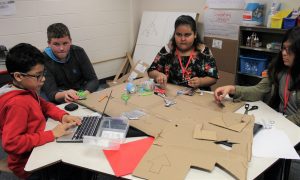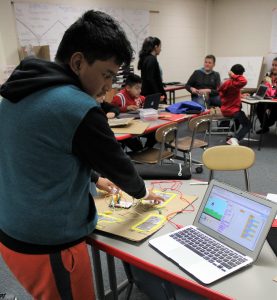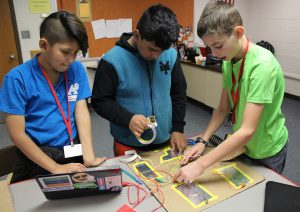 One of the projects an 8th grade class worked on was making  a "desk-cycle". The students had a model to look at, and they took apart a complete bicycle and then used the parts to make their own desk-cycle. Mrs. Springer reported that a local welder took design instructions from the students and welded their first model for them. She said the students will continue to refine the desk-cycle, and the local welder said he is willing to assist the students any time, at no charge!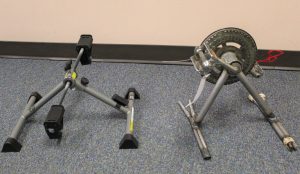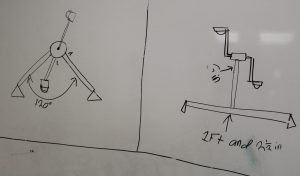 Our last visit was an after-school stop at the Goshen New Tech Middle School Student Council meeting. (Goshen International Middle School also has a student council.) The sponsor for the New Tech group is Mrs. Krista Troyer, and she said that the group meets every Tuesday after school at 4:00 p.m. The group meets all year, but she explained that some students come and go if they are involved in a sport during a season, which happened this fall with volleyball and soccer. When asked how the students are chosen for student council, Mrs. Troyer said that "it is not a huge, rigorous process; we want kids to be involved. Some students are recommended by their counselors or teachers, and some simply express their interest to be on the student council to me. If they ask, then I follow up with their teachers to make sure that they are a good fit, and can handle the responsibility."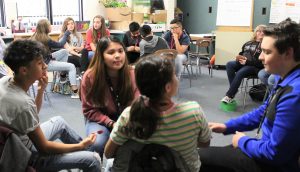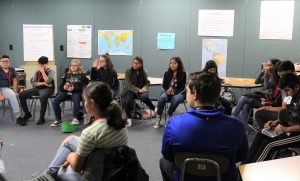 On this day, the group was continuing to plan their activities for the year. "What do we want to keep, or what do we want to change?" asked Mrs. Troyer. One student volunteered to write down all of the suggestions as they were given by various students. And as students gave ideas and others sometimes commented, Mrs. Troyer reminded them that "This room is a judgement-free zone. I don't want people to feel shot down when they share ideas. Please keep that in mind."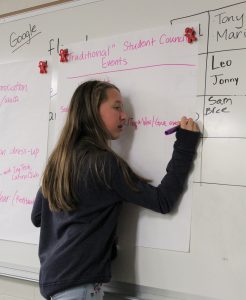 Several times Mrs. Troyer had the students "turn and talk" to people nearby to discuss ideas. But after a while, she said "Okay we are going to discuss again, but this time you need to move around and talk to someone new. It is important for you to move outside of your comfort zone!"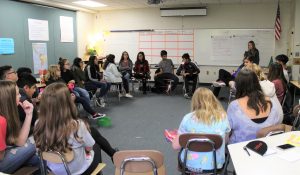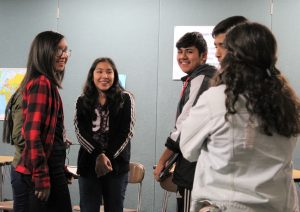 Some of the ideas that the students talked about for the rest of the school year included: Student Appreciation (from teachers and staff); Hoops Night; Soccer Night; Meme recreation dress-up day; Carnival Night with Ivy Tech Latino Club; New Tech Spirit Wear (RedHawk); Minute to Win It; Field day with a picnic, tug-of-war, give aways, and a DJ; a spring school dance; a school festival that raises money for a charity; a service project day with the Salvation Army; a Color Run to benefit a charity, and cleaning up the GMS campus (outside of the school).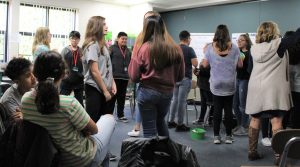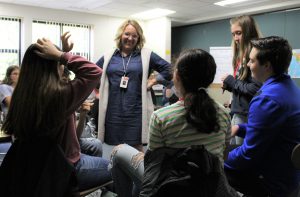 Unbeknownst to us, there was another after-school meeting taking place just down the hall: Mrs. Vilma Padilla and Ms. Maria Tovar were meeting with another great group of students, the GMS Latino Club.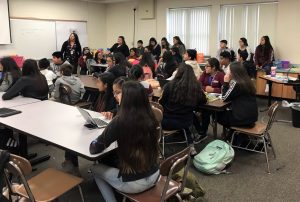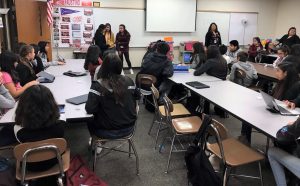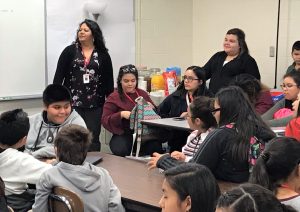 As you have probably figured out by now, there are many, many opportunities for students at Goshen Middle School. There are elective classes which students can take to enrich their educational experience, and there are even classes they can take for high school credit. However, aside from classes and credits, there are still many opportunities for students to learn and grow. Students may participate in athletics (cross country, soccer, football, volleyball, cheer leading, basketball, swimming, wrestling, golf, track, tennis, and intramural sports), music (band, orchestra or choir), plays or musicals, Student Council, Latino Club, Academic Super Bowl, Robotics Club, Builders Club, National Junior Honor Society, Red Thread Jazz Strings, Ski Club, Yearbook and more. There is literally something for everyone!
According to the GMS website: "Middle school is a time for students to explore their individual interests and develop talents to prepare them for the numerous opportunities at Goshen High School. Middle school is also a time to develop and build foundational knowledge and skills needed to persist in high school, college and beyond."
We believe that GMS provides many opportunities for students to be involved in their school community, to grow, and to learn the skills necessary for life beyond the halls of GMS and GHS. Goshen Middle School may seem like a large place at first, but with two academic pathways to create smaller learning communities and plenty of opportunities for everyone to get involved, GMS should begin to feel like every student's own personal place. 
Thank you for showing us your community, GMS!