Author to Visit Parkside Today
From Parkside teacher, Mary Brookins:
Author Suzanne (Buckingham) Slade will visit Parkside Elementary on Thursday, November 1st to share her love of writing with the children. Originally from Goshen, Ms. Slade attended Goshen schools herself. She will visit in classrooms throughout the day to read aloud some of her own books and answer questions. She is scheduled to start at 9:00 a.m. and will share with each grade level. She will return for the Parkside Presents in the evening starting at 6:30 to speak with families and friends and to autograph books.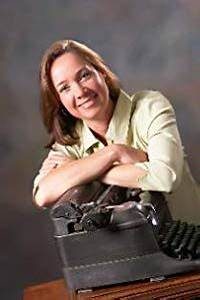 From the author's website:
Fun Facts:
My Family: Husband (Mike) and 2 children (Christina & Patrick)
Pets: Cutest dog in the world (Corduroy)
​
College degree: Mechanical Engineering
​Hobbies: Bicycling, rollerblading, baking, and walking my dog
"I enjoy visiting schools and present up to four 45-minutes sessions per day." During each presentation I share: 
– how I became an author
– the importance of research and revising
– an *amazing* science experiment from my book
– how a book is made
– a behind-the-scenes video of what authors really do
– and answers to all student questions (Yes, all of them!)
Questions and Answers from the website:
How do you learn about the people/events in your books?   Research is the most exciting and challenging part of my job. When I'm researching a new project I read piles of books (usually primary sources) and visit museums and historical sites.I also interview experts so my stories are accurate (and hopefully interesting!)
How are the illustrators for your books selected? Usually Editors and Art Directors at publishing houses (who know a lot about art) carefully select the perfect illustrator for each book, though sometimes they ask authors for ideas too.
How did you become an author? My journey to become an author began in first grade when I wrote my first story. It was sloppy with 22 misspelled words, but my teacher, Miss Hudson, said it was "absolutely terrific" and gave it two stars and a smiley face.
​In 4th grade my teacher asked each student to write to his/her favorite author. I wrote to Beverly Cleary and she sent back a letter with a handwritten note. I learned  authors are real people and very nice.
In grade school, my family took a trip. I wrote about the places we went and drew pictures in a journal.That was my first book!
In college I studied engineering. After graduation I worked on car brakes and Delta and Titan rockets. Working in engineering was exciting!
​Years later my husband and I went to Paris, France for work. One day we got a phone call saying a special baby had been born back in the U.S., so we flew right home and adopted our daughter. I became a stay-at-home mom. A year later I had our son. As I read piles of picture books to my children I decided to try writing children's books.
​It took over 8 years and 80 rejection letters before my first book was published. And I hope to keep writing books for a long time!
​Do you have a blog? Yes! I'm part of PictureBookBuilders blog along with 7 incredible illustrators and writers — Jill Esbaum, Tammy Sauer, Linda Ashman, Jennifer Black Reinhardt, Pat Zietlow Miller, Kevan Atteberry, and Mike Boldt. Please visit us (we often give away books and stuff!)
Don't miss author Suzanne Slade at Parkside Presents tonight at 6:30 p.m.!