Prairie View Students to Perform in GC Sauder Concert Hall
Forty-three Prairie View 4th graders will be joining the Goshen College Lavender Jazz and the All-Campus band for an El Sistema "Side by Side Concert" in the GC Sauder Concert Hall on Friday, Nov. 18th at 7:30 p.m. The students will perform alongside trained musicians for the purpose of motivation, and to further their own learning.  The recorder players will be playing the theme to Sibelius' FINLANDIA with the all-campus band, and the ukulele players will join the Lavender Jazz for a 12 bar blues.
New to Prairie View this year, El Sistema is a philosophy of teaching music that centers around a fast-paced and rigorous rehearsal schedule, using the music ensemble as community, students teaching each other, a focus on performance to heighten learning, and developing an ability to take risks and elevate the confidence level of those participating. Prairie View music teacher, Lisa Caskey, has been using this philosophy for teaching music with the 4th graders, who have music classes three times a week.
There has been a fund created at Goshen Community Schools for those interested in supporting El Sistema at Prairie View. Contributions will be used to purchase more instruments, so that students in more grades may actively participate. Checks should be written to Goshen Community Schools (or GCS) with El Sistema in the memo line, and sent to the Administration Center at 613 E. Purl St. Goshen, IN 46526. 
Don't miss these Prairie View students as they take the stage in the amazing Sauder Concert Hall!
(Below are pictures from a presentation by the ukulele students at an October school board meeting at Prairie View.)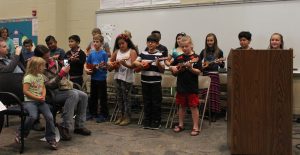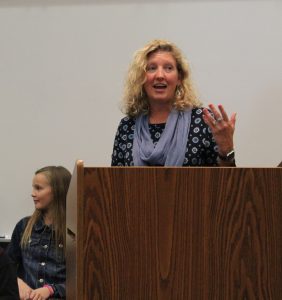 More concert details from Goshen College:
Goshen College's All-Campus Band and Lavender Jazz ensemble will perform in a joint concert on Friday, Nov. 18 at 7:30 p.m in Goshen College Music Center's Sauder Concert Hall. The All-Campus Band is conducted by José Rocha, associate professor of music, and features wind musicians from across campus, both music majors and non-majors, and includes faculty and staff. Lavender Jazz is Goshen College's big band jazz ensemble, and is directed by Chris French, adjunct professor of music.
Tickets for this concert are $7 for adults and $5 for seniors/students. Tickets are available online at goshen.edu/tickets or by calling (574) 535-7566. Goshen College faculty/staff/students are free with valid ID.
José Rocha, DMA, is associate professor of music at Goshen College and director of the Goshen College Symphony. He is a sought-after conductor and cellist in the United States and Mexico. Strongly committed to music education, Rocha has taught and directed middle school and high school orchestras in Florida, Texas, and Mississippi for the past 15 years. Rocha made his Carnegie Hall Debut leading the Johnston Sinfonia Orchestra in 2014. Rocha has enjoyed a diverse musical career, conducting and performing with Ray Price, Glenn Frey, Frank Sinatra Jr., Marvin Hamlish, Ray Charles, and Johnny Mathis among others. His orchestral experience includes membership in the Southwest Florida Symphony, Orlando Philharmonic, Savannah Symphony, Symphony of South East Texas, and the Strauss Symphony of America. Rocha holds a Doctor of Musical Arts degree from the University of Houston, and Bachelor and Master of Music degrees from the University of Florida.
A versatile instrumentalist, Chris French is an accomplished clarinetist, saxophonist, and flutist. He received B.M. and M.M. degrees from the Juilliard School. While in New York, he was principal clarinetist of the National Orchestra of New York, and studied with Leon Russianoff, Joe Allard, Charles Russo, and Warne Marsh. After briefly playing with the Orquesta del Estado de Mexico, he returned to Los Angeles (where he grew up) and pursued a career as a symphony orchestra and recording studio musician. In addition to Goshen College, Mr. French is also on the faculty of Indiana University South Bend and St. Mary's College. He plays regularly with classical and jazz performing groups in Indiana, Michigan, and Illinois, and has been featured soloist with many of the Michiana music ensembles. Mr. French has played at the Elkhart Jazz Festival for the past 10 years.