Goshen High School senior Jessica Saucedo is an ICE student, working in a classroom at Parkside Elementary as a paraprofessional.
ICE is a 6-credit program spanning the entire school year, and offered only to seniors. The course combines classroom activities with on-the-job training.  The class meets during period 4, and students have three release periods to attend their job (1, 2, 3 or 5, 6, 7).  Two credits are granted for the classroom portion and four credits for the on-the-job training portion.
Students must work a minimum of 540 hours during the school year to receive the work-study credits.  The classroom portion of the course covers career-related instruction such as:  The job application process, career planning, effective communication, basic economics, personal finance, interpersonal relationships, and workplace legalities.  The course also utilizes local Human Resource Departments to conduct mock interviews.
Upon completion of the course, students will have a workplace readiness portfolio including artifacts such as:  A job manual, a networking contact list, a personal budget, a cover letter, a resume, common interview questions, and career research.
Students who are interested in the ICE program complete the application process, which includes a meeting with the Cooperative Education Coordinator, Mr. Ken Cross.  After meeting with the coordinator and gaining admittance into the program, the coordinator helps the student search for an acceptable job placement.  Every attempt is made to find a job relating to the students' career objectives.
According to Mr. Cross, Jessica has enjoyed reconnecting with her Model Kindergarten teacher – current Parkside teacher, Cindy Shreiner. They are pictured below, in the Model Elementary yearbook, and then currently, in their roles at Parkside.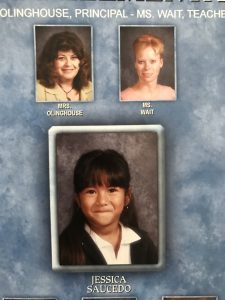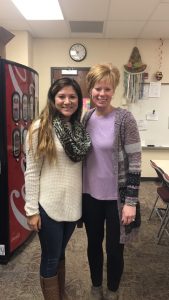 Good luck to Ms. Saucedo as she explores possible professions and makes plans for her future!