Melissa Jones has been employed with Goshen Community Schools for 12 years. She was working as a cafeteria monitor when Dr. Barry Younghans, who was the superintendent in charge of transportation at the time, suggested that she might like being a crossing guard. She decided to give it a try, and has been working as a crossing guard for Model Elementary and Goshen Middle School for the last 9 years.
Mrs. Jones reportedly knows most of her "walkers" by name, and says that the best part of her job is the "interactions with students and the relationships that you build with them". She has 107 walkers at Model; so many students that there are actually two crossing guards in charge of the group in the afternoon. Even so, Mrs. Jones finds time to listen to a worried student talk about a new puppy, and provides some reassurance and guidance about pet care. To her, this type of interaction and care is just part of the job.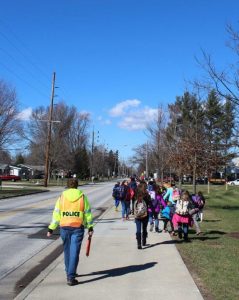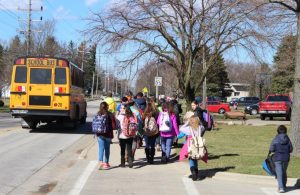 When asked to reflect on the worst part of the job, she hesitated, but then said "the disrespect of traffic, and people not paying enough attention; sometimes it feels pretty dangerous! And, sometimes the weather conditions can also be a downside of the job".
Upon observation of Mrs. Jones with her Model walkers, it seems pretty evident that the students look upon her quite fondly, calling her by name and running up to greet her after school. One student came up to her and said "Can I give you a hug?!" She answered "You may!" then hugged him to her side and continued greeting her students.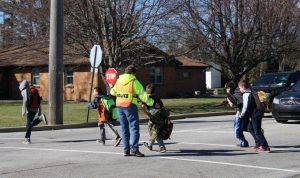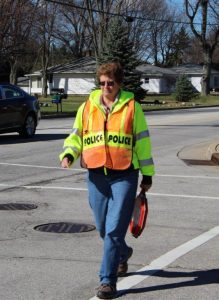 Thank you, Mrs. Jones, for your care and concern for GCS students!