Laura Zacarias, a 2007 GHS graduate, was among the first Interdisciplinary Cooperative Education (I.C.E.) students at Goshen High School, studying under the direction of Brian Bechtel. She had a job working for Drs. Cripe, Stephens, and Stickel part-time as an optician/technician. I.C.E. is a 6-credit program spanning the school year, and offered only to seniors. The course combines classroom activities with on-the-job training. Two credits are given for the classroom portion, and four credits for the job training portion. Students work a minimum of 540 hours during the school year to receive the work-study credits.  The classroom portion of the course covers career related instruction such as: The job application process, career planning, effective communication, basic economics, personal finance, interpersonal relationships, and workplace legalities.  The course also utilizes local Human Resource Departments to conduct mock interviews.
Following her graduation from GHS, Mrs. Zacarias attended IUSB, where she studied biology and chemistry. She also continued working for Dr. Cripe, Stephens, and Stickel, a job she kept for eight years. According to Mrs. Zacarias, "After my internship, I was in love with the Eye field. It was such a rewarding job…I was really grateful for the internship I was placed in, I learned a great skill while there. I learned skills that I am still using today at my current job." She has been working as a certified ophthalmic technician for Boling Vision Center for almost two years now, and is currently mentoring Lauren VanderReyden, a Goshen High School senior and internship student. "It is an awesome feeling to be able to pass down some of the skills I learned to another intern. I love seeing the same passion for this field in Lauren that I also had at that age."
Under the instruction of Mrs. Zacarias, Lauren is learning to do all of the check-in tests and procedures of a technician. Those tests include checking visual acuity, intraocular pressures, eye movements, and pupil reactions. She is also doing different testing for various eye diseases such as glaucoma and macular degenerations. Occasionally, Lauren gets to observe the procedures done in the office or surgery center. Office procedures could include the routine removal of styes, or the use of botox to control eye twitching or droopy eyelids. Surgery center procedures could include any type of ophthalmic surgery.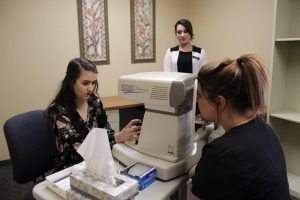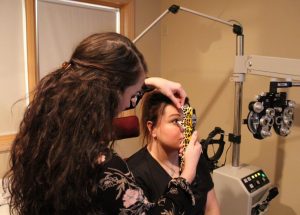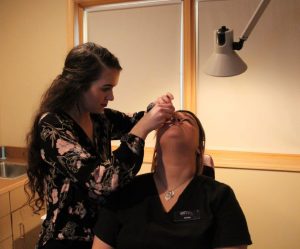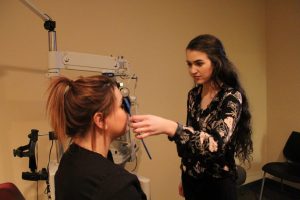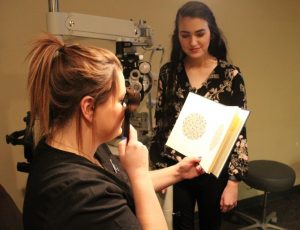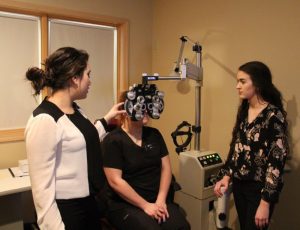 Lauren said that she chose to do an internship because as a child she had a lazy eye and wore patches for correction, so over the years she has had many conversations with doctors, including conversations about possible careers in the eye field. She stated she began to think about a career, and she wanted to learn more about all of the different job roles in an Ophthalmologist's office. Lauren said that she has learned so much during her internship. "I took the medical terminology course at school and did very well, but I have learned even more by working here. I have learned more of the working medical vocabulary particularly related to the eyes, and also more about diseases of the eye and the tests that are used to determine diseases."
The current teachers for I.C.E. and Internships are Mr. Ken Cross and Mrs. Tina Schmucker. Lauren stated that the program is still the same as when Mr. Bechtel was the instructor, but that since Mr. Cross and Mrs. Schmucker have additional and/or different contacts in the community, more work-study placements have been added. "We even have one student who is doing an internship at the Goshen airport, and he is flying planes!"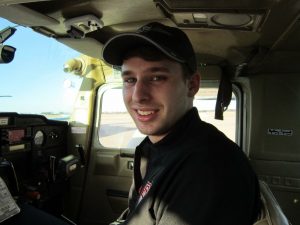 Here is Mason Short, pictured in the cockpit of a small plane at his internship.
Normally, an internship is a two-credit course for just one semester, but Lauren chose to do the internship class for the full year. At the end of the first semester, she gave a presentation about the work she had completed, and what she had learned. At the end of the second semester, she will sit for an interview for a summer job with the Human Resources staff at Boling Vision. The results of the interview will be passed along to her internship instructor, Mrs. Schmucker, and will compose a portion of her grade for the course.
Following graduation from GHS, Lauren plans to attend IU Bloomington to study science, with the intent to apply to IU medical school to become an ophthalmologist. She states that her internship has been very valuable, as it has allowed her to learn more about the field and to determine if a career in ophthalmology would be a good fit for her.
Both Laura and Lauren spoke very highly of the GHS work-study program that was just beginning in 2007, and continues to grow in 2017. The fact that a former student and a current student have found a connection over their educations and career aspirations is a great example of the strength and long-lasting impact of a Goshen High School education.
Thank you to the GHS work-study instructors who find unique placements for each student, to Laura for her ongoing mentorship, and to Lauren who continues to learn, and is beginning to find her future.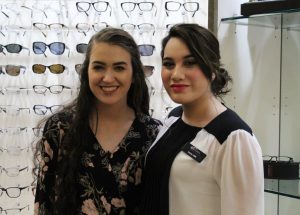 Lauren VanderReyden and Laura Zacarias