GHS/Edward Jones Student-Athletes of the Month
Goshen High School and Edward Jones are proud to announce the student-athlete of the month award to recognize athletic and academic excellence. A senior male and female student-athlete will be selected from August-May each school year. At the end of the year, a $500 scholarship will be awarded to one male and one female student athlete of the month, as selected by the GHS coaching staff.
The winners of the Edward Jones Student-Athlete of the Month Award for August are:
Carly Gingerich: Carly is the daughter of Dave and Marge Gingerich. Carly is ranked 3rd in the state for aces with an ace to error ratio of 3.5. Carly currently has 32 kills, 7 blocks, 142 assists and 65 digs. Carly is a Stay-in-Bounds Ambassador at Goshen High School. She is a 2-year captain for the volleyball team and was named Honorable Mention her sophomore and junior year and MVP her junior year. Carly was awarded the ElkhartCountySports.com Coaches Award her freshman and sophomore year. Carly plans to attend Eastern Mennonite University to study nursing and play volleyball.
-Rummel Johnson: Rummel is the son of Michelle and Christopher Wilson. Rummel is ranked 7th in the state for receiving yards with 253 yards and 5th in the state for receptions with 16. . Rummel is also ranked 18th in class 5A for tackles. Rummel is a two year starter and plays wide receiver, outside linebacker, and punt and kickoff returner. Rummel is a member of the National Honors Society, Key Club, Student Council and is an ambassador for the Stay-in-Bounds program. Rummel was named All-State in track, NLC Honorable Mention in football, and was the sectional high jump champion. Rummel is undecided on which college he plans to attend, but plans to study in the medical field.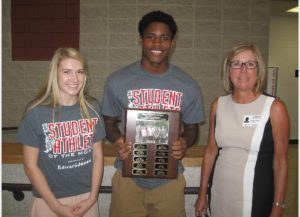 Congratulations, Carly and Rummel!