Gold Medalist-Scholastic Art & Writing Awards of 2017
Goshen Community Schools is pleased to announce that Elkah DeVoe has won a Gold Medal in the Drawing & Illustration category, with her piece entitled "Resilient People."  A Goshen High School junior, Elkah DeVoe has been identified by panels of creative professionals as one of the most talented young artists and writers in the nation! This year, more than 330,000 works of art and writing were submitted, and only the top .5% were recognized at the national gold medal level. Her piece will be sent to New York City to be on display at the Metropolitan Museum of Art until the end of June.  She is the only gold medal student at GHS this year whose actual art work will be shipped to New York.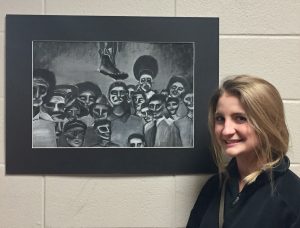 As Goshen High School Art teachers, we are very proud of Elkah. Please join us in congratulating her for this outstanding achievement!
Cindy Cooper, Thomas Zuber, Lindi Cranston, Betsy Poling, Susan Long