Crimson Percussion Ensemble-State Champions!
The GHS percussion ensembles went to work last weekend, doing what they do: Traveling, making percussive music, listening to their directors, and winning! The concert group, with their show entitled "Winter Solstice", was the state champion at the Indiana Percussion Association state finals on Saturday, for the fourth time in a row! Their 91.75 first place score put them ahead of 2nd place finisher Fishers High School at 87.15, and 3rd place finisher Lake Central High School with 78.0.
Students in the 2016-17 ensembles include: Carson Adkins, Angel Bazia, Octavio Blacut, Daniel Bowser, Zach Buckmaster, Javier Castillo, Emanuel Contreras, Angy Cruz, Melissa Daniels, Paul Drescher, Arturo Escobedo, Cruz Garcia, Jonathon Garcia, Bryan Garcia, Alex Garcia, Arely Garcia, Nathan Garratt, Daniel Guipe, Isaiah Kauffman, Samantha Linares, Oscar Lopez, Maddy Martinez, Hank Miller, Eve Miller, Jose Montanez, Bryan Moreno, Noe Palacios, Pablo Palacios, Sam Peeler, Fabian Perez, Arthur Peterson-Veatch, Joana Regelado, Oscar Peterson-Veatch, Sasha Rivera, Yaira Roman, Kevin Sanchez, Ashley Sanchez, Matthew Schrag, Dylan Steury, and Ben Taubert.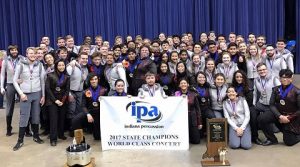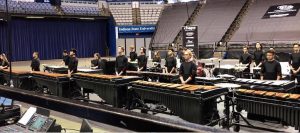 For those unfamiliar with percussive arts, here is some explanation of this sport of the arts:
Percussion Competition Classifications:
Scholastic – Units whose membership comes from the SAME High School or a school that feeds to that particular High School.
Independent – Units whose members are not necessarily associated with a particular school.
The units are then further divided into classes:
A Class – Beginning programs and performers.
Open Class – The intermediate developmental level of performers.
World Class – The most advanced programs and performers.
Goshen High School competes in the most difficult category, world class. So, when Goshen won their category at state finals, they were in PSCW (Percussion Scholastic Concert World). Goshen also has a marching (or movement) group, and their category is PSW (Percussion Scholastic World). That group earned 4th place at state, with their show entitled "What a Wonderful World".
As a GHS extra-curricular activity, participation in percussion is elective, and something done completely outside of the school day. How much do they practice? A lot. Through practice and repetition, the students learn advanced music and marching skills, discipline, cooperation, and leadership skills, all while competing at the very highest level possible. In fact, at this time, GHS is the only high school in Indiana, and one of only a handful of programs in the USA, to have two world class groups.
The percussion staff consists of directors Derrick Shannon and Chris Murphree, assistants Alex Hinds, Jonathon Carr, Jessica Holcomb, and Rocco Duranti, with administrative oversight from band director Tom Cox. It is interesting to observe one of their practices. Derrick Shannon, is a focused, relatively soft-spoken guy, but he clearly has the attention of the students at almost any given moment. Even when the kids are playing and it is loud, he can stop the action with just a quick whistle. Then, everyone turns to him for the direction that is sure to be forthcoming. It is something to see. Kids will be kids, and these students are certainly no exception; but when Mr. Shannon whistles, the students stop what they are doing and pay attention.
The program has been in existence since the 2002-2003 school year, but due to a couple of changes in directors, participation was down for several years. Mr. Shannon has rapidly grown the percussion program, and has quickly earned the students' respect. He has connections in the business, and has procured some valuable sponsorships and instruments for the GHS students. It hasn't always been that way, and the students know it; they take a lot of pride in what they have and what they do, and it shows. The commitment to the teaching staff and to the percussion program are evident, as even students who are not percussionists in marching band sign up to participate in winter percussion.
The percussion groups compete in the Indiana Percussion Association (IPA) and Winter Guard International (WGI). In IPA, GHS faces schools from around the state of Indiana. In WGI, GHS faces schools from around the country, including perennial powerhouse groups from California, New York, Texas, and Michigan. Below is a list of the honors and championships earned by the GHS percussion groups over the years:
IPA-Indiana Percussion Association
2003, State Championship in Concert A
2007, State Championship in Concert World
2009, State Championship in Concert World
2014, State Championship in Concert Open
2015, State Championship in Concert World
2016, State Championship in Concert World
2017, State Championship in Concert World
WGI-Winter Guard International, Sport of the Arts
2005, WGI Championship in Concert Open
2006, WGI Runner-up in Concert World
2008, WGI Runner-up in Concert World
2014, WGI Championship in Concert Open
2015, WGI Runner-up in Concert World
That is an impressive list, to be sure! And now, they are gearing up for another WGI competition in Dayton, OH in about 2 ½ weeks. Prior to their trip, they will give a send-off/preview concert of their 2017 percussion shows in the GHS main gym. The date has not yet been confirmed, but stay tuned to Goshen Community Schools Twitter and Facebook for more information, and then come out and see these fantastic musicians in action!
Below are some pictures from their show "What a Wonderful World".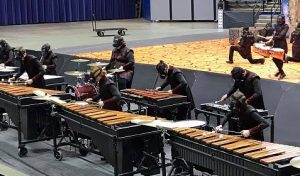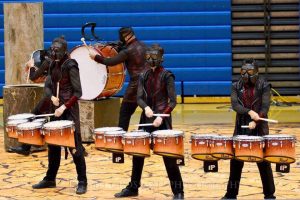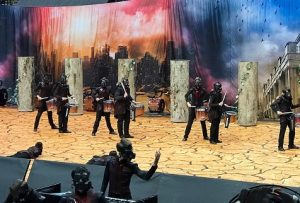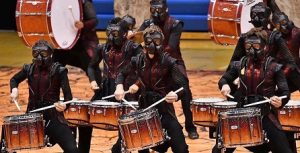 Intriguing, aren't they? Come to their preview show to see what they can do.
Best of luck at WGI, Crimson Percussion!