ELKHART COUNTY – Twenty-one students and their families will benefit from scholarships awarded Saturday, March 2, by the Community Foundation of Elkhart County and Lilly Endowment, Inc.
The 2019 Lilly Endowment Scholarship, Guy David Gundlach Memorial Scholarship and INSPIRE Scholarship will all help students from public and private schools pursue goals and dreams at the college level.
Lilly Endowment Community Scholarship (LECS)
The LECS is the result of a statewide Lilly Endowment initiative to help Hoosier students reach higher levels of education. Indiana ranks among the lowest states in the percentage of residents over the age of 25 with a bachelor's degree. The program, now in its 21st year, has awarded 85 LECS to students in Elkhart County, totaling more than $6.5 million dollars in scholarships. Statewide over 4,626 have been awarded, providing nearly $392 million dollars in scholarships across Indiana since the program began in 1998.
Working with the community foundation, Independent Colleges of Indiana, the statewide administrator of the LECS program, selects three Elkhart County, first-generation, college bound students each year.  Scholarship recipients will receive a four-year, full-tuition scholarship toward a baccalaureate degree at any accredited college or university in Indiana. Recipients this year are Lisa Hochstetler (Northridge), Claire Mumaw (Fairfield), Alexa Porter (Concord).
Guy David Gundlach Memorial Scholarship
As a complement to the LECS program, the Community Foundation is honored to carry on the legacy of Guy David Gundlach by awarding six Elkhart County, first-generation, college bound students a four-year, $5,000/year scholarship toward a bachelor's degree. This memorial scholarship is only one of the many positive initiatives established due to Mr. Gundlach's gift in 2011. Since the inception of the scholarship, 37 Elkhart County students have received this $20,000 award. Over the first decade, more than 60 students in our community will be presented the Guy David Gundlach Memorial Scholarship.
Recipients include:  Danyelle Adams (Jimtown), Margot Cruz-Portillo (Elkhart Memorial), Melissa Daniels (Goshen), Claire Hershberger (Clinton Christian), Jaycee Rossi (Elkhart Central), Otto Schlatter (NorthWood).
INSPIRE Scholarship
The INSPIRE Scholarship is the Community Foundation's newest scholarship, beginning in 2017, and awards hard-working, community-minded students the opportunity to receive $3,000 per year. Multiple 2- or 4-year scholarships are being awarded each year. To be eligible to renew their scholarship, each of the recipients must complete a minimum of 30 hours of volunteer time per year in Elkhart County. This year's 2-year recipients are Shenais Colton Flores (Concord), Cory Green (Jimtown), Kristin Miller (Fairfield), Artemio Orozco (Goshen), David Varela (Goshen), Alana Walls (Elkhart Central).  This year's 4-year recipients are Caaden Beck (Jimtown), Michael Cox (Elkhart Christian), Christina Hickman (Northridge), Victoria Gamez (Elkhart Central), Kassandra Miller (Bethany Christian), Spencer Shuff (Concord).
For the third year, the Community Foundation of Elkhart County awarded challenge coins to scholarship recipients. The coins, engraved with the name of the scholar and the year of presentation, are intended to be a lifelong reminder to the recipients of their award. "
At Saturday's brunch at Essenhaus Inn & Conference Center, Rob Cripe, a member of the Community Foundation's board of directors and the career pathways committee, thanked the adults who helped the students reach toward their goals and urged the students to look ahead. The scholarships are a gift from the community to students who have worked hard and excelled. "We challenge each of you to live up to our collective expectations for continued academic excellence," he said, adding that he hopes the students will "pay it forward" when their studies are complete.
Keynote speaker Dakota Foster, a 2014 Lilly Endowment Community Scholarship recipient as a NorthWood High School senior, told how the love and compassion surrounding her in Elkhart County helped her navigate a broken home and troubled youth. "No matter what stage of life you find yourself in, there is no way you got to where you are today without the compassion and help of others," said Foster, who is now an English teacher in South Bend Community Schools. "I am blessed to have walked through some serious darkness and into some serious kindness– those experiences have equipped me to become the daughter and the teacher I am today." She urged students, as well as their parents, counselors and administrators, to share in each others' joys and sadnesses. "May we be those people who can take the inevitable sadnesses of life and draw out the blessings. May we take these blessings and share them with those around us," she said.
About Community Foundation of Elkhart County
Community Foundation of Elkhart County improves the quality of life in Elkhart County by inspiring generosity.  Since inception in 1989, over 100 scholarship funds have been established at the Community Foundation. Approximately $17.5 million in scholarships have been awarded, including $2.3 million in 2018.  The Community Foundation strives to be a local entity known for inspiring good and impacting success, specifically in educational attainment. For more information regarding the Community Foundation, visit www.InspiringGood.org or call (574) 295-8761.
The Community Foundation annually honors high school students in Elkhart County who have received either the Lilly Endowment Community Scholarship, Guy David Gundlach Memorial Scholarship and INSPIRE Scholarship. In all, 21 outstanding students were recognized at a scholarship brunch on Saturday, March 2, at the Essenhaus Inn & Conference Center, Middlebury.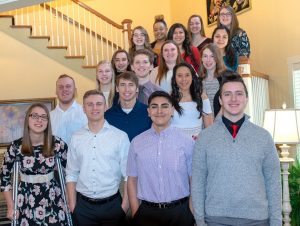 Pictured from front to back:
Row 1; Alexa Porter, Michael Cox, David Varela, Otto Schlatter Row 2; Cory Green, Caaden Beck Row 3; Kristin Miller, Spencer Shuff, Shenais Colton-Flores Row 4; Lisa Hochstetler, Christina Hickman, Danyelle Adams Row 5; Melissa Daniels, Victoria Gamez, Margot Cruz-Portillo Row 6; Alana Walls, Claire Mumaw, Claire Hershberger