Dr. Younghans welcomed the board to Goshen High School, and introduced several GHS staff members to be recognized:
English teacher Robin Hershberger was recognized for her organization of a prom dress drive at GHS, to allow students to have free formal attire for prom. Mrs. Hershberger explained that she began the effort two years ago by accepting dresses and formal wear, including shoes and accessories. The first year, 26 girls were outfitted, and last year 20 girls benefited. Male staff members have also donated to the cause by paying to have the dresses dry-cleaned or altered.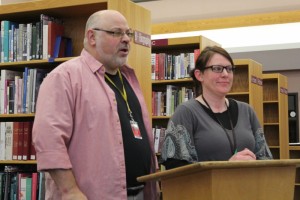 Head baseball coach Josh Keister was honored following his induction into the Elkhart County Sports Hall of Fame.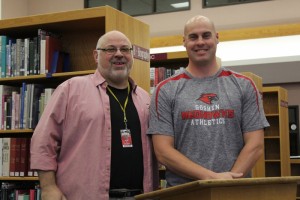 Head Athletic Trainer George Potter was recognized after he received an Exemplary Sportsmanship Report from the IHSAA. Dr. Younghans stated that Mr. Potter received the recommendation from Plymouth High School for his leadership in helping a Plymouth student fan after a home athletic contest. The student needed immediate medical attention, and Mr. Potter stayed well after the game to help the student and the Plymouth staff who stayed behind to help.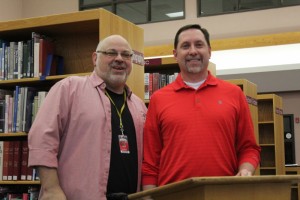 English teachers Laura Newport and Rebecca VanElk, and Engineering Technology teacher Jen Yoder, who attended the Marine Corps Educator's Workshop in San Diego. The teachers shared about the experience, stating that they were exposed to the drill camp and the Marine honor code, and also put through the physical and educational aspects of the Marines. Mrs. Yoder stated that she was very surprised at the educational opportunities available to those who join the Marines. Ms. VanElk stated that now that they have a greater understanding of the opportunities available for students, they are more equipped to guide them. Additionally, they have recruiter contacts who will work with the teachers and students, to make sure the students do what is necessary to make it to graduation. Mrs. Newport added that the Marines will not accept a GED, students must graduate from high school in order to enlist. The teachers met different groups of recruits, those who were reporting for basic training, those about two weeks into training, and yet another group on their graduation day; they reported that the transformation in the maturity and behavior of the recruits was amazing. While the trip was paid for by the Marines, the teachers thanked the board for the opportunity to travel for the workshop, as it opened their eyes to new possibilities for their students.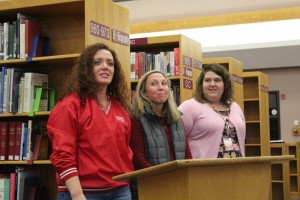 APEX teacher Allison Miller was recognized for her work in the APEX lab. Mrs. Miller explained that the APEX lab is an extension of the Merit Learning Center at GHS, where students learn through online coursework. She stated that students may choose to use APEX for credit recovery, for remediation, to graduate early, or if they have had trouble with school attendance. She provided the board with statistics regarding the continued growth in the number of credits students have been able to earn over the last three years.