Board Recognition 8-13-18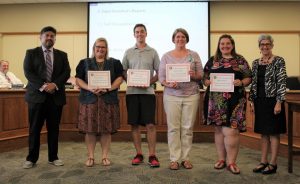 August 13, 2018 Board Recognition
Mrs. Ummel introduced several elementary teachers who worked with students last year to teach them coding, including Jenna Rusmisel, Wendy Meade, Daniel Longcor, Clay Norris, Kristy Moberg, Maria Wenger, and Shannon Smith.
Ms. Wenger stated that she got started with coding because her 86 year old father read an article about it and thought she needed to incorporate coding into her classroom. She added that she wanted to find something to use with the students that had depth, and was not just a toy. What she chose to use was Dash and Dot Robots, and she was able to purchase a classroom set with the help of a grant from the GCS Foundation.
Ms. Moberg stated that she decided to incorporate coding into her classroom because it increases student engagement and critical thinking.
Mr. Longcor and Ms. Meade also shared how they have used coding in their classrooms, and gave examples of their recent projects.
Dr. Woodworth thanked the teachers for offering such innovative opportunities to their students.