West Goshen Principal Named a Teach Factor Fellow
Goshen Community Schools Principal Lori Line Announced as Teach Factor Fellow Helping Advance Teacher Leader Roles Nationwide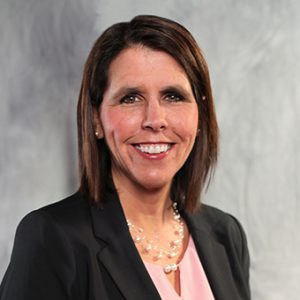 West Goshen Principal Lori Line
National Institute for Excellence in Teaching's Teach Factor Engages Local Educators to Lend Their Voices to the U.S. Education Conversation and Drive Improved Student Achievement
Goshen, IN — (April 16, 2018) – The National Institute for Excellence in Teaching (NIET) named Lori Line, principal in Goshen Community Schools, as a Teach Factor Fellow for the recently launched Teach Factor initiative. This initiative illuminates the stories of effective teachers, principals and superintendents to reveal scalable solutions for teacher leadership – a factor pivotal to the profession and student achievement.
"We all believe that through working with NIET, we've created a culture of growing and learning for all of us," said Line, principal of West Goshen Elementary School. West Goshen recently received the 2018 TAP Founder's Award and a $50,000 cash prize for its exemplary implementation of the TAP System. "West Goshen teachers don't make excuses; we find strategies. We look at data, we make a plan and we execute the plan."
Line first began working in Goshen Community Schools in 1999 as a career teacher before becoming a teacher leader as a master teacher in 2011, an Indiana state TAP regional coordinator in 2013 and a principal in 2015. While in partnership with NIET, West Goshen — a D school before the implementation of TAP — has maintained an "A" rating since 2016. The school also achieved a value-added growth score of 5 – the highest possible score on a 1-5 scale.
Through The Teach Factor, NIET is working with educators like Line across the nation to define the most effective models of teacher leadership and develop a formal structure that schools, districts and states can implement to maximize the impact of teacher leaders.
Teach Factor Fellows will participate in panels and roundtable discussions and share their stories of success in teacher leadership as well as their trusted resources at teachfactor.niet.org and on NIET's social channels. They will share proven methods that have led to increased student achievement and promote these methods as best practices. Fellows also encourage other educators to share their stories on the site or via social media using #TeachFactor. Stories collected will be used to develop additional resources to benefit teacher leaders.
"We're proud to have educators like Lori Line as Teach Factor Fellows," said NIET Co-President and Chief Strategy Officer Patrice Pujol. "Their success advancing teacher leader roles and impacting achievement in schools like those in Goshen embodies The Teach Factor and serves as an example all schools, districts and states can follow."
More information and resources, including videos from 12 Teach Factor Fellows like Line, are available by following @NIETteach on social media and at teachfactor.niet.org.
About NIET
Based on the knowledge and experience gained from two decades of on-the-ground implementation with TAP, combined with the growing demand for proven reforms in teacher and principal effectiveness, NIET supports schools, districts, universities and states with educator evaluation training, teacher leader certification modules linked to learning platforms and human capital management systems as well as tools and resources for educator preparation. Learn more at www.niet.org.