Waterford Instructor Jenny Freeze Awarded $10,000 WGU Scholarship
Waterford Instructor/Collaborator Jenny Freeze already has two associates degrees and four children, but could she do more? For this busy mom, the answer is yes!
Jenny earned an Associates Degree in Business Administration from Pellissippi State Community College, and then later an Associates Degree in Early Childhood Education from Ivy Tech Community College. She started working at Goshen Community Schools as a substitute teacher, and in 2017 began working at Waterford Elementary School as an Instructor/Collaborator. As an Instructor, Jenny works with small groups of students to help them improve their skills or learn more about a particular subject.
Jenny's husband Jon, who served in the US Marine Corps for four years, also works for Goshen Community Schools as the Payroll Specialist. Together, they have four very active children; Natalie in 9th grade (GHS marching band), Nicholas in 5th grade (club wrestling), Noelle in Pre-school, and Nehemiah in Daycare. Their life is already busy, but they are committed to continuing education and lifelong learning. Jon is currently working to complete his accounting degree at IUSB, and now Jenny will work toward her Bachelor's Degree in Elementary Education. Her classes through WGU Indiana will be online, and if she stays on target, she will graduate in the spring of 2022.
Today, WGU Indiana made things a little easier for the busy Freeze family, by awarding a $10,000 scholarship to Jenny to use while earning her degree. She was surrounded by the Waterford administrators, teachers, and co-workers who have encouraged and supported her in making this big decision.
The Presentation of the WGU Indiana Scholarship: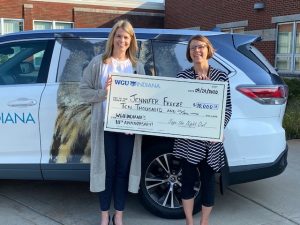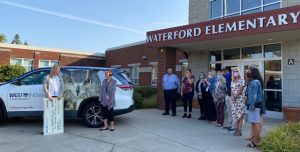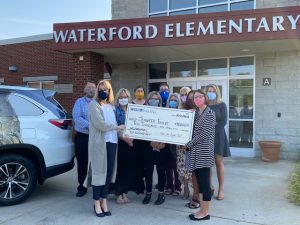 Jon and Jenny Freeze (This spontaneous hug was seriously so sweet.)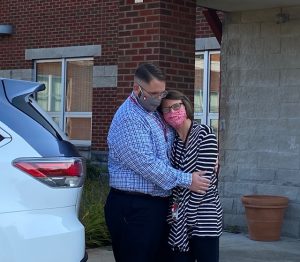 Jenny, with the WGU Indiana representative and Principal Karen Brock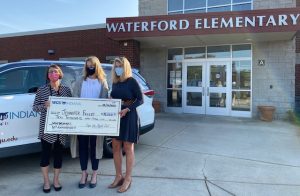 Jenny, you are a great example for our students, and you encourage all of us to be lifelong learners. You expressed the importance of what the pursuit of further education will mean for you and your family, now and into the future. 
In your pursuit of educational excellence, GCS wishes you the very best!