"The Nature of Life is to Grow" (3) Waterford 1st Grade
Yesterday we visited 1st graders at Waterford Elementary to look at the next step in a student's journey through GCS. At Waterford, they practice the Waterford Way, which means being "Respectful, Responsible, Safe, and Involved".
In Mrs. Carmen Durnell's classroom, their Positive Classroom Vision was posted and said: "We will work together to help each other and to build each other up. We will work hard to listen and do our best every day."
Mrs. Durnell's class was talking about stories when we got there. She told the students about the rubric for writing stories; having a beginning, a middle, and an end. She demonstrated several examples that were not quite right, showing them how some stories were A) not finished or B) all three story pages/parts were done, but the pages were on different topics. She showed the students an example with the first two pages completed and asked them if it was a story. A student raised her hand, and when called upon said "No, because that last page is super empty! There is no ending."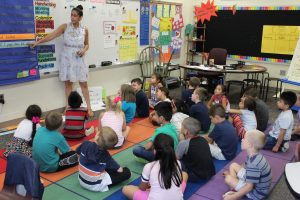 At times the children talked over each other or over the teacher. But when Mrs. Durnell quietly said "Class, class", the children responded with "Yes, yes", and then they were tuned in to listen to their teacher again.
Mrs. Durnell then passed out another example and asked the students to work together to determine if the example met all of the requirements to be a story with a beginning, a middle, and an end.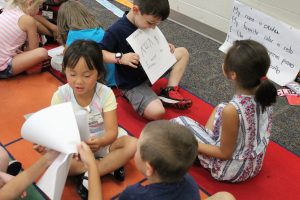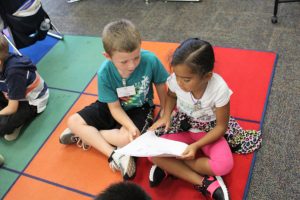 Following the collaborative work, the students got paper from a drawer, and worked on writing their own stories. When some of the children said they couldn't think of what to write about, Mrs. Durnell encouraged them to write about what they know, their "families or recess" for example. One student shared her story and said "at the end, all of the students go to the carpet and we all fall asleep. It's a funny ending!"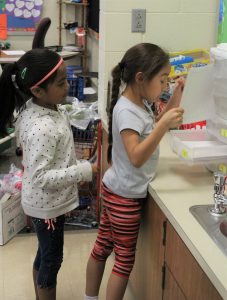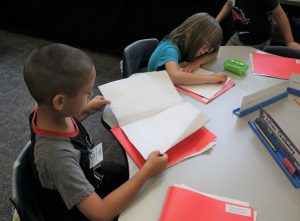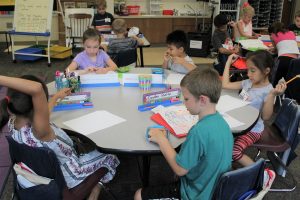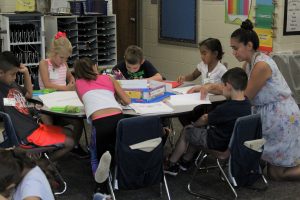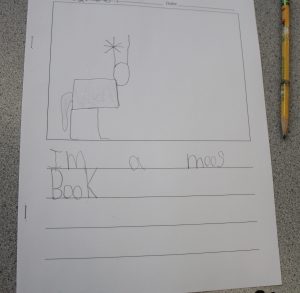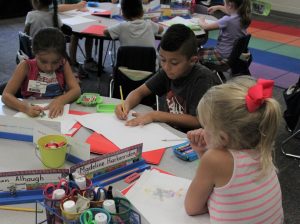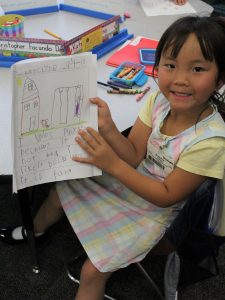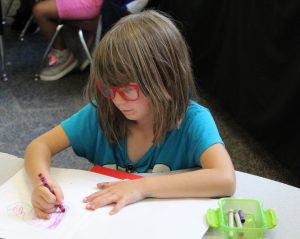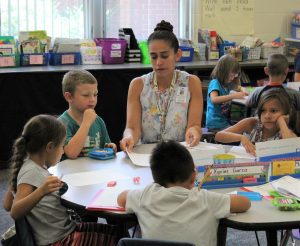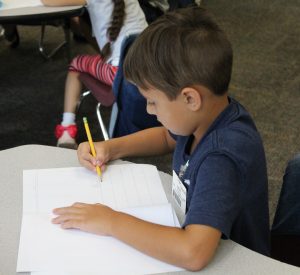 Posted right inside the Dual Language Immersion (DLI) 1st Grade classroom is a sign that says: At Waterford Elementary we believe in all students and staff learning and growing together; where innovation, diversity, and relationships are valued.
In the Waterford DLI classrooms, students have two teachers; one teacher has the students for 1/2 of the day and speaks only English to the students, and another teacher has the students for the other 1/2 of the day and speaks only Spanish to the students. In each class, 1/2 of the students are native English speakers and 1/2 of the students are native Spanish speakers. The English speaking teacher uses half of the instructional day to teach language arts as well as science, social studies, and math. The Spanish speaking teacher uses the other half of the day to teach Spanish literacy, math, and portions of social studies and science. All lessons are a collaborative effort between the English-speaking and Spanish-speaking teachers. This year Waterford has DLI classrooms for kindergarten and 1st grade. Each year Waterford will offer a new kindergarten DLI classroom, and the DLI classes will advance another grade until a DLI class is offered at all grade levels at Waterford. (Each DLI class has room for 50 students since the students are split between two teachers, spending 1/2 day with each teacher.)

When we got to Ms. Marisa Schipani's DLI classroom, the students were working on math. The students were in their Spanish-speaking portion of the day, so the lesson was being taught in Spanish. So for these 1st graders, they needed to listen to and understand the instructions, use their visual cues from the math curriculum in front of them, and then work out the math, combining many thoughts, words, and concepts into one math problem. The complete process might still be frustrating for some of the students, but oh how their young brains are working, growing, and learning how to think!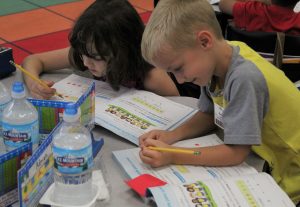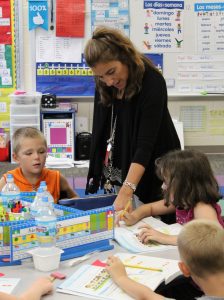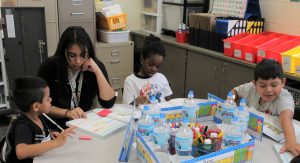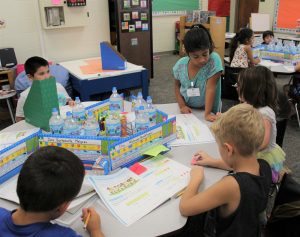 During a short lull, when a student had completed her math problem, she pointed out that the yellow sign on the wall was made "from all of our hand prints, and it says we will be Respectful, Involved, Responsible, and Safe".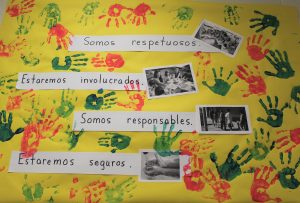 One of the ways in which the students learn a new language is to listen to the teacher and watch her hand motions, as she often makes motions or acts out what she wants the children to do next. The teacher and students also used motions when they were practicing the sounds of the letters of the Spanish alphabet. They practiced saying the sounds and then said a word (like cat or cow) that started with the letter and made motions to help them remember the sound.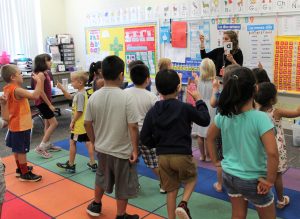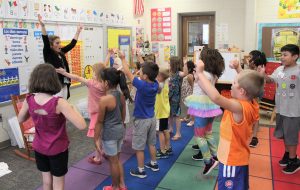 After reviewing their letters, the students focused on the specific sound for the letter a, and worked on building words with the sound. First they said the words together, then they took turns building words from sounds on the board, and then they got their own white boards to practice writing and saying the words.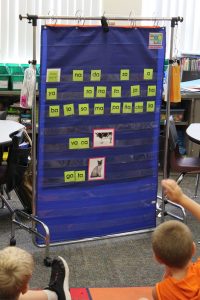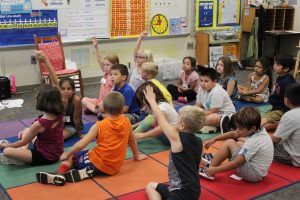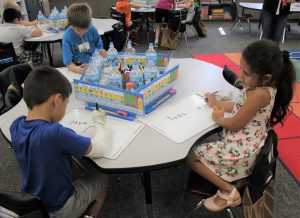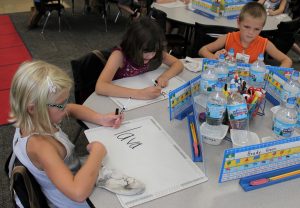 Waterford 1st graders are busy children! They are already working on writing stories and some are learning a whole new language. By 1st grade they already know how to do school. Now they are continuing to build their educational foundation as they learn more about reading, writing, and other core subjects, collaborating with other students and being a good classmate, the process of thinking, and learning more about diversity and different cultures in our world.
Thank you Mrs. Durnell, Ms. Schipani, and Waterford 1st graders for letting our community take a peek at your busy classrooms. Your rooms look like great places to learn and grow!