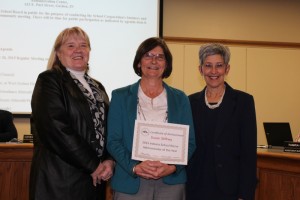 Board recognition for November 9, 2015:
Mrs. Susan Stiffney, GCS Health Services Coordinator, was recently honored as the 2015 Indiana School Nurse Administrator of the Year. The board expressed their appreciation for Susan's dedication, and noted that she is a "phenomenal leader". Mrs. Stiffney stated that she feels honored to work at a place where she can mix her love of both education and nursing in her profession. Dr. Woodworth pointed out that some may not know it, but Susan started out as an elementary teacher, switched careers to earn her BSN, and recently earned her license in Administration.
Congratulations, Susan!