Samantha Stoltzfus Named IMEA Composition Winner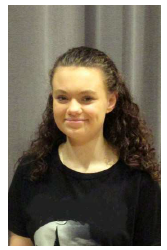 Samantha Stoltzfus (currently a freshmen at Goshen High School) was the middle school division winner of the 2017 Indiana Music Education Association (IMEA) Composition Competition for her string quartet composition "Sea of Thought". She was awarded a plaque and was recognized at the state IMEA convention on January 13th, 2018. IMEA is currently working to arrange for a public performance of her work in May, by the Indianapolis Philharmonic.
About the Composer: Sam Stoltzfus has been involved in music almost her whole academic career. From choir to orchestra, she has always been fascinated with notes on a page. In sixth grade, she started meddling with composition, and it has now become one of her favorite activities, and even landed her a winning spot in the Chamber unit in the 2016 IMEA Composition Competition. She has played Viola for four years, and has studied under Benita Barber for two. She is also part of a chamber ensemble.
Program Notes: Sea of Thought is a sporadic piece meant to represent the scattered trains of thought flying through someone's head. Whether it be calm, unpredictable, or uncontrolled, our minds seem to never stop. Sea of Thought has three main phrases, which eventually get layered on top of each other to show how overwhelming life can be. Sometimes the loudest thing is your mind, and Sea of Thought is merely a musical adaptation of the quiet storm within.
To hear Sea of Thought, click on this link: