PV Teacher Awarded Little Big Ideas Grant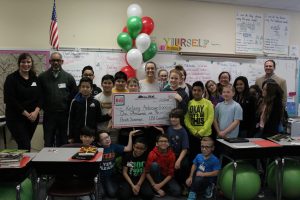 Prairie View 5th grade teacher, Kelsey Ambrosen, got a big surprise today when she was awarded a $1,000 Little Big Ideas Grant!
The following information is from her grant application, and explains her idea for the grant:
IDEA FACTORY!:
The librarian at our school began a Young Hoosier Book Challenge for 4th and 5th graders. This challenge asks students and teachers to read all 20 of the chapter books from the Young Hoosier book list and answer a short response question to check for comprehension. One of the books on the list that many, myself included, have really enjoyed is called "The Book Scavenger" written by Jennifer Chambliss Bertman. In this story, 10 year-old Emily enjoys playing a game called "Book Scavenger" where books are hidden around the country by other players. To find the books you must log on to the website, decide the book you would like to find, solve a puzzle of some-sort (riddles, ciphers, etc.) that help you locate the book. You then log, read, and re-hide books for other players to find. After doing some research I found that this game actually exists (www.bookscavenger.com). There are already books hidden in all 50 states and some other countries world-wide. My idea is to bring this game to Goshen, as the closest hidden books are in Fort Wayne. I would like to use the grant to purchase books to hide. My goal is to
get my own class involved in the hiding of the books and get them excited for finding and reading new literature. I would also like to advertise this game so others in the community can get involved as well.
MONEY TALKS:
My hope is to receive the whole $1,000 available through the grant to purchase as many books as possible, however, any amount would help.
READY, GET SET, GO.:
I would begin forming a school committee to help decide the books that should be purchased and come up with some clues beginning mid-January and purchase the books after funding is received. The full launch would be in the spring when the weather begins to warm up.
THE BIG "W"'s.:
Who: Myself and the student volunteers at Prairie View will help launch this project. It will be for anyone with a love of reading and puzzles. Where: Around Goshen where books are able to be hidden, advertised on social media, and run through the website Why: The book has really gotten my students excited and when I told them it was a real game I saw the spark in their eyes. I really think anyone in the community who has a true love of reading and puzzles will enjoy this game, it may even convince those who aren't passionate about reading, that it can be fun.
SKIPPIN' ROCKS: ?
Similar to the Goshen Rocks Initiative, this is a game that never ends. It is already in 50 states and bringing it to Goshen will only put more books out there to be found.
Congratulations, Kelsey. Thank you for passing along your love of books!!