Parkside and Martin's Team Up for Earth Day/Arbor Day
This morning Parkside Elementary School kindergarten students (all 3 classes!) took a field trip to Martin's on College Avenue in Goshen. They presented the grocery bags that they decorated for Earth Day/Arbor Day.
This is the 7th year that Martin's Supermarket has partnered with Goshen Schools during the month of April to celebrate Earth Day and Arbor Day. This year bags that were provided by Martin's were decorated by over 1,000 GCS elementary students.
Judy Miller, GCS Energy Specialist, visited 43 classrooms in pre-school through 5th grade, educating the students about the GCS Energy Conservation Program and the history and importance of Earth Day and Arbor Day.  The students decorated the bags, depicting their ideas for caring for the earth with their own pictures and messages. The decorated bags were then returned to Martin's this morning, to be used for customers' groceries.  The students were excited to share what they learned through their art on the bags for the community.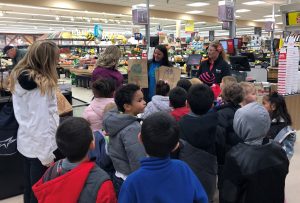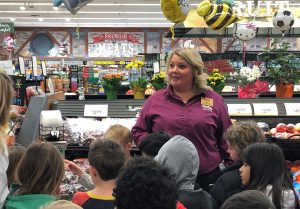 One of the Martin's employees, "Miss Michelle", took the students on a tour of the store and provided some interesting facts about some fruits and vegetables.
Below, students listened to a pomegranate. If squeezed lightly, pomegranates "squeak".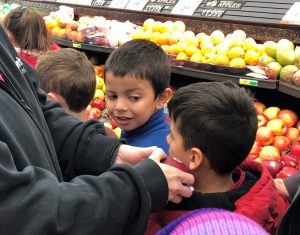 Some vegetables grow in the ground and some vegetables grow on top of the ground.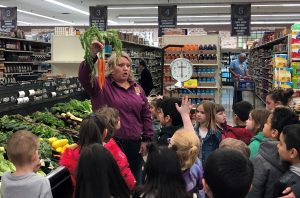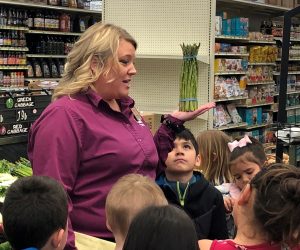 Did you know that there are male and female bell peppers?! (Some of the adults on the tour did not!) The female peppers have four bumps on the bottom of the pepper and the males have 3 bumps on the bottom of the pepper.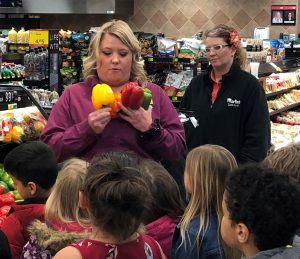 Next, the children took a tour through the bakery area, and one student joyfully noted "You've got the mother lode back here!", which gave the Martin's employees quite the laugh.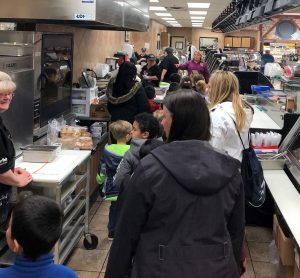 Then the students got to see where all of the food is delivered to the grocery store.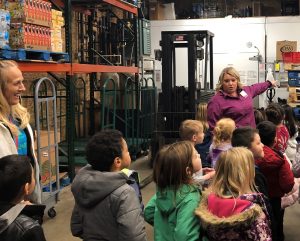 And lastly, the students got to have a healthy snack of apples, oranges, and grapes, which they loved!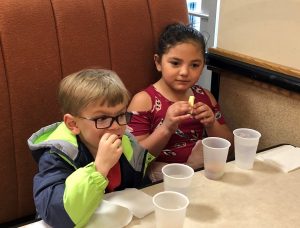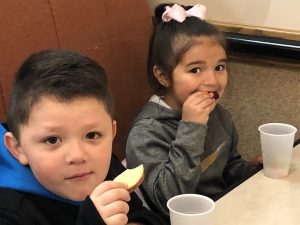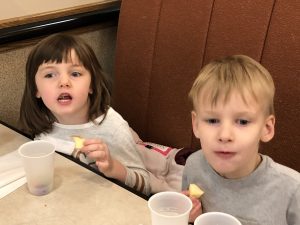 Thank you, Martin's. It was a great tour!