New Tech at Model Elementary
New Tech at Model Elementary
Model Elementary students and staff are implementing a new program this year, New Tech. For this first year, the teachers and students in kindergarten and grades 1 & 5 are participating. New Tech is based upon four pillars (From the New Tech Network website): Teaching that engages-through project-based learning, students become problem-solvers; culture that empowers-the school promotes a culture of trust, respect, and responsibility; outcomes that matter-learning outcomes measure collaborations, written and oral communication, and students' responsibility for their own learning; and technology that enables-through a technology-rich environment, teachers and students create, communicate, access information, and experience self-directed learning. With the implementation of New Tech, the students were given 1:1 school-assigned iPads, including grades 2, 3, & 4 who are not technically doing the New Tech curriculum this year.
Given that the kindergarten students have only been in school a short time, it is understandable that they are still learning how to "do school". There was a list of Kindergarten Norms posted in their room, which each student and the teacher had signed. The norms included: We will help others learn; We will sit criss-cross applesauce; We will be quiet and listen to our teachers and our friends; We will keep our hands and feet to our self; and We will share and show kindness to all our Model school friends. What a great example of building a culture that empowers!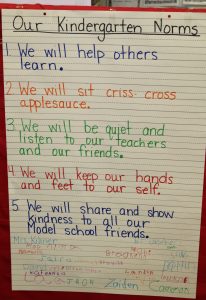 New Tech helps students to identify the things they already know, and also names the things they don't yet know as "need to knows", which become future goals. A bulletin board outside of the kindergarten room and a chart in their room illustrate a few of the things they have learned since the beginning of the school year; the "knows": Our school community-library, classroom, cafeteria, office, bathroom, music room, art room, gym; how to make a video for our presentation; how to work in groups; being kind on the playground; and making an invitation. The chart in the room also identified one Need to Know: Can we show kindness, responsibility?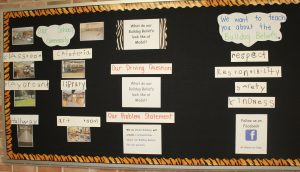 Upon entering the kindergarten classroom, the students appeared to be hard at work, studying at different stations around the room. It appeared that they were learning to read letters, words and simple sentences. The various ways in which the students were working/learning included: Using a small car to "drive" the roadway printed on giant letters; using headphones to listen to a book being read to them; using the touchscreen on an iPad to interact with a story; using a small "hand" pointer to point to words and read a sentence aloud to a partner; using watercolor paints to paint a large letter; and using a short sentence template to plug in the names of their fellow classmates. All of the students were working diligently on their particular tasks until their teacher asked them to wrap up their work and join her on the mat. Their teacher spoke softly to them, but the students moved quickly, and with very little talking or misdirection, toward the next assignment. Once seated, they discussed the word they had been studying. Their teacher asked for a signal of "thumbs up" if they understood the question; the response was quick and affirmative. These New Tech learners have only been in school about 6 weeks, but it is evident that their technology has enabled them to do new things, and that they are engaged in the classroom.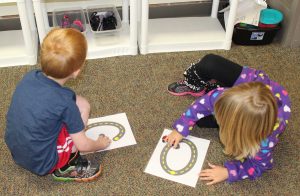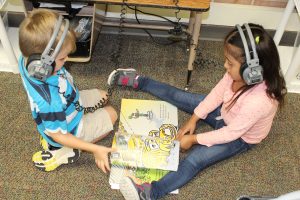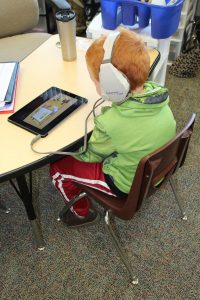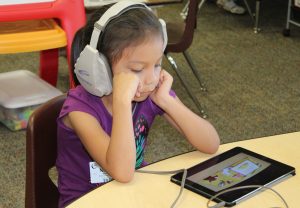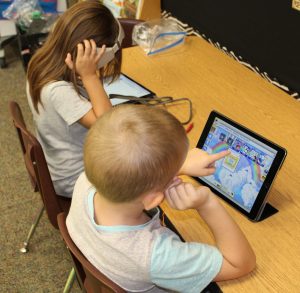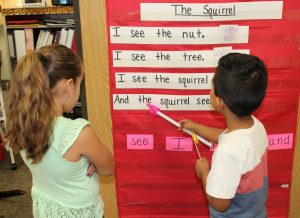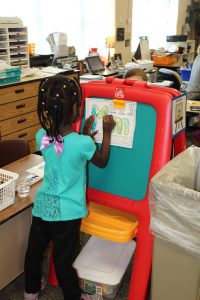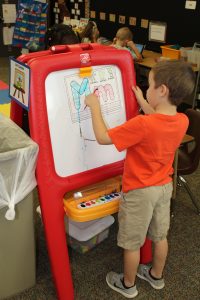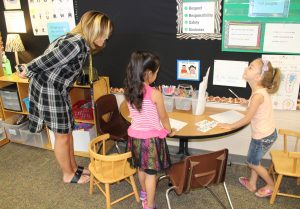 In another part of the building, the 5th Grade teachers were meeting with the principal, Mrs. Peters, and a New Tech Coach who was visiting to observe grade-level planning. To start, they discussed the first project of the year, a project which incorporated the Olympics, since the Olympics were televised during the first couple weeks of school. One of the teachers shared that students wrote a short piece for their project every week, bringing all of the writing together at the end. Another educator added that "we couldn't have done this last year at this time, not this soon". When asked why, the responses were that "we made it fun; they've written so much more this year; and they love doing the presentations". Lisa Younghans stated the students are getting so well-trained in the supportive language, that "the other day when I said I was wrong", the students said, "No, Mrs. Younghans, you are just failing forward!" Eric Wolfe said his students had a contract regarding how they would work together as a group. When some of his students started arguing while working on a project together, he just showed them the signed contract and they worked it out themselves.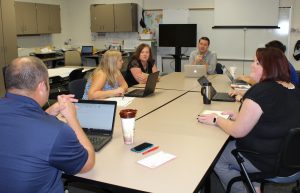 After reviewing the first project, the team resumed their planning for the next project, which will center on resources. They will begin by looking back in history and considering why explorers chose to live where they did; what resources were available to settlers; why there was westward expansion; why people want to live in Indiana today; what resources we have to offer in Goshen, IN; and finally, how can we responsibly use the resources that we have? After the explanation of the next project the New Tech coach prompted them by asking "What will be the end product?" The teachers stated that they would like to have the students consider how the school, which already recycles, could do more to be responsible with resources. For example, could the school eliminate food waste from the cafeteria, or develop a system for composting cafeteria waste? One teacher mentioned the possibility of bringing GCS Energy Educator Judy Miller into the school to speak to the students about energy and renewable resources. And finally, to illustrate real outcomes that matter, when their projects are completed, they suggested a possible presentation to the school board or hosting an Energy Conservation night at Model for all Model families. The bell rang at that point in the conversation, and they gathered their things to get back to their students, with one last reminder to "put your ideas into the Google doc" that they use for planning.
There is some exciting stuff happening at Model, thanks to the efforts of staff and the willingness of young learners.