As a way to involve students in celebrating National School Lunch Week (Oct. 9-13), GHS cafeteria manager Shannon Dellinger created a contest for students: She asked them to "design a healthy meal". They had to keep in mind the nutritional requirements for a school lunch, but could choose something that they would like to see offered in the cafeteria. Apparently there was a great response, and GHS students had many terrific ideas!
And the winner of the lunch contest for National School Lunch Week is: Sophomore Ivette Quintero!  Her meal will be featured in the cafeteria on Friday, October 13th.  The winning meal that she entered was posole served with sliced radish, shredded cabbage & cilantro, chasca with lime wedges, and rice & corn tortilla shells.  Ivette will receive two large pizzas as her prize.
Congratulations, Ivette! And thank you to Shannon for encouraging student creativity and honoring Ivette by serving her meal next week!
Friday, Oct. 13th update: Pictured below are GHS Cafeteria Manager Shannon Dellinger and Ivette Quintero, contest winner, with her winning menu.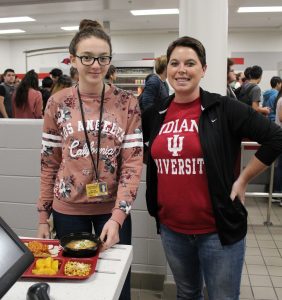 Congratulations, Ivette!