In Memory of Susan Ellington
On Monday evening, Goshen Community Schools lost long-time orchestra teacher/director Susan Ellington to cancer. There have been many tributes by former students and GHS faculty members on social media, and many expressions of support for Susan's family. Susan was very special, and she will most certainly be missed. We take comfort in the fact that her love of music and people has been instilled in the hearts and minds of many students, and that her love will continue to grow through others.
The following is one tribute from a former student:
We weren't the brightest students in the world, though we liked to think we were. We weren't the best instrumentalists either. Trust me, if you've heard Carmel HS in Indianapolis play at ISSMA competition, you know that to be true. But there is something that we all had that we knew was special. We had Susan Ellington.
In all my years of playing in orchestra in Goshen Community Schools, I never had a director quite like Mrs. Ellington. She was kind, fiercely passionate, and she never gave up on her students. Each one was precious, and each one had a gift. She believed in the power of music to bring students of all backgrounds together. No, we weren't always perfectly in tune. Sometimes the first violin section would muddle through a phrase of particularly challenging 16th notes, and play very confidently on the cadence of the phrase. Mrs. Ellington always pushed us to be the best that we could be, but at the end of the day, we were creating something special together. It didn't have to be perfect for her to be proud of the work we had done. We were all beautifully flawed people coming together to work towards a common goal.
Mrs. Ellington has done so much for music education, and thousands of students have been impacted by her work. Brava, Susan. You will be missed, but we celebrate your life through song and fond memories.
fin.
Written by GHS graduate Emma Roth.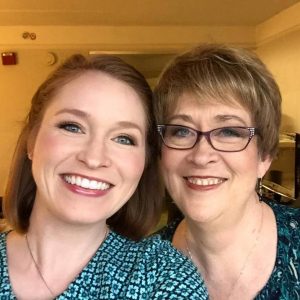 Daughter Kendra Ellington Nafziger and Susan Ellington
Funeral Arrangements are as follows:
Visitation will be at Yoder-Culp Funeral Home (1911 S. Main Street, Goshen, IN) on Friday, April 14 from 2:00-4:00 pm and 6:00-8:00 pm. Celebration of Life on Saturday, April 15 at 1:00pm at Eighth Street Mennonite Church (602 S. 8th Street, Goshen, IN) with graveside service immediately following at Chapel Hill Memorial Gardens. Memorial contributions may be directed to the Elkhart County Symphony at P.O. Box 144, Elkhart, IN 46515.
The following is a poem that Susan offered to her graduates:
We Have Made Music
 Isn't there a kind of sample brotherhood in the making of music?
Just a sample, under conditions that are transitory.
But one which might grow if it could be remembered and nurtured?
 Making music together is hard work that is fun.
Making music together creates a kind of brotherhood where failure is everybody's loss.
Where success is a victory for all, where differences and inherited beliefs have no relevance.
We create a new world for a few moments; we are for a time in pastures green…
and remembering, wish the world could be like that, forever.