I.C.E. End-of-Year Banquet
The students in Mr. Ken Cross's Goshen High School Interdisciplinary Cooperative Education (I.C.E.) program met for lunch on Thursday, April 27th to celebrate a year of classes and on-the-job training. This educational option, which is a part of work-based learning, has been in place at GHS for quite some time, but it will change starting with the 2017-18 school year. Instead of I.C.E. or Internships, students will be able to choose from an Internship or an Apprenticeship, which will last for one semester. In an apprenticeship, students will work under someone who is qualified in the field of their interest. Depending on the job placement and the length of the training, students will have the potential to graduate with certification in their chosen field.
Mr. Cross spoke a little bit about the program "by the numbers". He said that last year 22 students started the program at the beginning of the year, but only 9 students completed the whole year. Those students worked just over 10,000 hours and earned over $84,000. This year, 16 students started the program in August, and 14 students completed the whole year. They also worked over 10,000 hours, and have so far earned $93,000 for the year, with the potential to earn $100,000 before the end of the school year.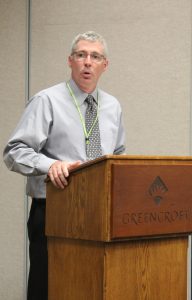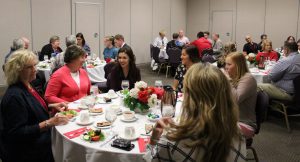 Additionally, each student is required to work 540 hours over the course of the school year, which averages out to 15 hours per week. This year's class has averaged closer to 19 hours per week, and they each represent 9 continuous months of employment.
Mr. Cross shared some of the positive statements the employers made about their students on their evaluations:
"Interacts well with the team."
"Always willing to help with any task."
"Has grown in the knowledge of our work."
"Is prepared and ready to work."
"Is a joy to be around."
He also shared some constructive criticism from one employer:
(In October) "The student is on a downward spiral."
(In March) "Much improvement" And, the student was given a perfect score!
Each student gave a presentation about his/her work placement, and shared some of the things that they had learned, both at work and in the classroom. (Something to note: Some of these students are involved in GHS athletics, so they went to work very early in the morning in order to be available for athletic practices after school.)
Dylan Back, Maple City Dispensing
At work, he learned how to operate a forklift, how to manage a route, and how to service the machines if it was a relatively easy fix.
In the classroom, he learned about many financial principles including budgeting, insurance, and how to plan for the future.
He will graduate in June, and plans to attend the University of Indianapolis where he will play football and study business and marketing.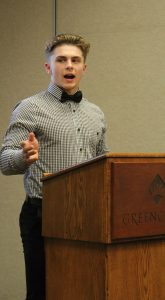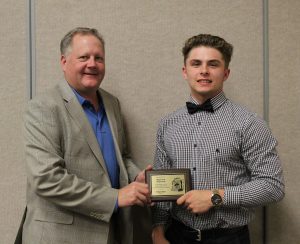 Eric Contreras, Kropf Industries
At work, he learned how to safely use power tools, the importance of teamwork and communication among team members, and the importance of being at work on time.
In the classroom, he learned about budgeting and investing for his future.
He will graduate in June, and will study business at IUSB.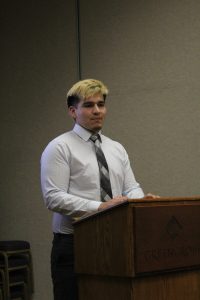 Noah Edwards, Greencroft
At work, Noah served food, washed dishes, and served the Greencroft residents. He learned how to work the cash register and how to have patience with co-workers and residents.
In the classroom, he learned the importance of saving, budgeting, how interest adds up over the years, and how to do his own taxes.
Noah will graduate in June and plans to join the Marines.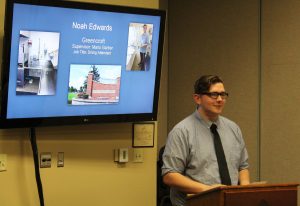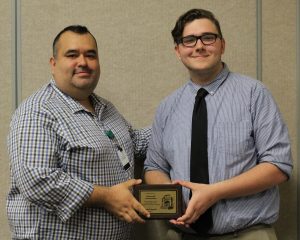 Diego Garcia, Taco Bell
At work, Diego said he learned how to deal with people, and to take a leadership role.
In the classroom, he learned how to deal with credit and how to save for the future. He thanked Mr. Cross for being flexible with him during football season as it was hard to manage school, work, and athletics.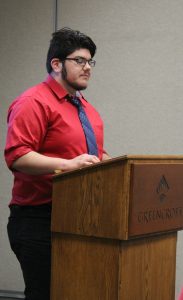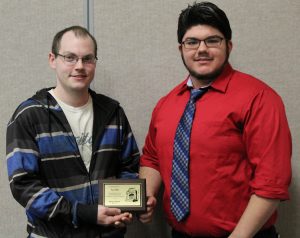 Cheyenne Kalb, Barr Architecture Design Group
At work, Cheyenne worked as a drafter, and drew up site plans for buildings, including layout for electrical and plumbing. She also learned a lot about many regulations in the field.
In the classroom, she learned how to do her own taxes and how to budget. She stated that because of what she has learned, she has saved enough money to pay for her first year of college.
She will graduate in June and plans to attend Ball State for Architecture.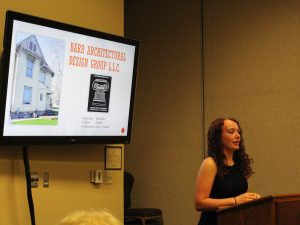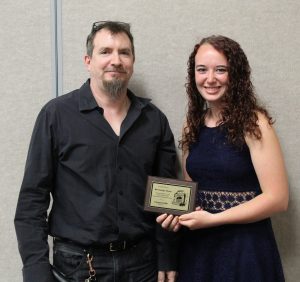 Bethanie Kinkaid, Greencroft
Bethanie worked as a dining attendant at Greencroft, serving residents and working in the kitchen.
In the classroom, she learned a lot about taxes, insurance, and budgeting.
She will graduate in June, and wants to attend college to be a nurse.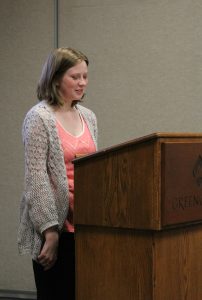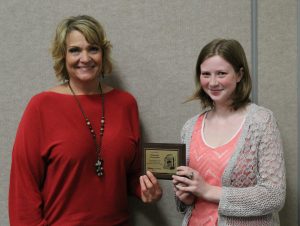 Josselyn Orellana, Lux Café
Josselyn worked as a hostess and a waitress, where she learned the positives and negatives of working in a service industry.
In the classroom, she learned about saving for retirement, budgeting, managing her money, and being prepared.
She will graduate in June, and will attend Ivy Tech for Dental Hygiene.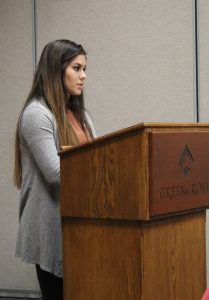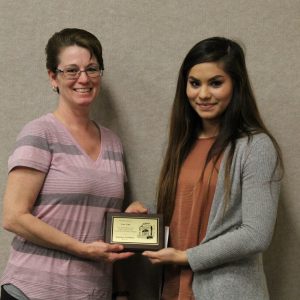 DeLaney Powell, Best Western
DeLaney worked at the front desk at the Best Western, taking reservations and registering guests. She said that her job helped her improve both her computer and problem-solving skills.
In the classroom, she said that she learned a lot about finances, and that Dave Ramsey (who has written books on personal finances) is now "basically one of my best buddies".
DeLaney will graduate in June and plans to attend college.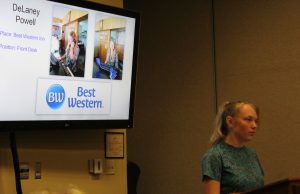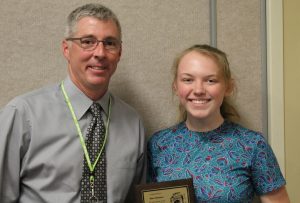 Nick Ragsdale, Monteith Tire
At work, Nick was employed as a tire tech, but also learned more about basic auto repair. He also learned to keep his work space clean, to be a team player, and more about the automotive vocabulary.
In the classroom, he learned a lot from the Dave Ramsey series, and also about budgeting, keeping an emergency fund, keeping yourself accountable, and how to do taxes.
Nick will graduate in June, and plans to use what he has learned to work on military vehicles.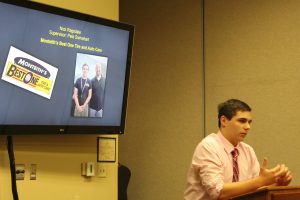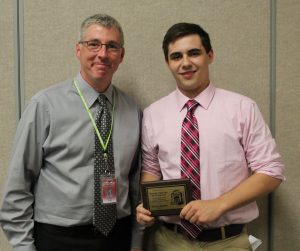 Ailynn Rangel, Interra Credit Union
Ailynn has worked in the RedHawks branch of Interra, where she learned how to do deposits and transactions, to balance her drawer at the end of the day, and how to provide good customer service.
In the classroom, she learned strategies to develop and stick with a budget, and how to interview for a job.
Upon graduation in June, she plans to continue her employment with Interra and pursue a business degree.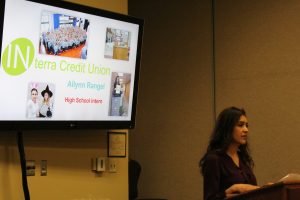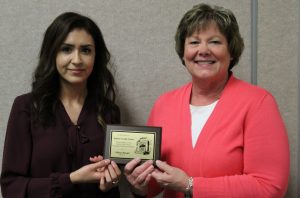 Jessica Saucedo, Parkside Elementary School
In her job, Jessica worked with students in the classroom, reading to them and helping them with projects. She also did things like making copies for the classroom.
In the classroom, Jessica learned about debit and credit cards and about budgeting.
Following graduation, she will attend IUSB to study elementary education.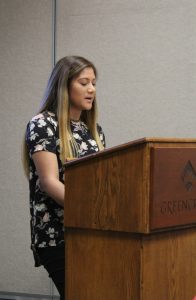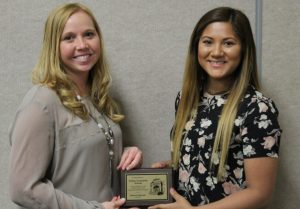 Lilliana Schmucker, Greencroft
Lilliana also worked as a dining attendant, where she worked in the pantry, washed dishes, stocked items, and served Greencroft residents. She said that she learned to have compassion for other employees and for the residents, and said "If you can make residents smile, you've done a good job". She also noted that communication is a key with your employer.
In the classroom, she learned about investing, and that budgeting will help you plan for your future.
After graduation, she would like to attend college to become a pediatrician. For the summer, she plans to get her CNA and continue working at Greencroft.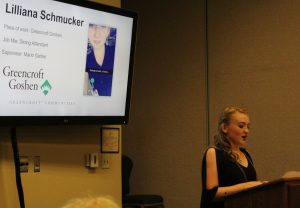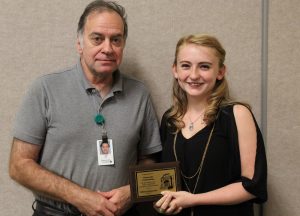 (Ralph) W2 Shrock, Bob Evans
W2 has worked as a cook at Bob Evans.
In the classroom, he said that he learned a lot about investments, and the different types of investments a person can make. He also developed an understanding of debt, which led him to cut up his credit card and only spend money if he had cash.
He will graduate in June, and plans to enlist in the Marines.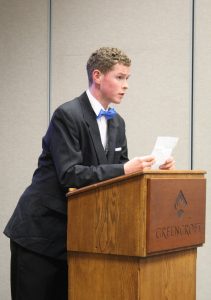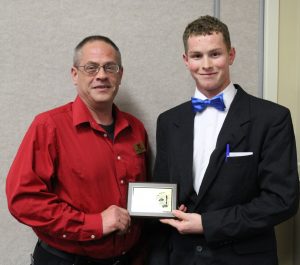 What a great group of students/employees! Thank you to Ken Cross for leading and instructing them this year, and to the employers in our community who provide this valuable learning experience for our students.