Goshen Festival Encourages Harmony (Elkhart Truth)
From the Elkhart Truth:
GOSHEN _ Hundreds of spectators came out to Rogers Park on Saturday for the second annual Maple City Multicultural Festival.
The Nicole Williams Drum Circle attracted kids and adults alike to the pavilion for togetherness activities and music, as did illusionist Kevin Long. Students from the Goshen High School Orchestra, Dos Hermanos Band , Esclavitud Norteña, Nayo Ulloa, Burgundy – Abraham Medellin, Idris Busari, Sonido Sonico and Isaac Williams also performed for visitors.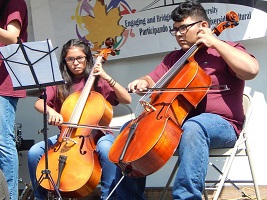 GHS orchestra students
Patrons visited booths with foods from Ukraine, Mexico, El Salvador, Palestine, India, Guatemala, Ethiopia and more. Kids competed to win a new t-shirt by being one of the first to "fill out their passport" by visiting booths from every country in attendance.
"The goal is to allow people to come together in a non-political non-confrontational setting where we can explore each other's cultures in the way of food and music," Deb Jones, director of the Maple City Multicultural Festival or board member for La Casa Inc., said.
The playground offered tons of fun for young kids while parents explored and listened to music. Ten Thousand Villages offered a music instrument "petting zoo," Goshen Fire Department brought out an ambulance and a fire truck for kids to check out.
Basketball clinics for people of all ages were held throughout the afternoon as well. Heart City Health Center, MHS and La Boutique, Ten Thousand Villages, La Casa, Inc., and many other companies came out to supply the community with information and products to consider.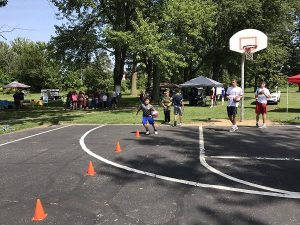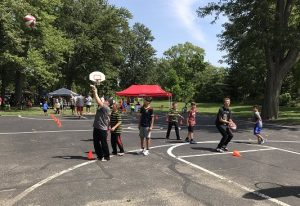 GHS basketball players
Sponsors for the event included LaCasa, Inc., Goshen Parks Department, Abogado Felipe Merino, Faubian Plumbing Heating & AC, Goshen College CIIE, Goshen Community Relations Commission, Goshen Family Physicians, Gutierrez Bakery, Heart City Health Center, Interra Credit Union, La Boutique, Mulroy Family Insurance, Radio Horizonte and the Electric Brew.