GMS New Tech "Ripple Effect" Peer Mentors
Recently, 39 GMS New Tech students attended a training at Goshen College in preparation for serving next school year as Ripple Effect peer mentors and ambassadors. The kids were simply amazing! The students learned about being a mentor, leadership, confidentiality, boundaries, "Lollipop Moments" and how they impact others without even knowing it. They also learned how they can have a ripple effect of kindness and community within our school.
Through consensus-building, students created a hashtag for our program (#startyourrippleeffect) to add to our Ripple Effect logo designed by our own GMS art teacher John Nafziger. See the logo and a list of mentor students below.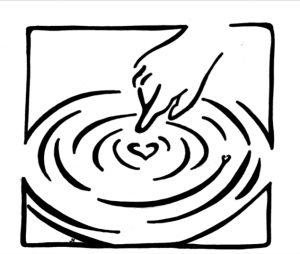 Mentors: Faye Amazona, Nayely Arellano, Jonathan Beas, Quinn Bechtel, Ingrid Brito, Emoni Brooks, Kylee Brown, Marcus Castaneda, Nolan Casteneda, Edgar Contreras, Jaime Cruz Evangelista, Elizabeth Dilworth, David Dominguez, Daniel Edmonds, Luis Esparza Diaz, Byrant Faustino, Delaney Ford, Kelly Garcia, Rayna Gonzalez, Jesus Guijosa-Torres, Payton Hall, Andrea Hernandez Amaro, Janiece Herrera, Deecon Hill, Andrea Lozano, Ulises Martinez, Clarissa Mata, Marta Mayevsky, Logan Miller, Sara Olayo Evangelista, Steven Peel, Erik Rios-Mendoza, Isaac Rodriguez, Flavia Romero, Briza Tayagua-Delgado, Kareena Ulfig, Lacey Utley, Meggy Vanhooser, and Jordy Velasco.
A photo of the NT Ripple Effect mentors and ambassadors is below.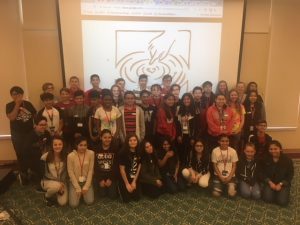 Thanks go to Goshen College Dean of Students, Gilberto Perez, for his help in making the day possible. Our thanks also to GMS NT staff Jan Desmarais-Morse, Krista Troyer, Nate Swihart, Katherine Christoffersen, and Angie Schwartz, along with Ana Schue, former GMS/GHS student and 5 Star coach-extraordinaire, for being great mentors themselves as we trained our kids.
Some of the student mentors were also ambassadors while in elementary school, so they are very excited to continue the good work begun through our invaluable elementary school counselors.
GMS is so excited to bring New Tech Ripple Effect to our school next year to welcome our sixth graders, calm their fears, and continue to build community and relationships.