GHS Gratitude Post Office
Look what GHS students are planning for next week!
It's almost the end of the school year!  Have you already expressed your gratitude towards your friends and teachers?  If not, the Gratitude Post Office can help you to do it!  Send your kindness and thankful messages to your friends or teachers!  Cards are provided and you will also get a free candy every time you write a letter!  Teachers are also welcome to join.  We will be available during lunch in the commons area!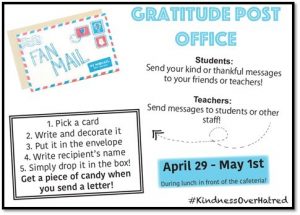 You may see the motivational video provided by GHS teacher Jenny Clark by clicking on this link: https://www.youtube.com/watch?v=oHv6vTKD6lg&disable_polymer=true
GHS, we love this idea! Thank you for thinking of others and expressing your gratitude. You ROCK!