Goshen High School girls soccer coach Dan Graber has been around for a few years, teaching P.E. and coaching soccer. He has a well-rounded program, that with the help of assistant coaches, runs like a well-oiled machine. From the team's website that includes parent information in both English and Spanish, to the yearly team retreats and individual goal-setting meetings, this coaching staff gives their athletes a lot to think about. Below you will find Coach Graber's responses to questions about his team and some pictures from this summer/fall.
(Dan Graber's responses will be in bold.)

How long have you been coaching?
I have been the head coach at GHS for 16 years.
How has the sport changed over the years that you have been coaching?
Soccer has grown significantly across the country. In just the state of Indiana, there are now 265 high schools with girls' soccer teams.  In general, women's sports have experienced real growth over the past 20 years.  The success of the Women's National soccer team and prominent stars like Mia Ham inspired many young girls to start playing soccer. Soccer is also played at a faster and stronger pace today.  Off-season expectations have increased.  Players are expected to train year round and spend a significant amount of time in the weight room.
How has your team changed?
We have much more diversity on our team today. Tactically, we moved away from a direct, kick and run team, to much more of a possession game, with a focus on defense.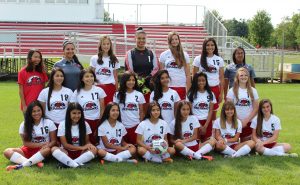 2017 JV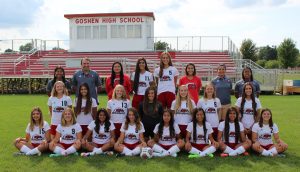 2017 Varsity
Will your team practice on the new, synthetic football field? How much? How important is it?
We now have a few teams in the NLC conference that will play their home soccer games on turf .  Many tournament games, including the state finals, are also played on turf.  Due to these developments we anticipate using the turf field on practices leading up to games that will be played on turf.  However, most of our regular season games continue to be played on natural grass, and any soccer coach will tell you they prefer natural grass.  A turf field significantly changes the game; the ball moves much faster and bounces at a higher rate.  Ball control and anticipation becomes extremely important. 
What are your hopes and/or expectations for this season?
Our expectations are always high.  Our goals each year are to finish top three in the NLC conference and to win a sectional title. 
What practices, traditions, or rituals might be unique to your team?
Our overnight team retreat and the alumni game are unique to only the girls' soccer team at GHS.
Photos from the Alumni game: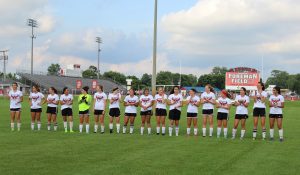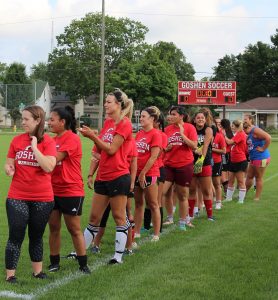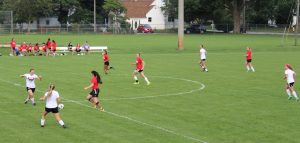 How young or how experienced is your team? Does it matter?
Experience always matters. We have 13 letter winners returning this fall.  I'm excited about the leadership present in our returning group.  It's been a busy summer and the girls have worked extremely hard.  At this point, our main focus is to stay healthy and fresh.
How do parents or community members provide support for your team?
Parents and community members volunteer time by working at home games and purchasing Goshen soccer gear.
What could people do for you if they wanted to support you and/or the team?
Three ways we appreciate support:
Purchase Goshen soccer gear.  We should have a website with options available to the community.
Buy some pies!  We sell homemade pies every year during the last week of August. (sorry, this fundraiser is already over!)
Come to our home games! We have had a great following over the years. 
 
How have changing IHSAA soccer rules impacted the game?
The game is played at a faster and stronger pace today. Concussions and ACL injuries have been a real issue in the women's game.  Today we focus on proper training in the weight room to help players avoid injuries, and we keep a close eye on any contact involving a player's head. 
Do you monitor players' yellow/red cards, and are there consequences (either IHSAA or self-imposed) that impact the team?
We are a disciplined team.  The girls have averaged one yellow card a year over the past few seasons.  As coaches we are required to keep track of all players receiving cards during the year.  A player must sit out one game after receiving 5 yellow cards or a straight red.
What does your team do for fun?
We start each season with an overnight retreat to give the girls a chance to bond and set goals for the season.  The players also take turns every week hosting team dinners at their houses. 
Photos from a team dinner: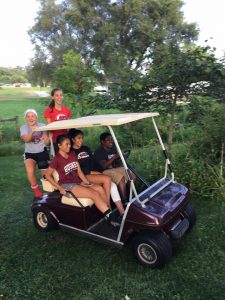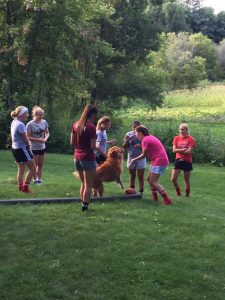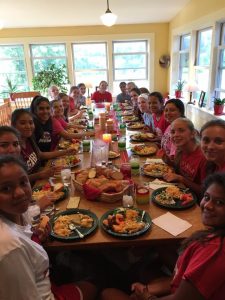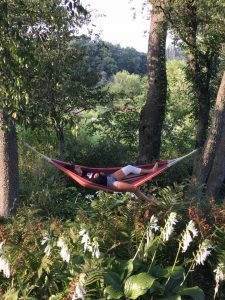 In the past we have made trips to the dunes and scheduled a bowling dress-up party.
Photos from the overnight retreat: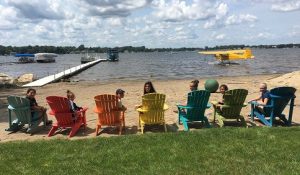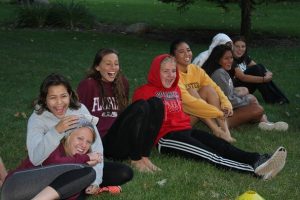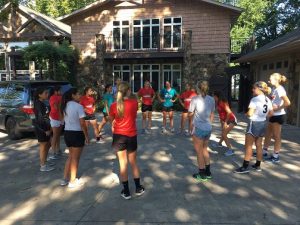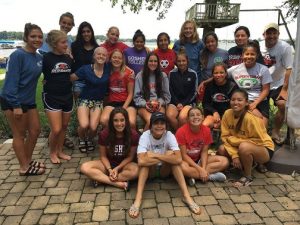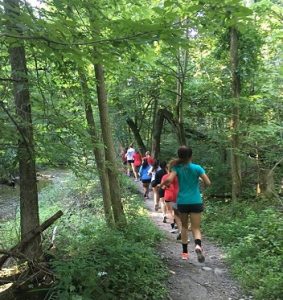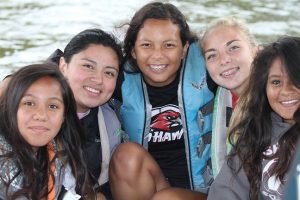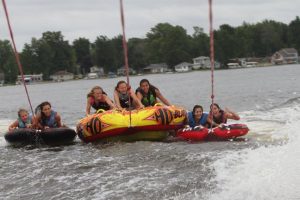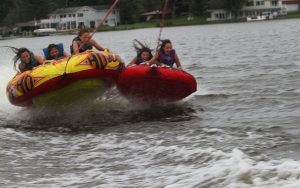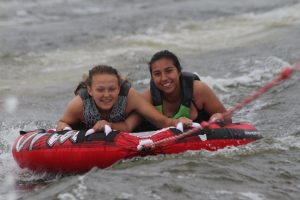 According to one of the team moms, "The retreat is like an old-fashioned sleep over! The coaches took all of the girls' phones when they got to the camp, so that they would focus on the team, and not be tempted to look at their phones. It really helped them to get to know each other better. They ate, played games, had individual meetings with the coaches, took a morning run, had team meetings, voted for team captains, went tubing, shared stories with each other, and just generally had a good time."
What does your coaching staff do to try to develop students as a whole person, and not simply as athletes?
We meet with every player individually before and after the season and ask players to set goals for the year that are not just related to soccer.
Is there anything that you think is unique about coaching at GHS?
I think we are fortunate to have a great level of diversity on our teams.  One year I think we had girls representing 8 different countries on our team.  There is real value in learning from a variety of cultures and experiences.
How much do you emphasize academics to your team?
Academics are extremely important to our team.  We set a team GPA goal at the beginning of every season.  The past few seasons we have had an average team GPA of 3.5.  We also try to connect with teachers in our schools.  It's always great to see our players make a connection with a teacher who has made a difference in their life.
How much, and how, do you emphasize good character/being a role model?
We always remind our players that they represent GHS soccer in the community and that their actions reflect our team.  We ask our players to volunteer their time with our elementary students and team camps in the summer.
How does the past success of your program impact your current team?
We have experienced some real success the past few years so we know teams are going to be out to beat us.  The success of our teams has led to us to changing our regular season schedule.  This fall we're facing the toughest schedule we have ever had at Goshen High School.  The girls are working hard and are ready for the challenge.
You have pretty nice soccer facilities, is there still a wish list?
It's hard to top our facilities!  It would be great to have an indoor field house where teams could play indoor soccer on turf, since we live in a state with such unpredictable weather.
How does coaching (and spending so much time away from home) impact you and your family?
Coaching is an extremely demanding profession.  Successful coaches take time away from the sport every year to re-energize.   I am also blessed with wonderful assistants who help lighten the load.  I really admire coaches who manage to balance coaching while still committing time to their families.  As a single person, I have always felt blessed to have more time to fully commit to my profession.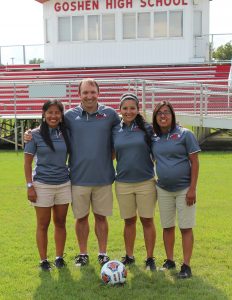 The coaches.
Always watching.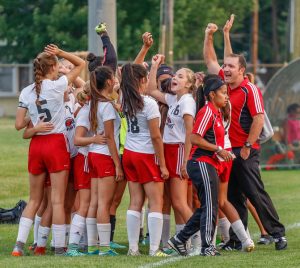 The team: Together, competing, having fun, learning about life, and earning some great wins.