GHS Football: Accountability, Commitment, Relationships, and Competition
In 2014, Kyle Park took over a GHS football program that had, quite frankly, lost its way. From the beginning of his tenure, he has acknowledged that the program could only be rebuilt "Brick by Brick". Since then, GHS students have been wearing the "Brick by Brick" shirts, and all indications are that the rebuilding process is well underway.
Mr. Park spoke recently at Goshen Rotary, and explained the four pillars of his GHS program: Accountability-Showing up, being on time, and being accountable to the coaches and team; Commitment-Being invested in off-season workouts, getting stronger, and preparing; Relationships-Having high expectations, holding players accountable, loving them as much as coaching them, doing activities together outside of football (such as tailgates, paintball, and community service) to let players see coaches as role models, dads, and husbands, and believing that the stronger the coach/player relationships, the more players will trust the staff and the harder they will work; and Competition-People compete for everything, jobs, scholarships, grades, etc… Competition teaches the players to accept defeat and move on, to win gracefully, and to understand the importance of competing.
The following narrative is a combination of information gathered from Coach Park, and observations from a week spent attending team meetings, practices, and other football activities.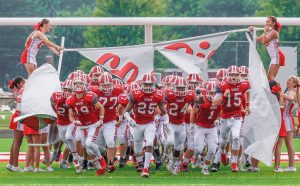 MONDAY
The first event was a team meeting following a huge NLC win over crosstown rival, Concord. As the players gathered to listen, talk, and watch film, one last player scooted in from the hallway. No words were spoken, but since he was nearly late, he was the recipient of a Kyle Park "dad" look and a finger pointing him inside to sit down.
Coach Park took his place in front of the players and told them that the win over Concord was a signature win for the program, with many positives. He encouraged his players to "look around at school and see the positive effect we can have on our school culture when we get a win like that". Coach Park told the players that the win goes back to the commitment and preparation throughout the year, "You know, it's hard to quit when you have invested so much".
The staff then looked at positives from the game: 1. The offensive line was more consistent, they protected the quarterback, and cleared the way for 200 yards rushing (which earned the linemen a home-cooked meal from Coach Kevin Park's wife, Mindy); 2. The Defense, which made adjustments in the game, held Concord to only 59 plays instead of their average 80 plays/game, and held them below their average points scored; and 3. Special Teams, who went 4 for 4 on PATs on the night. The coaches also noted things that could be improved upon; having a better understanding of game situations, the need to score when you reach the red zone, and limiting turnovers.
Next the coaching staff handed out awards for the game which included: A special teams (known as "Special Forces") award called the "1 play warrior".  The Special Forces players earn points for different things in a game, and the guy that earns the most points for the week is the "1 play warrior".  Coach Kevin Park also gives out a lineman award. The coach noted that linemen are not as likely to see their name in the paper, but often they are a big reason why the team is successful. Kevin talks to his lineman about "going to work", so he gives out a hard hat to the lineman of the week.  And last of all, the coaches emphasize playing physical and being aggressive.  So, each week they hand out the "Hammer Award".  If a guy has a big hit (which is determined by the coaches) then his number is added to the hammer.  The guy with the most numbers on the hammer at the end of the year receives the hammer.  Following the weekly awards, the position coaches broke down film and discussed the scouting report for the next opponent, Warsaw. (There could be plenty more elaboration about this part of the team meeting, but the terminology was mostly lost on this observer.)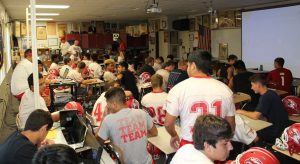 TUESDAY
Because of the team meeting on Monday and the games on Friday (varsity) and Saturday (JV), Monday's practice is not as intense. On Tuesday and Wednesday, however, the coaches push the players more. Players are put through a series of drills as coaches encourage them to "practice things the way you are going to do them in a ballgame". There was some laughter and joking from the coaches, but mostly the coaches were watching and challenging their players. Almost without fail, whenever there was an especially harsh criticism directed at a player, it was soon followed by encouragement and/or a slap on the pads when the player corrected the error or did the right thing.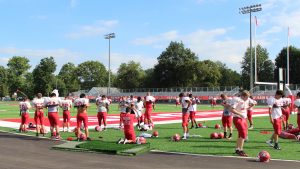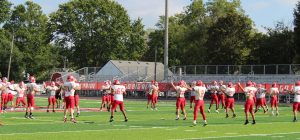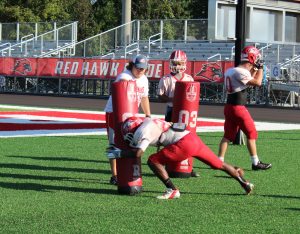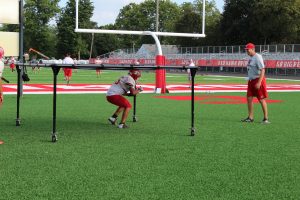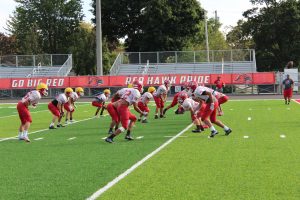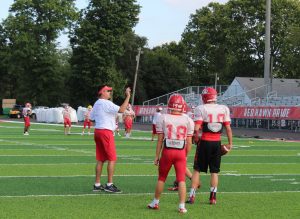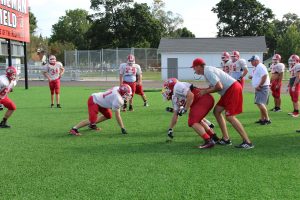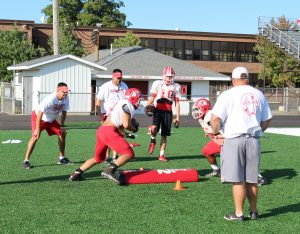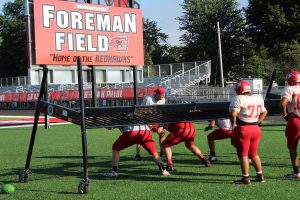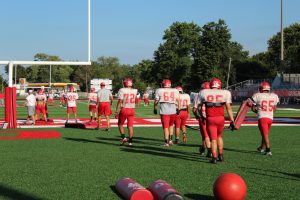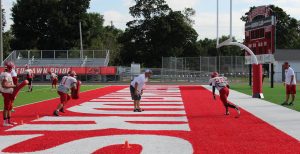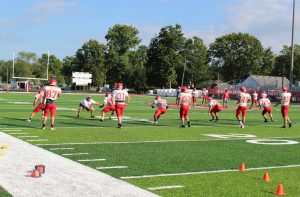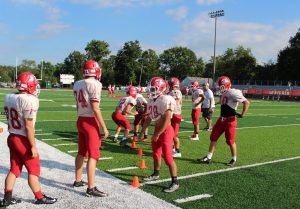 In reality, football practice is mostly sweaty, gritty, dirty, and intense, but underlying all of it you can see the continual focus on the four pillars of the program. At the end of the practice, the players took a knee to listen to their coach. He did not speak about the upcoming game. Instead, he reminded the players that the end of the grading period was rapidly approaching, and told them to take responsibility for their grades and be accountable to their teammates; "remember, you can't play in the post-season if you are not academically eligible". He encouraged the student athletes to "talk to your teachers, use SRT time to make up work, and make sure your grades are where they need to be".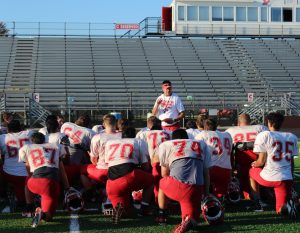 WEDNESDAY
Each Wednesday evening two senior players are interviewed for the High School Huddle at nearby Penguin Point, by Brent Randall of elkhartcountysports.com. The first round of questions to the boys centers around football and their take on the game. The second round of questions centers more on their school experiences, asking about favorite teachers or classes, their plans after high school, etc… This is a great opportunity to gain the support of the community by giving the program some press, but it is also a nice time to recognize the students for their accomplishments, on the field and in the classroom.
THURSDAY
The football team is one of the larger teams on campus, and they require many volunteers to get things done. There are "core parents" at every team level, freshmen, JV, and varsity. At the beginning of the season, the core parents and coaches make a plan for covering different jobs (such as decorating the locker-room, preparing and serving team meals, selling football apparel at home games, running the Touch Down Club drawings, planning Senior Night, preparing snacks for after games, working concessions, or being a part of the "chain gang" for freshmen and JV games) and everyone does their part.
On this particular Thursday night, while the players practiced, JV and varsity moms were decorating the locker-room in preparation for the game the next night. One of the parents had made posters to go on the end of the lockers, and other moms were attaching snacks and small signs to the outside of every locker.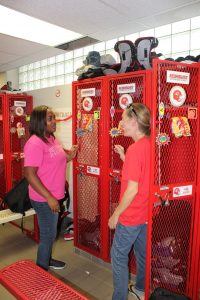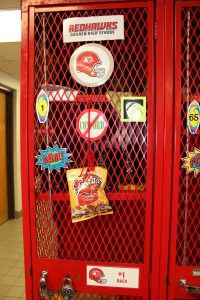 The parents also explained the player "Accountability Teams" that were formed at the start of the summer. The seniors basically conducted a "draft" to form teams with players that they were willing to lead and hold accountable throughout the season. During the summer, players and accountability teams earned points for attendance at workouts, team camps, team activities, and community service events. At the end of the summer, there was a team meal for everyone. The meal was picnic-style, with hamburgers and hotdogs, except for the accountability team who had earned the most points. Their dinner was a sit-down affair with New York Strip steaks! There are apparently many instances in the program where coaches, their wives, and the parents provide incentives for players, and they are generous!
FRIDAY
After school on Friday, the cafeteria is set for the team pregame meal. The tables are lined with individualized place-mats for the players and coaches, made by Mindy Park's 2nd grade students. Parents prepare and serve the food, but it is not the rowdy meal you might expect. The team enters the cafeteria and quietly sits at their placement-assigned seat. After a few remarks by the coach, they are dismissed through the line; seniors, juniors, and then sophomores. When they return to their seats, they eat quietly, focused on the game ahead. After the meal, they take a "victory walk" (usually around the track, but due to construction the walk was around the school building). Following the victory walk, they either get dressed and take the field, or board the bus for an away game. They have prepared, and they are ready.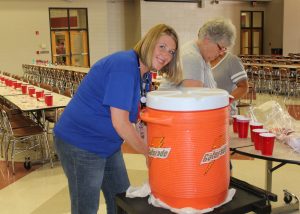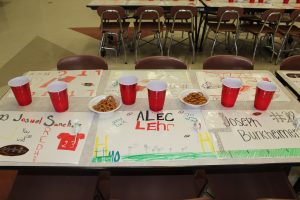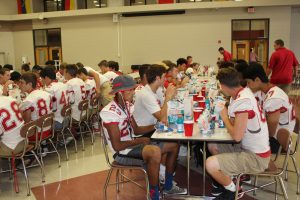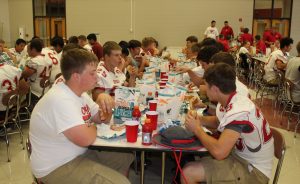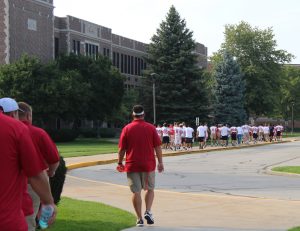 Questions for the Coach:
What is the best part of being the football coach at GHS?   Being able to give back to a program that gave so much to me as a player.  I was only interested in being a Head Coach at GHS, it was a goal of mine when I started as an assistant.  I had great memories of my time here, and I wanted to provide those same feelings and values to our players.  I've got a great staff that cares about kids and puts forth great effort in preparing them all year long.
What is the worst part about being the football coach at GHS?  Time away from my wife and kids.  As an assistant, I was away from my family, but not nearly the amount of time as a Head Coach. And, even when you're home, you're receiving phone calls, text messages, and emails.  It's very hard to completely turn off being the Head Coach, even away from the field or school. My kids are getting to the age where they are starting to participate in sports, and I want to be able to be there to watch and support them.  Overall, it all boils down to time.  During the season, it's a 7-day-a-week job.
What would you most like the community to know about the football program?  That there is more to this program than just winning ballgames.  Trust me, winning is extremely important and we place a very high value on winning and competing.  However, developing young men that will make the right choices after they leave our program is just as important.  Unfortunately, we are judged by our win/loss record. I'm okay with that because that's how important winning and competing is; but there is so much time and effort spent in developing good young men off the field too…..and I wonder just how much people really understand that.
How could community members help to support GHS football?  Continue to show up at games and be loud.  Our players feed off of the energy from our community and fans.  We have a great community, who I strongly believes wants to see Goshen Football be successful.  Continue to show up, whether we're having a great year or we're struggling.  Avoid criticism toward our program or coaches on social media, as it is also seen by our players, and only leads to doubt by them.  Our players need to know that the community is supportive of them and appreciates their efforts.
What is the greatest thing parents do for your players?  Our Core Parents are awesome.  They take care of a lot of the behind-the-scenes stuff that many people don't see, but expect.  Selling apparel at home games, serving food at our pregame meals, decorating the locker room and providing treats for our players on Thursday nights, finding Touchdown Club sponsors and selling raffle tickets at the games, finding volunteers to work the chains and concession stands at all JV and Freshmen home games; these are all things I don't have to worry about.  We try to have 2 sets of parents from each grade on our core parent group.  They take the lead on these activities and try to find other parents to help.
How do the coaches give so much time to coaching and still have time and energy for their own families?  Our coaches know and understand how much time it takes to be successful….during the season and out of season.  They understand that taking shortcuts will not produce the results we want on Friday nights.  All but one of my coaches is a former GHS player and had good experiences here.  They want to give back, like I do.  It is a struggle for the coaches that have families.  You have to have a very supportive and understanding wife to be a football coach, or it's not going to work.  Turning around a program takes everyone; we are all in this together and this program is important to us.  Our coaches are extremely competitive, want to win, and are willing to work at it.
Comparing the years when you and the other coaches played high school football to now, what are the major differences? A big difference is how teams practice and how much time is now required in the off-season.  When most of us played, the rules were different.  Once the season was over, players could only lift in the off-season; they couldn't use footballs with coaches present until July.  Now, that is not the case.  In June, we have team camps and practices.  A big reason for this is because we don't have two-a-day practices anymore in August, due to starting school so early.  We have put our players at a disadvantage because they don't have as many practices as other area schools.  It's required us to do more in the summer to get our work in, which has limited players, because sports like baseball and basketball still want their players at their workouts as well.  There is only so much time in the day and eventually players get burned out.  When we played, football practice didn't start till August and you didn't hit till August, but you had two full weeks of two a days which allowed you time to get prepared.  There were so many benefits of two-a-days, other than just the practice time, that you can't replace.
Have changing student demographics changed your team personnel or how you communicate? Our demographics don't help our cause as a football team.  We are a 5A school with a 3A athlete pool (number of potential athletes willing to participate).  We have good athletes, but we also have many students who work to help support their families and therefore don't participate in athletics.  I didn't believe this notion until I took this job and have seen it firsthand.  This affects the talent on our sports teams….not just football.
Has the use of technology changed the way you prepare, coach, or play the game?  We have a program called "HUDL" which has our video of games on there that kids can watch at home, on their phones, or computers, they just need an internet connection.  We watch a lot more film now than we did when I played.  We also film every practice and review with our players before practice the next day. This allows them to see themselves and know what we're talking about when we're making corrections.  New this year during the games, we have iPads on the sidelines that coaches and players can use to look at the game immediately after a play.  It's great that you don't have to wait until Saturday morning to see why something wasn't working.  Technology has had a tremendous impact on our game.  We trade game films with the team that we play next on Saturday mornings.  I remember getting up to meet the opposing coach to trade DVD's or VHS tapes at 7am…..now we just trade through HUDL.
Several times I saw coaches use the "dad" look with players, and they responded. What do you do to cultivate that?  Most of our coaches are fathers and all of our coaches treat our players like they treat their kids…..they are hard on them when they need to be and they praise them when they deserve praise.  To me, it's about establishing relationships with the players we coach.  The players have to know you have their best interests at heart.  Our coaches do a good job at building relationships and trust with our players and that is why I think the "dad" look works.  The old saying goes……would that player run through a wall for you? I think most of our players would, without asking why.  Trust is earned and is a must-have to be successful in football.
Do you make cuts from the team? At the beginning of the year or other times? For disciplinary reasons?  We don't cut players if we don't have to.  We only have 55 guys on our roster 10th-12th grades, most schools our size would have anywhere from 75-100 players.  We can't afford to cut players unless they don't act the way we require in the classroom, in public and on the field.  I don't ever want to get rid of a player, but I will if it's what's best for the team. We talk often about how we represent the program.  People know who football players are, and kids look up to our players, so it's important to act the right way and represent the program in a positive light.
How do you get the seniors to take leadership?  Before I got here, the seniors thought it was a rite of passage to be a leader and tell underclassman what to do…..we changed that mindset very quickly.  You have to earn the right to lead.  We talk to seniors about "modeling" the expected behavior.  We teach them how to be effective leaders.  In the summer we have a "senior leadership academy".  Our coaches bring the seniors in and discuss the different aspects of leadership with them.  We talk about expectations as leaders and the responsibility of being an effective leader.  During the off-season, many of our coaches read books and study leadership.  I love the topic, I love talking to kids about it and learning about it.  Developing good productive leaders for our society is a program goal.
How long do you see yourself coaching football? Long enough to see the coaches' kids play for you?  That's a great question…..I always tell people that I will coach as long as I still have the drive to put in the time and effort that it takes to run the program the right way.  When I feel like I'm going through the motions and lose that "fire", then I will get out.  I'd love to stick around long enough to have "the coaches' kids" as players.  Playing for my dad was special and I'd love to give that experience to my kids as well, however I still have to be willing to put in the time.
Do you worry about player safety or concussions?  All the time……everything we do that has the potential for contact I over-analyze.  Like I said earlier, we look at these players as our own kids and the last thing we want is for someone to get hurt.  Football is a physical game and it's supposed to be played that way….within the rules of the game. But we try to make it as safe as we can, and teach proper fundamentals so that our players can avoid injury.
It is the end of the week, and this time the team did not get the win. But they competed. And their dedicated coaches will continue to instruct and support them, through more signature wins and tough losses. Football is a sport, but this team is also a family, and the fathers care about their boys. Together the members of this family, including future players, will rebuild GHS football. They are making it happen, Brick by Brick.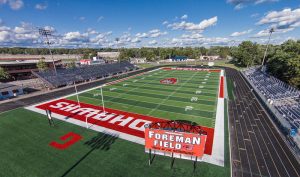 Good luck (or as the coaches say, Good Skills!) to the team on the rest of the season!