GHS Elects New City Council Youth Advisor
GOSHEN HIGH SCHOOL ELECTS FELIX PEREZ DIENER TO YOUTH ADVISER POSITION
GOSHEN, Ind. (May 23, 2018) – Goshen High School student Felix Perez Diener will be Mayor Jeremy Stutsman's appointee to the City Council as the new Youth Adviser for the 2018-2019 school year.
Felix, who is now finishing his junior year, was elected by the student body in an election held Tuesday, May 22. He won by receiving 47 percent of the total votes cast in Tuesday's election, over his fellow candidates, Jonathon Snyder, Cade Richardson and Ben Bontrager-Singer.
Current youth adviser Jason Barahona will continue to serve with the City Council until June 5, at which time Felix will be sworn in as the newest member of the council.
State law allows mayors to appoint a person younger than 18 years of age to serve as a non-voting member to the council and as an adviser on matters concerning the youth. Mayor Jeremy Stutsman has instead encouraged Goshen High School to elect a student to represent them and all the younger constituents in the City.
This is the third year in a row that the Elkhart County Voter Registration Office, Goshen Community Schools and the City of Goshen have collaborated to hold elections at the high school.
Below: Mayor Jeremy Stutsman and current youth adviser Jason Barahona pose with the four youth adviser candidates at Goshen High School. Pictured, from left, are Felix Perez Diener, Ben Bontrager-Singer, Mayor Jeremy Stutsman, Youth Adviser Jason Barahona, Cade Richardson and Jonathon Snyder.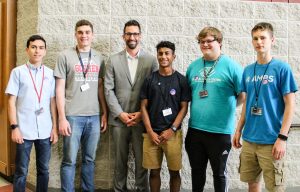 Below: Newly elected youth adviser Felix Perez Diener poses with Mayor Jeremy Stutsman Tuesday, May 22, 2018 at Goshen High School.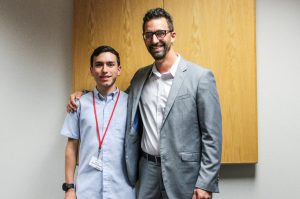 Thank you,
Sharon Hernandez
Communications Coordinator