GCS Opening Day & Guest Speaker
GCS teachers and staff were welcomed back for the 2018-19 school year with a hearty breakfast prepared by the GHS school nutrition staff. Following breakfast, teachers went to break-out sessions on topics such as life insurance, financial planning, student loan solutions, and fringe benefits. Teachers also met for grade level meetings, and to hear more about how they can use Khan Academy as a resource.
Once all teachers and staff had gathered in the GHS auditorium, Dr. Woodworth gave a short welcome and introduced the school board members in attendance, including Jose Elizalde, Keith Goodman, Roger Nafziger, and Jane Troup. Dr. Woodworth asked Mrs. Troup to address the staff, as it will be her last opportunity to do so. Mrs. Troup has chosen not to run for the school board this year, and she will be retiring from the board after 24 years!
Mrs. Troup stated that "We know you have been busy this summer because we go by the schools and we see your cars in the lot….We know that you want our students to be successful….I have served for 24 years, and I have seen many changes in education. I have advocated for you locally, and at the state and national levels, and just because I am no longer a board member does not mean that I will stop advocating for you. I will always be an advocate for you!" Following her comments, the GCS staff gave Mrs. Troup a standing ovation in honor of her time, service and commitment to Goshen Community Schools.
Next, Dr. Woodworth introduced Katherine "Kat" Posada, an English teacher from Marjorie Stoneman Douglas High School in Parkland, Florida. Ms. Posada's school was the site of a school shooting on February 14, 2018, and Dr. Woodworth stated that Ms. Posada sheltered in place with her 21 students during the ordeal.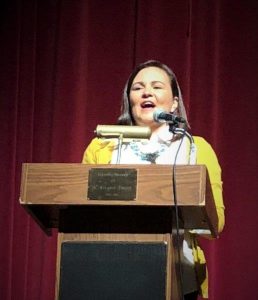 Ms. Katherine L. Posada
Ms. Posada said that she was surprised when she was contacted about speaking for the GCS opening day; because "I am just a regular teacher". However, she did acknowledge that since the shooting at her school she has "learned some lessons" that she could share. She explained that as an English teacher, there are many skills that she is teaching students as they learn about and discuss literature, but those are not necessarily the most important things. Then she backed up a bit to say that standing before a crowd of teachers was not her comfort zone; that standing before about twenty or so 16 year old students is her comfort zone. She stated that before the shooting, she would never have considered being a public speaker, but "seeing how our students have stepped up, expressed their beliefs, and refused to be silenced, I knew I wanted to do my part".
Then, going back to the "most important things" teachers can do to prepare their students, she listed several things: "You give them opportunities, chances to disagree with respect, you give them confidence, you challenge them, and more. Those are the most important things." She stated that as part of her high school alumni facebook page, she has noticed some people have commented on teachers who were important to them, but that she did not necessarily know or appreciate. "But not every teacher will connect with all students. Students are different and teachers are different, and students will make connections with the teachers they feel comfortable with." She encouraged teachers to be their authentic selves, and allow the students to make connections with them. "Your students need you to be you."
Next, Ms. Posada said "sometimes things don't work out". In September of 2017, Hurricane Irma came through their town and their schools were closed for two weeks, partly to repair damages and partly because schools were being used as shelters. Because of that, "we lost two weeks of instructional time". And then, after the school shooting on February 14, the school was closed for two more weeks, losing more instructional time. "But even when we went back, we were not ready for curriculum. We simply sat around and played board games and worked on puzzles, and we just chatted about everything. I got to know the students better. I let the conversations wander more. I learned what they were passionate about. I guess I am saying, don't be afraid to throw out your lesson plans. You will get to know your students better and that is important." Ms. Posada said that at the end of every year she lets students sign her journal if they want to do so. There are many students that will simply say "have a great summer", but some students will surprise her by saying "your class changed my life". And those connections are the most important things…
Ms. Posada finished her remarks by leading the staff in the same pledge they took on opening day last year ("emphasizing the word me, because they need you!"):
"I pledge to bring the best of me every single day to the classroom and beyond, because our students deserve it…no matter what"
In a meeting with some school safety staff later on, Ms. Posada talked about some of the things her school learned from their tragedy, and some of the things they are still doing to improve school safety. One of the things that her school continues to work on is communication. Another thing that they are exploring is an app that every student can download to their phones, and use to (anonymously) submit tips or anything suspicious in their schools. The app can also be used to call 911, and allows administrators to push out information to teachers, students and families all at once.
Following the discussion on safety and the things that schools and administrators can do to improve school safety, Ms. Posada said that really, "in the end, you cannot think of everything" and incidents like those at Stoneman Douglas can, unfortunately, still happen. No community is immune to danger. However, she encouraged GCS to continue to explore and pursue all safety measures, to prepare and practice, and then she wished GCS well for the future.
GCS thanks you, Kat. We thank you for encouraging and empowering your students, and for joining them in doing what is outside of your comfort zone. GCS wishes your school a sense of peace and community as students and staff begin another school year.