Write on Sports-Interview with Hollinger-Janzen
In partnership with Write on Sports and Goshen Community Schools, the Communication Department at Goshen College offers a camp for middle school students that teaches writing skills by harnessing their love for sports.
If you would like to read more about the camp, and the unique opportunities provided for local students each summer over a two week period, you may follow them on facebook at https://www.facebook.com/GWriteOnSports/  You may also read the camp blog at https://www.goshen.edu/writeonsports/category/camp-blog-2017/ or the student blog at https://www.goshen.edu/writeonsports/category/student-blog-17/
The students have taken field trips during the camp, and have met several well-known local athletes. Today, the students interviewed New England Revolution soccer player, Femi Hollinger-Janzen, via Skype. Femi, who grew up in Goshen, played high school soccer at Bethany and college soccer at IU Bloomington.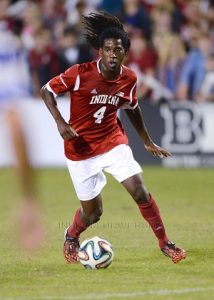 Femi, representing IU.
Prior to the interview, the students watched video highlights of Femi playing professional soccer, including a few of the times when he scored goals.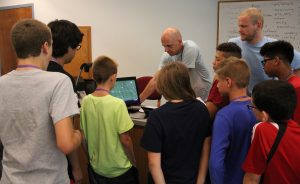 Then they waited patiently for him to get home from soccer practice so that he could connect with them via Skype.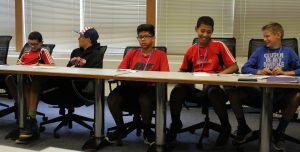 After a general introduction and several questions by GC communications professor, Duane Stoltzfus, the students had a chance to ask questions and take notes. But before the students asked questions, Femi gave the students an idea of the schedule for a typical day. His schedule included eating well so that he would have proper nutrition prior to athletic activity, warm-ups, soccer drills, practice, lifting weights, and then finishing with stretching to prevent injuries. After all of that he said he goes home, where he might spend time walking his roommate's dog, playing video games, going downtown, or napping. He laughed when he said he plays video games, but the students loved it! They asked what his favorite games were, and he said FIFA and Call of Duty.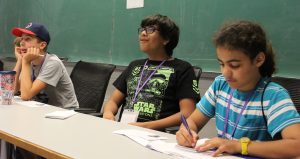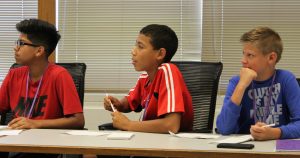 Francisco Behan Morillo asked several great questions, and was focused on getting all of Femi's responses.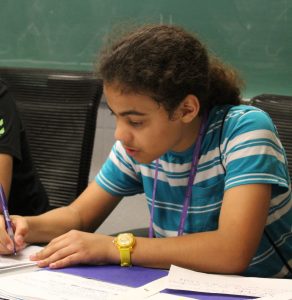 Some of the highlights from the questions and responses included:
Is it fun being a professional soccer player? "Yes, there are lots of challenges and more pressure." He noted that playing professional soccer is not like high school or college, because the team members are not as close. He said that the lack of closeness may be due in part to the fact that they are always seriously challenging each other for positions and playing time.
What is your best soccer memory? Femi stated that his best memory was of his first professional goal. New England was playing the Chicago Fire at home, and he went into the game as a sub with about 20 minutes left. He said all of a sudden he realized that there was so much open space in front of him and he knew he could score if he got the ball; which he did and he scored!
Do you miss Goshen? He said he does miss Goshen because he misses the small town atmosphere. He said that Boston is a big change from the midwest; there is a lot more traffic, and people are not typically as kind as they are in Goshen. Femi said he likes to come home in the off-season to see family and friends.
What will you do when you quit playing soccer? He stated that he wants to be a Director of Operations for a soccer club. He said that he did not graduate from IU, but that he is planning to continue his studies, and will eventually complete his degree in sports management.
How did it feel when you were traded from Minnesota to New England? Femi said that he like being in Minnesota because it was closer to home. He said that during a preseason lunch, the general manager asked to speak with him. "He told me that they loved having me, but they needed a goalkeeper. Three hours later, I was on a plane to New England. But, it was also a good thing. I had played for New England before, and it was good to know that a team like New England wanted me."
What was your dream job when you were younger? Femi told the students that his dream job was being a professional soccer player, and added that the fact that he now is a professional is "still mind-blowing to me".
What is the most amusing thing that has ever happened to you in soccer? He gave a few examples about the antics of soccer players celebrating after a goal, and also a story about two players whose shoes got stuck together after a tackle.
What is your greatest achievement in life? "Becoming a professional soccer player." Femi noted that becoming a professional takes a lot of time, effort, motivation, and working on all of the little things. He said that he especially appreciates his parents, who encouraged him and helped him along the way.
Were the workouts hard when you were a rookie? Femi stated that, surprisingly, the workouts were not as hard as when he was in high school or college. "When I came into the league, I was doing a lot of fitness on my own, so I was ready to go. At this level, they expect you to be fit, and ready to practice. They don't do a lot of that kind of thing."
Who inspired you? "A soccer player named Didier Drogba. He is from the Ivory Coast, and I was born in West Africa, which is somewhat close. I always admired him and I eventually got to play against him." A student asked Femi if he got to speak with Drogba when they competed against each other. Femi responded by saying "No, but I made sure I could bump into him at least once during the game, so that I could say I touched him."
How has soccer changed your life? "It has made me who I am. It has allowed me to connect with others, has helped me to learn social skills, and also how to work together with others." He also said that soccer has taught him how to work hard to accomplish his goals.
The students appeared to have have been a little awestruck by Femi, but he was very relaxed, and encouraged the students to ask him anything. Thank you, Femi, for being a great role model for the students and soccer players of Goshen!