Functional Skills/Assistive Technology at GMS
Sarah E. Yoder, a functional skills teacher at Goshen Middle School extended an invitation to GCS staff to visit her classroom and learn more about an innovative program being used with her students.  According to Mrs. Yoder, since October, her classroom "has been piloting a language acquisition program called LAMP (Language Acquisition through Motor Planning) as a way to supplement and improve language skills for students with moderate cognitive abilities and speech and language impairments".  This program is accessed through an app on the iPad.  The school corporation purchased the iPads for each student, and the company that created the program gave Mrs. Yoder's classroom free access to the app.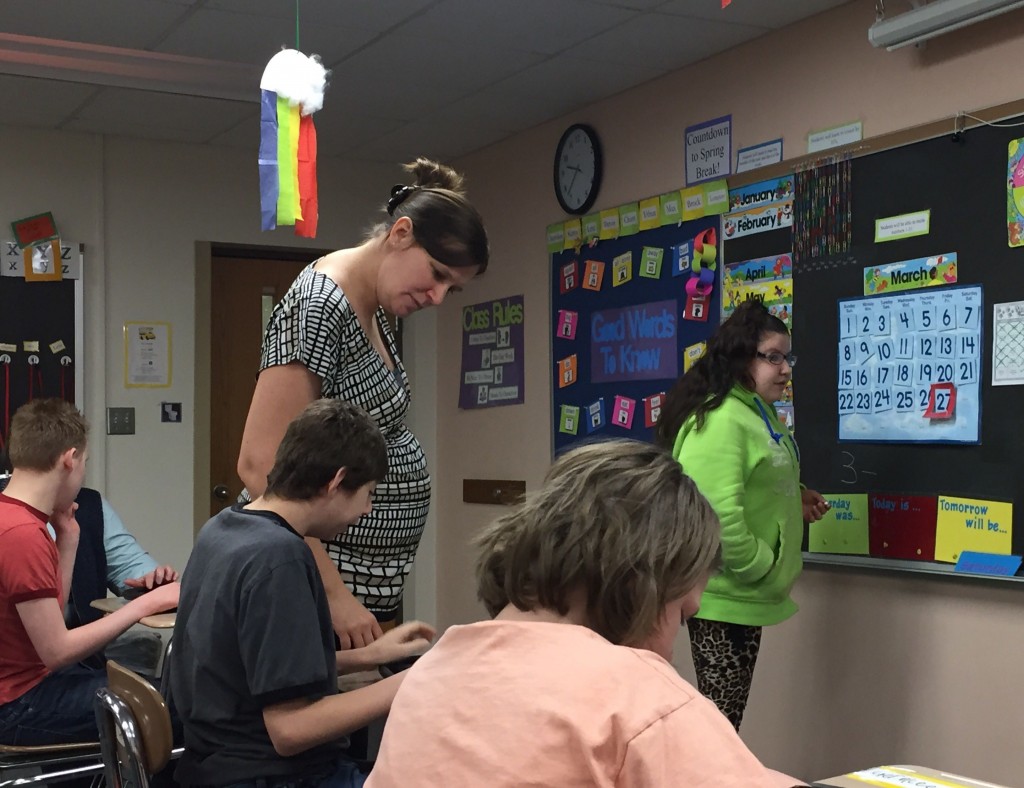 In the classroom, students were gathered around a table in a small group.  Each student had their iPad in front of them, and each iPad was outfitted with a special, rubberized case with handles, for easy manipulation.  As Mrs. Yoder asked the students questions, they quickly searched their iPads for words and pictures, which appeared in a grid on their iPad.  The first touch of a word on the grid gave them a basic word or group; as they moved further into the grid, words and pictures became more descriptive.  Mrs. Yoder communicated in several different ways simultaneously; speaking, using sign language, and pointing at the words on the iPads.  As students moved from word to word, and she encouraged responses, she asked them "Can you tell me in another way?"  And they did; using sign language, speaking, finding the words on their iPad, putting together phrases and sentences, and then making the iPad read it aloud.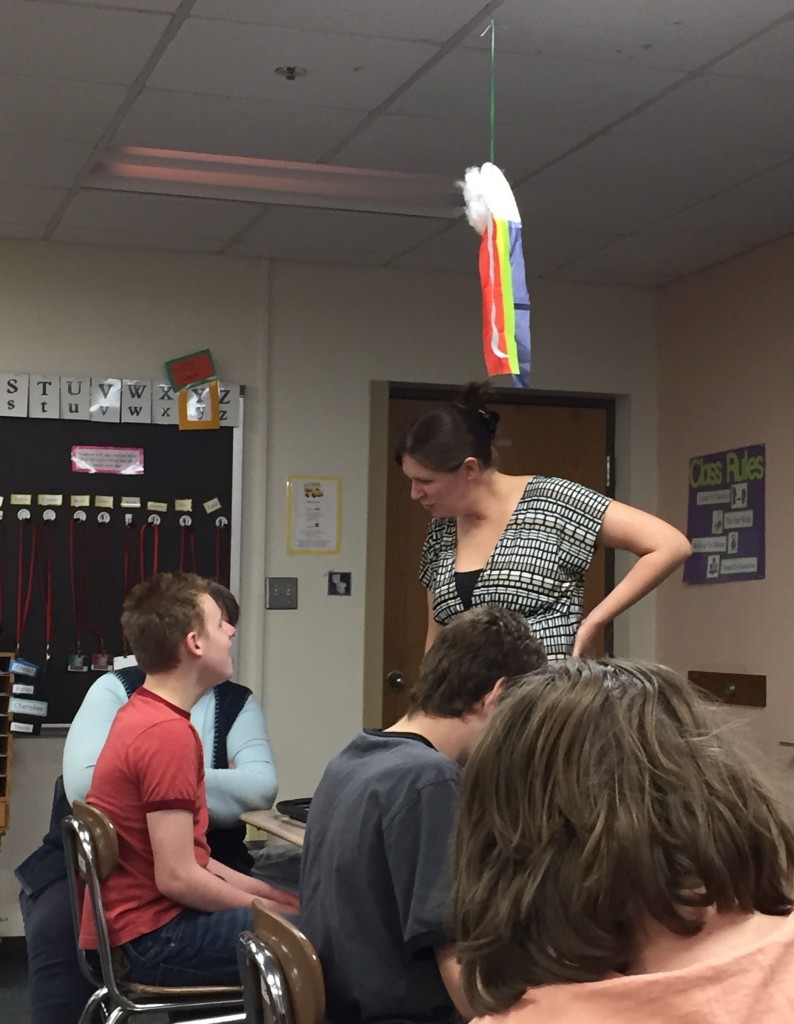 Mrs. Yoder reported that she has been "blown away by the program and how it opens up language for students who have spent much, if not all, of their lives being unable to communicate clearly".  Mrs. Yoder explained that her students are evaluated according to state standards, just as any other GCS student.  However, since beginning this program and increasing the students' vocabulary, she has been able to make better assessments of her students' abilities.  She also noted that using the new program has allowed the students to move from receptive language (language they hear and understand) to expressive language (language they use to communicate).  Additionally, "My own understanding of language and what my role as a teacher of students with intense needs has been changed dramatically.  I now understand better that the first and foremost goal we need to have is to give our students language.  Language enables them to have more independence, to communicate with the world around them, and to make academic growth that is not possible when your main form of communicating is limited to single words or being asked to make choices between things that have been presented to you." 
Mrs. Yoder's classroom is one of the first, if not the first, classroom in the country that is trying this program in a school setting.  Goshen Community Schools is excited to share with the community the kind of ground-breaking work that is being done by its teachers.  The spirit of Mrs. Yoder's classroom embodied both the mission and the vision of Goshen Community Schools.  Mission:  Ensuring all students acquire knowledge and apply skills, enhancing tomorrow's opportunities.  Vision:  Where learning is valued, students are honored and each person experiences a success and a challenge every day.
It was a privilege to visit this GMS classroom, and to experience the excitement of both teaching and learning.  The relationship between teacher and students, and the connection between students and technology, are making this particular classroom a delightful and innovative place to be.