Goshen High School senior Fernando "Nando" Flores has been selected to compete in the 25th Annual Indiana vs. Illinois All-Star Classic Duals. This year's meet will be held at the Bank of Springfield Convention Center at 1 Convention Center Plaza in Springfield, IL on Sunday, March 11, 2018 at 1:00 p.m.
Team Indiana beat both Illinois teams last year in two tight matches. According to the press release: "We have put together a team with Indiana's best senior wrestlers! This will be an opportunity for you to showcase your skills in a very competitive environment. College coaches from all divisions attend this historic dual to recruit for their respective teams."
Wrestlers will wear their high school uniforms one last time, and the Indiana High School Wrestling Coaches Association will provide each wrestler with a t-shirt to exchange and one to keep for themselves. Each wrestler was also encouraged to bring a t-shirt from their high school to give to their opponent.
Best of luck (and skill!) to Nando Flores as he and Coach Jim Pickard compete and coach together in one more tournament!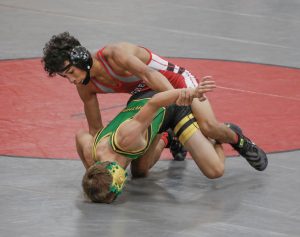 Nando vs. Northridge
Nando, with the win.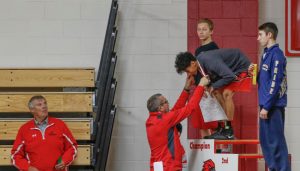 Nando getting his first place medal from coach Jim Pickard at the 2018 Goshen Invitational.
Nando was the champion of the 106 lb. weight class for the NLC, Sectional, Regional, and Semi-State tournaments. Well done, Nando, congratulations on an outstanding GHS wrestling career!