Feb. 26 Press Release-West Goshen School Receives Honor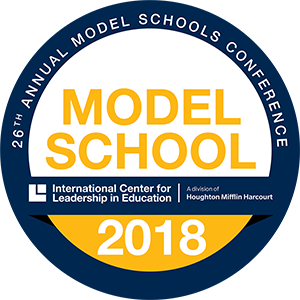 West Goshen Elementary has been selected as a Model School for 2018 by the International Center for Leadership in Education, whose mission is to challenge, inspire and equip today's educators to prepare students for lifelong success. West Goshen Elementary is among one of the many chosen schools that will share best practices at the 26th Annual Model Schools Conference, June 24-27 in Orlando.
The Model Schools Conference is the nation's premier event for rapidly improving K-12 schools and districts.
"We are proud to honor and showcase this future-focused school for implementing a rigorous and relevant curriculum that engages and challenges students to think beyond the classroom to solve real-world problems," said Dr. Willard R. Daggett, Founder and Chairman of the International Center for Leadership in Education.
According to Superintendent Dr. Woodworth, "This is a real honor for West Goshen Elementary and therefore, for the entire district. We are very pleased with the outstanding achievements of the West Goshen students and staff."
West Goshen principal Lori Line, added "It is an honor for West Goshen to be recognized as a Model School.  We are very excited to present how West Goshen students take ownership of their learning by setting goals and tracking those goals.  We are proud of our school and are thrilled with the opportunity to show why."
Model Schools are selected annually based on a number of criteria including substantive, data-validated growth year over year; evidence of a strong culture that puts students at the center of learning; and dedication to transforming instruction to meet the needs and demands of the future.
"This year, we will celebrate 26 years of empowering educators to implement effective best practices rooted in rigor, relevance, and relationships," said Dr. Daggett. "At the Model School Conference, West Goshen Elementary will have the unique opportunity to share inspiring ideas for innovating and transforming teaching and learning to better prepare students for the world in which they will work and live."
Over the past 26 years, the conference has attracted thousands of educators who come to learn about exemplary elementary, middle, and high schools.
About the International Center for Leadership in Education: The International Center for Leadership in Education, established in 1991 and located in Rexford, N.Y., is one of the most influential education consulting companies in America. It is best known for identifying and disseminating successful practices to assist all students in achieving higher standards. Dr. Daggett and his team of consultants have assisted numerous state education agencies and hundreds of schools and districts in their improvement initiatives. For more information, please visit www.LeaderEd.com.