Dr. Younghans Given Patriotic Employer Award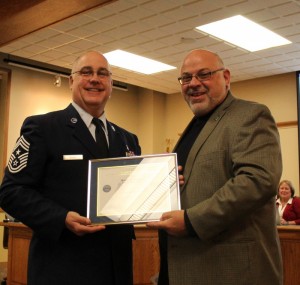 At the November 23rd board meeting, Larry Brady, ESGR (Indiana Employer Support of the Guard and Reserve) volunteer, presented an award to GHS principal Dr. Barry Younghans. Staff Sgt. Jordan Willsey, who is a JAG (Jobs for America's Graduates) teacher at GHS nominated Dr. Younghans for the Patriotic Employer Award. Mr. Brady read from Staff Sgt. Willsey's nomination, stating Sgt. Willsey's appreciation for Dr. Younghans' "unwavering support for my service to the United States and the students of Goshen High School" when in the last year, he completed four months of active duty and two yearly training sessions.
Congratulations, Dr. Younghans! And thank you to Jordan Willsey, for his service to our country and our students.