Congratulations Crimson Marching Band on a Great Season!
The Crimson Marching Band concluded their season last Saturday at the ISSMA Semi-State competition in Indianapolis. According to GHS Principal Barry Younghans who attended the competition, "They were outstanding. They gave a great performance!"
Due to a small issue with the band's computer equipment, however, they went 10 seconds over the allotted 10 minute time frame, and were penalized several points. Without the penalty, Goshen would have been headed to state competition. It is surely a disappointment for the students and staff who have put so much time into the season, but it does not take away from their performances, what they have learned, or the memories they have made.
Later in the weekend, Tom Cox sent this message to his students: Congratulations to all of the members of the Crimson Marching Band for an amazing performance at ISSMA Semi-State yesterday! We are so proud of you! Remember that a point total does not define who you are or diminish the amazing music and memories that we made! We did it! Best of luck to all bands moving on to State Finals!!!
Thank you to directors Tom Cox and Josh Kaufman for showing our students how to handle disappointment with grace. There are many lessons one can learn from being in an ensemble as large as the marching band, but this is an important one. In life, there will always be disappointments, but what a person does in those situations says a lot about his/her character. As teachers and directors, you have provided your students with an excellent example, and some pretty fantastic experiences as well.
Also, thank you to Brian Sapp (and others), who took amazing pictures of the band and guard throughout the season. The following is just a sample:
The Semi-State show.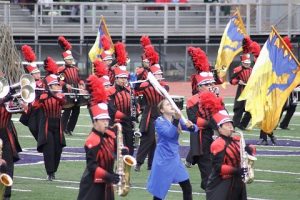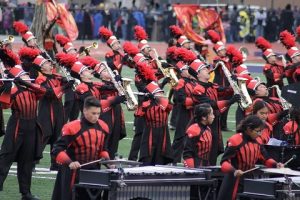 Below: The sections encourage each other before their performance. We are struck by the closeness and friendships that appear to have been formed in this ensemble over the months of working and sweating and marching and playing together. This is one of those activities where everyone must work together in order to create a great performance. Let's just acknowledge that this group did it, and this group ROCKS!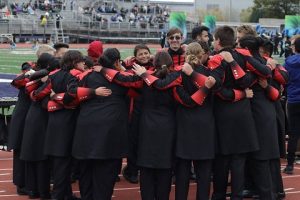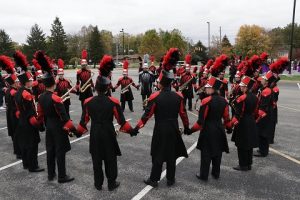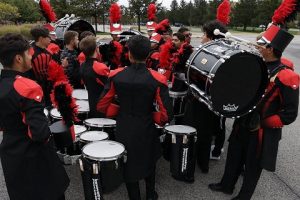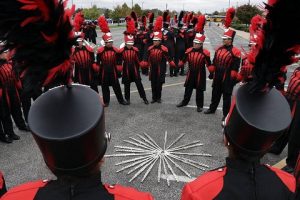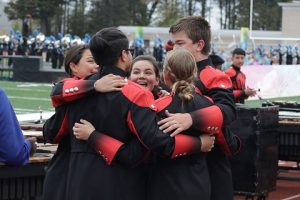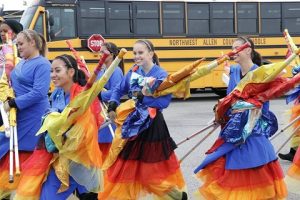 The drum majors, encouraging their band with words, high fives, and fist bumps. They are the leaders and they handle their responsibility well.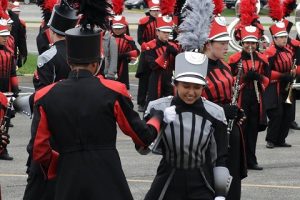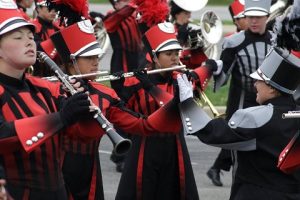 The parents. Oh my goodness, the parents! Crimson Marching Band could not do what they do without parents to help move props, provide and set up meals, build props, and transport students back and forth to practices. GCS and GHS appreciate you!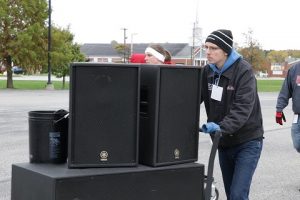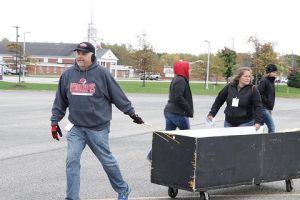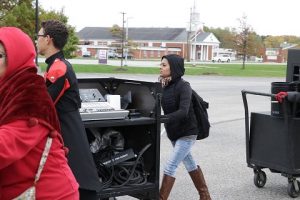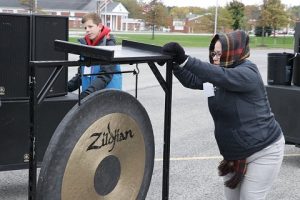 More from the Semi-State show.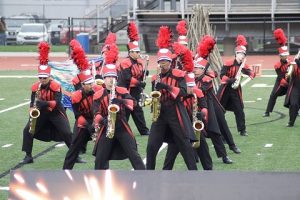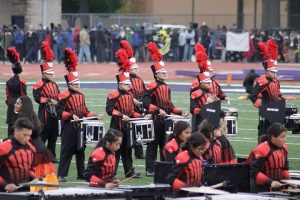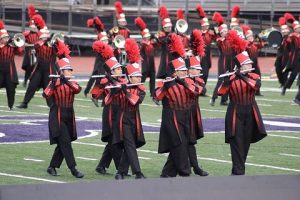 Crimson Band and Guard, congratulations on your fantastic year! You have made GCS proud and you have represented the community of Goshen in an outstanding manner. Well done!