8-22-16 Board Recognition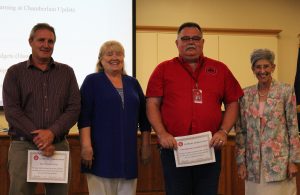 Mrs. Ummel introduced Facilities Director Tom Boomershine and Custodial Services Manager Dene Moore; the two were recognized on behalf of all of the GCS custodial staff. The board recognized them for their excellent work in getting the school buildings ready for the school year. The task was especially difficult this year, as there was ongoing construction at GMS, HVAC installation at Chamberlain, field turf installation at GHS, regular upkeep and maintenance in all buildings, and reconfiguration of classrooms throughout the district.
Pete Weddell was also recognized, in absentia, for his efforts to complete a showcase in the GHS athletic lobby, to house the Redskin memorabilia. Dr. Woodworth stated that GCS owes Mr. Weddell a big "thank you" for his work on the project. He asked local businesses and organizations for donations for supplies to build the case, and then built the beautiful display case himself.