1/25/16 Board Recognitions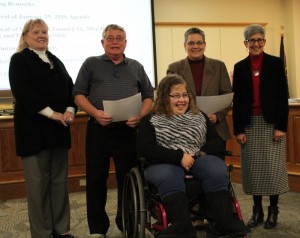 Dr. Piazza thanked staff members from The Depot in Goshen, for their contributions to the successful operation of the Young Adult Program (YAP) which is housed at the Depot. Cecil Tucker, the building manager, was recognized for his willingness to fix things for YAP, and for creating a new entrance for the students which was much safer for them to use. Nadine Miller, the Materials Resource Manager, was recognized for providing work for the students. Doug Hernley, the general manager, was also recognized but was unable to attend the board meeting. YAP teacher Karen Pfahler expressed her appreciation for the staff at the Depot. She also introduced YAP student, Katie Yoder, who will be graduating from YAP this year. Katie has participated in a lot of jobs at the Depot, including prepping donations and stocking the store. The Depot staff noted that in the 7 or 8 years since YAP students have been working at the Depot, sales have increased significantly. Staff members from YAP and the Depot all agreed that housing YAP at the Depot has been a great community partnership.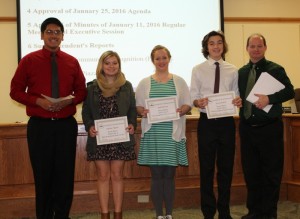 Dr. Piazza introduced the drum majors from the 2015 state finalist Crimson Marching Band, Sydney Cox, Evan Krabill, Ashley Taylor, and Jesse Torres, along with their director Tom Cox. The students shared a couple of favorite memories from the marching band season including: Performing at BOA (Bands of America), becoming close friends with fellow band members, representing GHS, and performing at Lucas Oil stadium in state finals competition. The board members and administrators thanked the students for representing Goshen Community Schools so well, and congratulated them on a great season.