12-10-18 Board Recognition
Jane Troup was recognized for 24 years of commitment and service on the GCS Board of School Trustees, starting in 1994. Mrs. Troup decided not to run for the school board this last election, stating at the board meeting, "It's been a pleasure, but it's time. Twenty-four years is enough." She added, "I've met so many wonderful people, and I will continue to sing the praises of the staff we have. I have never seen a group of people work so hard in the classrooms, in administration, in this office, everybody. Your love for the kids is over the top. It's amazing." Dr. Woodworth thanked Mrs. Troup, saying, "It's our great honor tonight to recognize Jane Troup for 24 years of board service. She has been an amazing and outstanding board member. She has missed a few meetings, but not many, in 24 years. And if you multiply that out, that is a lot of meetings!" Dr. Woodworth noted that Mrs. Troup served on many district committees and went to many ISBA and NSBA conferences over the years to stay up to date with educational changes. Mrs. Troup also served as the ISBA board president. "And for all those reasons and more,…we thank you for all that you've done for the school district and the children that you have served here in Goshen. Thank you so much."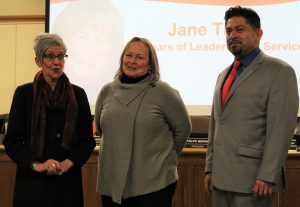 And then Mrs. Troup surprised Dr. Woodworth by awarding her a certificate in honor of Dr. Woodworth being named the IAPSS (Indiana Association of Public School Superintendents) Region II Superintendent of the Year. The official announcement and press release from IAPSS will come after the start of the new year, but the GCS school board and administration recently received news of Dr. Woodworth's award and wanted to recognize her at a board meeting. Congratulations, Dr. Woodworth. Thank you for all you do for GCS!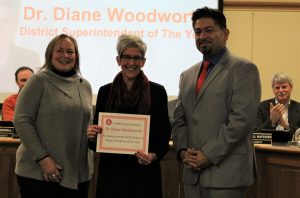 Lastly, GMS School Counselor Mrs. Jan Desmarais-Morse was recognized following her nomination as a finalist (1 of 6 nationwide) for the 2019 National School Counselor of the Year by the American School Counselor Association.
Mrs. Desmarais-Morse (or Mrs. DM, as she is called at GMS) is a graduate of The University of Maine and Worcester State College. She has served as a school counselor for 29 years and has been at Goshen Middle School since 1997. The School Counselor of the Year award honors professionals who devote their careers to advocating for the nation's students and addressing their academic and social/emotional development and college and career readiness needs.
The School Counselor of the Year finalists were judged based on their ability to create systemic change within the school counseling profession. Through their significant leadership, collaboration and advocacy skills, the School Counselor of the Year finalists achieved increased student success via their comprehensive school counseling programs. Desmarais-Morse, along with the additional five School Counselor of the Year finalists, will be in Washington, D.C., Jan. 30–Feb. 1, 2019, where they will be honored and formally recognized at a black‐tie gala.
Congratulations, Mrs. DM!!