11-28-16 Board Recognition
Board Recognition:
Aimee Schade, master teacher at West Goshen, was recognized by the board after she was named the recipient of the 2016 Milken Educator Award, and given a cash prize of $25,000. Mrs. Schade stated that she was very shocked on the day of the presentation, but is pleased that the honor allows her to attend the national TAP conference at no expense to her or the school district. Dr. Woodworth added that GCS is very proud of Mrs. Schade's work, and pleased for her to be honored in such a manner.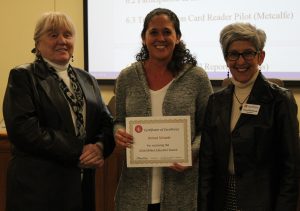 Mrs. Cripe, Mrs. Schade, and Dr. Woodworth
Mrs. Ummel recognized GCS staff members Adam Young, Alan Metcalfe, Allison Romero, Angela Piazza, Carl Weaver, Jen Eberly, Jim Graves, John Lichty, Joy St. Germain, Karen Blaha, Katrina Overton, Lori Line, Lori Shreiner, Marcia Yost, Megan Krug, Nina Keister, Robina Sommers, and Terry Hussey, and consultants Jim Kirkton and Bill Born for their time, effort, and thoughtful work on the Strategic Planning Academic sub-committee.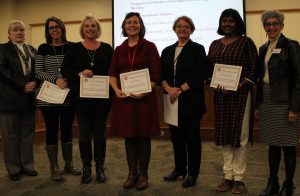 Mrs. Cripe, Mrs. Line, Mrs. Overton, Ms. Shreiner, Ms. Yost, Mrs. Sommers, and Dr. Woodworth
GHS Girls Basketball Coach, Lenny Krebs, was recognized following his presentation at the NLC Sportsmanship Summit held at Grace College. He stated that he spoke to students about what it means to "listen", and stated that "it was unique, coming from someone with hearing loss".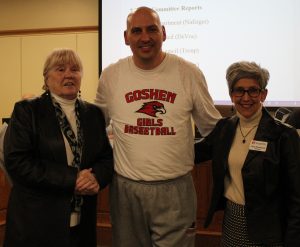 Mrs. Cripe, Coach Krebs, and Dr. Woodworth
The last recognition was a surprise for Dr. Woodworth, as Kevin Deary, President/CEO of the Boys and Girls Club was at the meeting to recognize her service on the club's board for three consecutive 3-year terms. He noted that Dr. Metcalfe will be replacing Dr. Woodworth on the board, and thanked Dr. Woodworth "for all you do for our children when people are looking, and also when no one is looking". Dr. Woodworth thanked Mr. Deary and said that she appreciates the great collaboration between Goshen schools and the Boys and Girls Club of Goshen.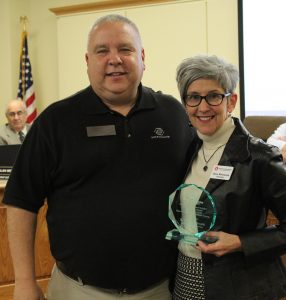 Mr. Deary and Dr. Woodworth