GCS Change in Course/School Schedule (English & Spanish)
Dear GHS and GMS Families,
We appreciate your continued partnership as we navigate our way through this unusual school year. COVID-19 has forced us to implement new procedures this year and to make ongoing adjustments in an ever-changing environment; but together, we have done all we can to provide a safe learning environment.
For the last several weeks, Elkhart County has been categorized as an "Orange" county according to the Indiana State Department of Health color-coded system. As always, GCS has monitored COVID numbers, and the attendance and staffing in our school buildings. The State of Indiana requires that schools report to the state if student absences climb to 20% or more, and GMS and GHS are both getting very close to that threshold for absences.
Additionally, despite the incredible work our students and staff have done to follow safety protocols, the positivity rates in our county continue to climb at an alarming rate. The increasing rates of positive COVID cases along with the number of students and staff in quarantine, absences of students, staff, and teachers, the added demands on nursing staff, custodial staff and bus drivers due to a lack of substitutes, GCS has made the decision to change courses at this time.
The decision to change courses was made in conjunction with the GCS Board of School Trustees, who are supportive of the need to adjust. The decision was not made lightly, as administrators and board members understand that school schedules affect family work schedules and makes things more difficult for many families. However, after careful consideration, it has been determined that the current spike in COVID infections and the resulting staffing implications, has made it necessary for GCS to change courses, for a period of time.
This change in course applies only to students at GMS and GHS, in grades 7-12, as teacher and student absences are not as numerous in grades K-6 where students are in self-contained classrooms. Also considered in the decision-making process, virtual school for younger students presents more childcare difficulties for families. Since GCS has been able to provide a safe educational environment using COVID safety procedures, we will keep the youngest GCS students (in grades K-6) in school. Moving students in grades 7-12 to virtual classes will also allow for more substitute teachers to be available in the elementary schools if needed.
Beginning Monday, November 16, 2020, Goshen High School and Goshen Middle School (Grades 7 & 8) will move to Course V until after Thanksgiving Break. Students will return to Course IV on November 30, 2020.
Course V–Virtual Learning  (11/16 -11/27)
·         Teachers available via teleconferencing 8:30 a.m.-3:00 p.m.
·         Synchronous & Asynchronous Learning
·         Counselor support and check-ins
·         Scheduled live opportunities
Course IV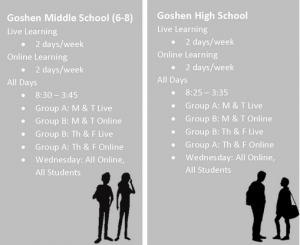 During the time that GMS and GHS students are in Course V (November 16-24) students may pick up a lunch at any of the schools in our district between 11:00 a.m.-1:00 p.m. (For example, if a GMS student lives near Prairie View Elementary, that student may pick up a lunch at Prairie View instead of traveling across town to GMS.) The Food Services Department will need all students who wish to pick up a lunch to sign up ahead of time so that each school knows how to plan. The sign-up sheet will be at http://www.goshenschools.org/meal-sign-up. Parents may pick up meals for students if they have the GCS Student ID number. Students may also pick up for other family members, neighbors, or friends, providing they have the Student ID numbers.
Merit Learning Center will continue to operate in Course III (four days/week).
There was a RedHawk Online Academy (ROA) survey sent out earlier this week. That survey is not related to this change in course for those students who have been attending school in person. ROA students will remain with their ROA teachers, but should answer the survey according to the directions.
GCS will continue to monitor the color-code assigned to Elkhart County by the State of Indiana, the positivity rate for Elkhart County, and the amount of GCS student and staff absences across the district. We want to keep as many students in school as we safely can. However, we will continue to look at local statistics and make decisions based upon what is best for the health and safety for all students and staff. If it turns out that students in grades 7-12 cannot safely return to school in Course IV on November 30, then GCS will let parents know via ParentSquare and our social media sites. If you have any questions, you may call the Administration Center at 574-533-8631.
Sincerely,
Dr. Steven Hope, GCS Interim Superintendent
*********************************
Dear GHS and GMS Families,
As the GCS Board of School Trustees, we have been in close communication with Dr. Steven Hope, our Interim Superintendent, about the ongoing COVID-19 pandemic. Dr. Hope and Susan Stiffney, R.N. have been closely monitoring the COVID positivity rates and student and staff absences over the past few weeks with growing concern.
We understand that GHS and GMS are now at the point where it is becoming difficult to staff with enough teachers and substitutes during the day, and it is also difficult to find enough people to adequately clean and sanitize the buildings in the evenings. We have discussed the probable necessity of changing courses with Dr. Hope and Mrs. Stiffney due to the continuing climb of COVID infections in our community.
We support our administrators in making the decision to move students in grades 7-12 to Course V (virtual learning) at this time, and we trust that they will also make appropriate decisions in the weeks ahead. We cannot predict what the rest of this school year will look like, but as board members we will continue to stay in close touch with our administrators, and together we will always make decisions based upon what is best for the students and staff of our school corporation.
Sincerely,
Bradd Weddell, Board President, Keith Goodman, Board Vice President, Roger Nafziger, Board Secretary, José Elizalde, Board Member, Mario Garber, Board Member, Felipe Merino, Board Member, and Amanda Qualls, Board Member
***********************************
Estimadas familias de GHS y ​​GMS:
Les agradecemos su continua colaboración mientras navegamos por este inusual año escolar. COVID-19 nos ha obligado a implementar nuevos procedimientos este año, y a realizar ajustes continuos en un entorno en constante cambio; pero juntos, hemos hecho todo lo posible para proporcionar un entorno de aprendizaje seguro.
Durante las últimas semanas, el Condado Elkhart ha sido clasificado como un condado color "naranja" según el sistema de códigos de colores del Departamento de Salud del Estado de Indiana. Como siempre, GCS ha monitoreado los números de COVID, así como la asistencia escolar y la dotación de personal en nuestros planteles escolares. El estado de Indiana requiere que las escuelas informen al estado si las inasistencias estudiantiles suben al 20% o más, y GMS y GHS se están acercando mucho a ese umbral de inasistencias.
Además, a pesar del increíble trabajo que nuestros estudiantes y personal escolar han hecho al seguir los protocolos de seguridad, las tasas de positividad en nuestro condado continúan aumentando a un ritmo alarmante. Debido a las crecientes tasas de casos positivos de COVID junto con el número de estudiantes y personal en cuarentena, las inasistencias de estudiantes, de personal escolar y de personal docente y a la demanda adicional de personal de enfermería, de personal de conserjes, de conductores de autobuses y a la falta de suplentes, GCS ha tomado la decisión de cambiar de rumbo en este momento.
La decisión de cambiar de curso se tomó en conjunto con la Mesa Directiva Escolar de GCS, quien apoya la necesidad de realizar ajustes. La decisión no se tomó a la ligera, ya que los administradores y miembros de la Mesa Directiva entienden que los horarios escolares afectan los horarios laborales de las familias y les dificultan las cosas a muchas de ellas. Sin embargo, después de una cuidadosa consideración, se ha determinado que el pico actual de infecciones por COVID y las implicaciones de dotación de personal escolar resultante, ha hecho necesario que GCS cambie de curso, por un período de tiempo.
Este cambio de curso se aplica solo a los estudiantes de GMS y GHS, de 7º A 12º grado, ya que las inasistencias de maestros y estudiantes no son tan numerosas de jardín de niños a 6º grado, en donde los estudiantes están en salones de clases independientes. Asimismo, durante el proceso de toma de decisiones se consideró que la modalidad virtual para estudiantes más pequeños presenta más dificultades de cuidado infantil para las familias. Dado que GCS ha podido proporcionar un entorno educativo seguro utilizando los procedimientos de seguridad de COVID, mantendremos a los estudiantes de GCS más pequeños (jardín de niños a 6º grado) en la escuela. Mover a los estudiantes 7º a 12º grado a clases virtuales también permitirá que haya disponibilidad de más maestros suplentes en las escuelas primarias, en caso que fuese necesario.
A partir del lunes 16 de noviembre de 2020, Goshen High School y Goshen Middle School (7º y 8º grado) pasarán al Curso V hasta después de las vacaciones de Acción de Gracias. Los estudiantes regresarán al Curso IV el 30 de noviembre de 2020.
Curso V – Modalidad virtual (Del 16 al 27 de noviembre)

·         Maestros disponibles por videoconferencia; 8:30 a.m. a 3:00 p.m.

·         Aprendizaje sincrónico y asincrónico

·         Apoyo del orientador escolar y consultas

·         Oportunidad de programar para sesiones en vivo
Curso IV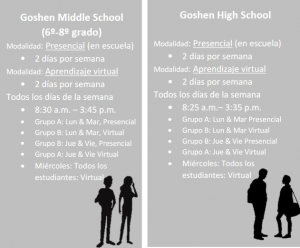 Mientras que los estudiantes de GMS y GHS permanezcan en el Curso V (del 16 al 24 de noviembre), los estudiantes podrán recoger su almuerzo en cualquiera de las escuelas de nuestro distrito entre las 11:00 a.m. y la 1:00 p.m. (Por ejemplo, si un estudiante de GMS vive cerca de Prairie View Elementary, ese estudiante podrá recoger su almuerzo en Prairie View en lugar de viajar al otro lado de la ciudad hacia GMS). El Departamento de Servicios de Alimentos necesitará que todos los estudiantes que deseen recoger un almuerzo se registren con anticipación para que cada escuela sepa cómo planificar. La hoja de registro estará en http://www.goshenschools.org/meal-sign-up. Las madres y los padres pueden recoger las comidas escolares de los estudiantes si tienen el número de identificación de estudiante de GCS. Los estudiantes también pueden recoger las comidas de otros miembros de la familia, vecinos o amigos, siempre que tengan los números de identificación estudiantil.
Merit Learning Center seguirá funcionando en el Curso III (cuatro días a la semana).
A principios de esta semana, se envió una encuesta de la academia virtual RedHawk Online Academy (ROA, por sus siglas en inglés). Esa encuesta no está relacionada con este cambio de curso para aquellos estudiantes que han estado asistiendo a la escuela en persona. Los estudiantes de ROA permanecerán con sus maestros de ROA, pero deben responder la encuesta de acuerdo con las instrucciones.
GCS continuará monitoreando el código de color asignado al Condado Elkhart por el estado de Indiana, la tasa de positividad del Condado Elkhart y la cantidad de inasistencias de estudiantes y personal escolar de GCS en todo el distrito. Queremos mantener a tantos estudiantes en la escuela como podamos de manera segura. Sin embargo, continuaremos observando las estadísticas locales y tomaremos decisiones basadas en lo que es mejor para la salud y la seguridad de todos los estudiantes y del personal escolar. Si resulta que los estudiantes 7º a 12º grado no pueden regresar a la escuela de manera segura en el Curso IV el 30 de noviembre, GCS les informará a las madres y a los padres a través de ParentSquare, y por medio de nuestros sitios de redes sociales. Si tiene alguna pregunta, puede llamar al centro administrativo al 574-533-8631.
Atentamente,
Dr. Steven Hope, Inspector escolar interino de GCS
***************************************************
Estimadas familias de GHS y ​​GMS:
Como miembros de la Mesa Directiva Escolar de GCS, hemos estado en estrecha comunicación con Steven Hope, nuestro inspector escolar interino, sobre la pandemia en curso de COVID-19. Dr. Hope y Susan Stiffney, R.N. han estado monitoreando de cerca, y con creciente preocupación, las tasas de positividad de COVID-19 y las inasistencias de los estudiantes y del personal escolar durante las últimas semanas.
Entendemos que GHS y ​​GMS ahora están en un punto en el que se está volviendo difícil contar con suficientes maestros permanentes y suplentes durante el día, así como también ha sido difícil encontrar suficientes personas que limpien y desinfecten adecuadamente los planteles y edificios escolares por las noches. Hemos hablado con Dr. Hope y con Susan Stiffney sobre la factible necesidad de cambiar de curso debido al continuo aumento de infecciones por COVID-19 en nuestra comunidad.
Apoyamos a nuestros administradores en tomar la decisión de mover a los estudiantes de 7º a 12º grado al Curso V (aprendizaje virtual) en este momento, y confiamos en que también tomarán las decisiones adecuadas en las próximas semanas. No podemos predecir cómo será el resto de este año escolar, pero como miembros de la Mesa Directiva continuaremos en estrecho contacto con nuestros administradores, y juntos siempre tomaremos decisiones basadas en lo que es mejor para los estudiantes y para el personal de nuestra corporación escolar.
Atentamente,
Bradd Weddell, presidente de la Mesa Directiva, Keith Goodman, vicepresidente de la Mesa Directiva, Roger Nafziger, secretario de la Mesa Directiva, José Elizalde, miembro de la Mesa Directiva, Mario Garber, miembro de la Mesa Directiva, Felipe Merino, miembro de la Mesa Directiva, y Amanda Qualls, miembro de la Mesa Directiva