GHS 100 Year Anniversary Shirts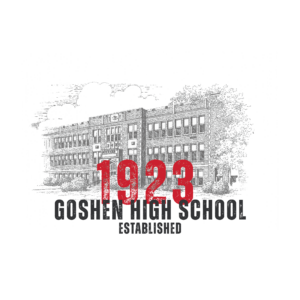 Goshen High School will be celebrating the 100th Anniversary of the building on October 13, 2023, at the home football game along with the dedication of the Alumni Plaza.  Please celebrate with us while wearing a specially designed shirt for this historical event.
The shirt was designed by GHS Seniors Marisol Diaz and Jonathan Barahona.  Proceeds from the shirt sale will help fund the new student-led "Hawks Nest" book store that will open later this year. This bookstore will give students a hands-on entrepreneurial experience right inside Goshen High School.
Click the image or go to this link to order your favorite version of the shirt.    With size options from 2T – Adult everyone in the family can wear one to the celebration.
Online store open:  September 18 – October 1, 2023
Prices: Vary based on style
Delivery:  Orders can be picked up outside the GHS main entrance on the following dates:
Thursday, October 12, 4:00-6:00 PM
Friday, October 13, 4:30 – 7:00 PM
Shipping: Optional for an extra charge