10-24-16 Board Recognition
From the October 24, 2016 GCS board meeting:
Assistant Superintendent Tamra Ummel introduced two groups of GHS coaches and athletes, who were recently recognized by the IHSAA for exemplary sportsmanship: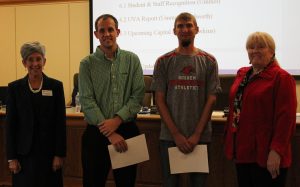 GHS tennis player Hugh Birky, who was recognized in absentia, and Coach Love and Coach Saner were nominated for the recognition by Plymouth, following a highly contested tennis match. The match between Hugh and the Plymouth player was very long, and the Plymouth player experienced cramping throughout most of the match. Because of darkness, the match was eventually moved to a court with lights. When Hugh hit the winning shot, the Plymouth player went down with cramps and could not get up. Hugh skipped any celebration and went to the other player's side with his own Gatorade and tried to be of assistance, as did the GHS coaches.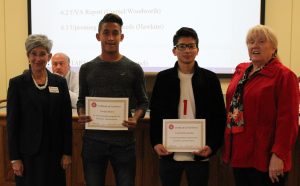 Two GHS boys soccer players were also recognized, following an IHSAA submission by Concord coaching staff. Following a tough 1-1 draw with their NLC rival Concord, Emylio Romo and Carlos Hernandez went up into the stands where GHS students had been sitting, and picked up all of the trash in that section. The boys were not instructed to do so, they simply did it on their own. The Concord coaches expressed their appreciation for their responsible act, which saved the Concord custodial staff time and effort.