1-23-17 Board Recognition-Highlighting Parkside
Parkside staff members were at the board meeting on January 23rd, to highlight C.L.A.S.S. (Connecting Learning Assures Successful Students) which connects education to character, leadership, and inquiry based curriculum.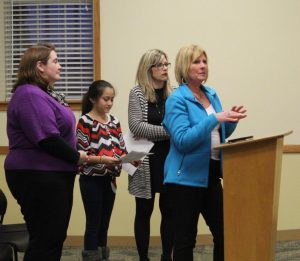 Ms. Wenger, Isabella, Mrs. Holsopple, and Mrs. McFarren
Principal Betts McFarren stated that Parkside has been working with C.L.A.S.S. for 8 years. She reported that until now, they have worked mostly with leadership and character development, and cited the Lifelines which include respect and perseverance, that hang as reminders on the fence along Parkside's playground. Now, because of an increased partnership and funding, they are also adding curriculum components. Mrs. McFarren added that the older students, who are student ambassadors, help teach the Lifelines in the younger classrooms.
School Counselor Jan Holsopple spoke about the Brain Web that was introduced last year. The Brain Web involves six brain components that take learning to long term memory: Assurance, meaning, collaboration, differentiation, feedback, and emotion. The curriculum they are using includes: Year long plans, curriculum maps, collaboration, inquiry process/lessons, Brain Web components, information centers, study trips, high engagement, student centered, and world and community connections. Basically, the words, lifelines, and life goals that Parkside has taught and encouraged for years are now also being embedded into their curriculum and procedures.
Two Parkside students read their own statements to the school board:
Victor, a 7 year old 2nd grader, talked about how he uses the lifelines in school and at home as he relates to his friends and family. He told the board that he was nervous, but he did an amazing job presenting his work, and administrators expressed their appreciation for his excellent writing skills!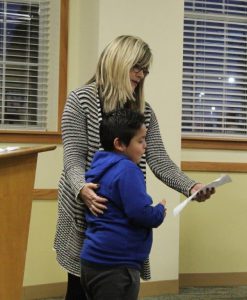 Victor and Counselor Jan Holsopple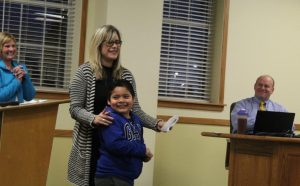 He was relieved to be done, but he did a great job!
Isabella, a 5th grade student ambassador, shared that being an ambassador "has given me more confidence", has enabled her to use better eye contact, has helped her "work on my attitude", and has given her the opportunity to teach other students. The adults in attendance were quite impressed by her poise, as Isabella spoke directly to the board, perfecting the attributes and character development that she has learned at Parkside.
Isabella, reading her statement.
Lastly, 2nd grade teacher Maria Wenger spoke about how all subject teachers are collaborating, to incorporate the state standards into themes and then helping the students to make learning connections "in more than one way". She also noted that the new curriculum "feels much more student generated, instead of teacher run".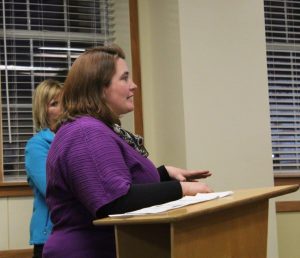 Ms. Wenger