Waterford Elementary School
Vision and Mission
Our Vision- Educating and inspiring the whole child for the betterment of the global community.
Our Mission- Waterford Elementary School is dedicated to the academic achievement and personal growth of ALL students.
We are committed to meeting the academic needs of every child that walks through the doors of Waterford! Through weekly staff professional development, teachers continue to grow their instructional capacity to provide quality instruction to every student. Waterford students experience academic growth through a variety of hands-on and content-rich opportunities. Our curriculum is anchored to the Indiana State Standards and essential learnings of all content areas (language arts, math, science, and social studies.) We provide balanced and enriching activities that build intellect, foster curiosity, demonstrate mastery, and are applicable in real-world situations.
---
Dual Language Immersion
Waterford offers a Dual Language Two-Way Immersion Program. We provide students the opportunity to begin the journey toward bilingualism, bi-literacy, and bi-culturalism, in English and Spanish.  If your child is in the program, they are instructed in English half of the day and Spanish the other half of the day, following the Indiana State Standards.  Parents must register and apply to have their child enrolled in the DLI program at Waterford.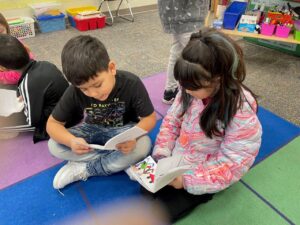 Principal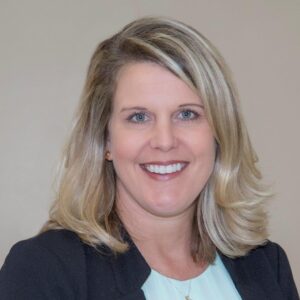 My name is Karen Brock, and I am the Principal of Waterford Elementary School. I am very passionate about education and ensuring that your students are provided with high-quality and engaging classroom instruction. I look forward to partnering with you and the teachers at Waterford to prepare our students for their future. As a parent of three children, ages 29, 26, and 10, I recognize the importance of a strong home-to-school connection. Parents are every child's first teacher and I look forward to working with you to make sure that your child's social, emotional, and academic needs are met.
Thank you for the opportunity to teach your child/ children each day. It is an honor to be here at Waterford and serve this community! Please do not hesitate to reach out to me if you have any questions or concerns.
---
Counseling
We are blessed with a staff that creates positive relationships with students in order to meet their social and emotional needs. It is very evident that this staff truly cares about its students! The staff works closely with each other to provide the necessary care to ensure that learning can take place in the classroom.
Waterford has two school counselors that provide whole group instruction to all students, as well as small group or individual services based on student needs. They teach our students the Waterford Traits of Respect, Responsibility, Integrity, Gratitude, and Citizenship and they support our students in many ways!
Parent Teacher Organization
Waterford is blessed to have a PTO that works to support Waterford teachers and students throughout the year.  This organization conducts several fundraisers to provide financial support for classroom resources, field trips, end-of-the-year celebrations, equipment, and much more!  These fundraisers include mum sales, spirit wear, read-a-thon, and book fairs.  They often ask for volunteers to help with these fundraisers through Parent Square.  Thank you to ALL parents who support Waterford!
Meetings are held at Waterford Elementary School and information is posted on social media and/ or Parent Square in advance.  All parents are welcome!
Facebook: @waterfordpto
2023 – 2024 Officers:
President- Emma Dugger
Vice President- Jackie Carowan
Treasurer- Chris Dixon
Secretary- Dianne Martin
Student Life
Student Activities
Athletics– Waterford 3rd and 4th grade students are invited to participate in elementary soccer in the fall, basketball in the winter, and track in the spring. For more information on these programs, you can visit the Goshen Junior RedHawks website.
Clubs– Waterford Elementary has several different clubs for students to participate in during a typical school year. Clubs include Chess, Run the Halls, and Happy Day Club. Look for more information to be sent home via ParentSquare and Monday folders.
End of the Year Celebrations– We celebrate both our Kindergarteners and 4th Graders at the end of the school year by inviting parents in for a small celebration in the gym. Look for more information towards the end of the school year. We do ask that you do not bring in gifts or balloons on these days.
Field Day– At the end of the school year, we have a field day that all students participate. The grade levels rotate to play games and enjoy
Food Drive– During December, we have a food drive to help out our own Waterford families.
Jump Rope for Heart– Each year, the Physical Education teacher heads up the Jump Rope for Heart challenge and fundraiser at Waterford Elementary School. Each year, we raise money for the American Heart Association. This is a great way not only to raise money for a great cause but to also teach about heart health to our students.
Major Saver– Each spring, Waterford Elementary participates in the "Major Saver" card fundraiser to raise money for the Goshen Community Schools Foundation. All profits go directly to the Foundation and are put back into Goshen Schools. This is in addition to the PTO fundraisers and Jump Rope for Heart.
Related Arts Night– Each spring, we celebrate the work of our students. Every student has a piece of artwork on display. Also, our third and fourth graders put on a music performance that includes physical education activities.
Spirit Days– Waterford has so much school spirit! We will have three spirit weeks through the year for your students to dress up and show their Waterford pride. We will communicate these via ParentSquare and Monday folders.
Student Leaders- The 4th-grade leadership team at Waterford is selected based on student application and teacher recommendation. These are students that show our Waterford Traits of Respect, Responsibility, Integrity, Gratitude, and Citizenship. They work closely with the school counselor and office staff. They help with morning announcements, welcome new students, collect recycling, and assist in school-wide activities throughout the year.
School Performance Report