Model Elementary School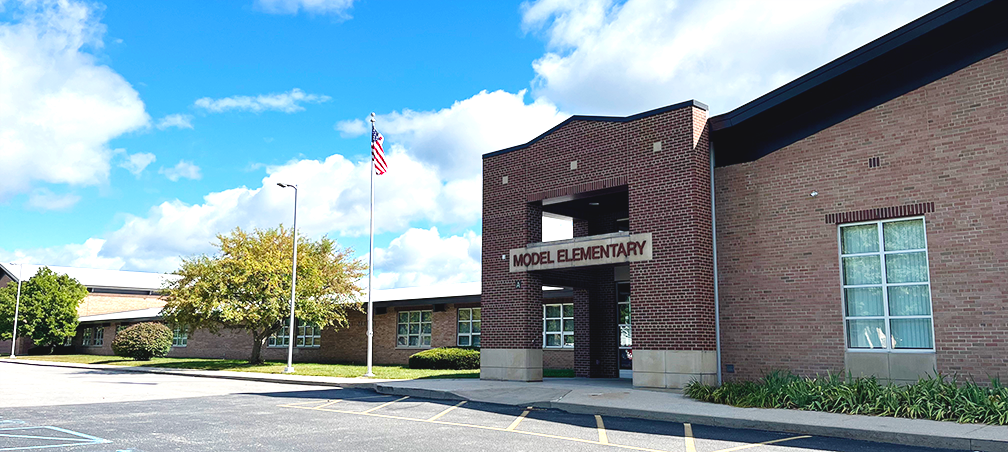 Model Elementary is the largest elementary in Goshen Community Schools serving grades K-4.  Our mission is to provide a safe and connected community that is challenging and engaging learning for all and empowered by the Bulldog Beliefs.  We envision that we will MODEL THE WAY to ensure every learner is socially, emotionally, and academically prepared to positively impact our ever-changing world.  Model Elementary School runs like a family, providing true caring for students, staff, and families and building a strong sense of belonging, and pride to be a Bulldog.
---
Academic Focus
At Model Elementary School, our vision is to academically prepare every single child for the next step in their academic career. We want to ensure that all doors are open to Model students upon high school graduation and we know that we lay the groundwork for success. Model staff and students track their growth and progress toward their own individual goals. We also work to meet the individual needs of all of our Bulldogs. We work within an inquiry-based model with the goal of tapping into the curiosity of all of our children. Model provides students with many strategies to approach different skills so that students have options that work for them.
Teachers are:
Creating a positive physical and emotional environment by using the Lifelong Guidelines and 55 Essential Skills.
Recognizing the range of abilities and talents of their students while teaching the Learning Skills: Reading, Writing, Language, Social Science, Natural Science, and Computation.
Developing a curriculum that addresses multiple levels of thinking.
Increasing parent and community involvement with the school.
Aware of current brain research, thereby constantly improving opportunities for all students.
Integrating content areas into recognizable concepts that are meaningful, real-life, and age-appropriate. Information skills are taught through technology, research, presentations, and specialty folders.
Sharing successful teaching strategies with other educators.
At Model, students and staff follow the Model Bulldog Beliefs. Following these guidelines helps create a friendly and welcoming school environment.
Model Bulldog Beliefs
Respect
Responsibility
Safety
Kindness
Principal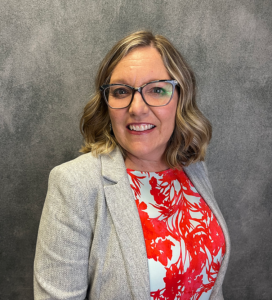 Welcome to Model! I'm so happy to be a part of this amazing school community. Our team of educators and support staff work together to provide the highest quality education possible for your student.
Teachers participate in weekly professional development led by our own instructional coaches to analyze student data and refine teaching techniques. In this way, our teachers are responding to the unique needs of Model students.
Our PTO, along with our Parent Liaison, Wendy Clark, coordinates events for students and parents outside of the school day. Families can participate in a wide variety of events including a tailgate party, paint with a parent night, family movie night, and family reading night. When we gather as a community, the support we provide students grows even stronger.
Please reach out if you have any questions – we are happy to assist you!
Krista Troyer, Principal
---
Counseling
Model School Counselor program runs Tier 1 classroom life skill lessons for all students, Tier 2: small groups and 1:1 services for students in need, and Tier 3 works with students of high risk and connects them with outside resources. The Model School Counseling program supports all students to successfully transition to GIS and into life-long learners, who go on to graduate career/college ready and contribute as positive citizens. All students have access to an equitable, data-driven, comprehensive school counseling program ensuring academic, career, and social/emotional development. Model School Counseling program supports a student learning environment that empowers students and staff to become self-motivated, transformative learners and problem solvers.
Model's school psychologist, Mrs. Alyssa Nichols, visits Model one day a week. The psychologist is here as a consultant and as a resource for the teachers. She also tests students who have been identified as having academic problems or learning disabilities. The psychologist and the LRE teacher and the classroom teacher are instrumental in setting up an Individualized Educational Plan for the affected students.
---
Student Life
ATHLETICS – Model 3rd and 4th-grade students are invited to participate in elementary soccer in the fall, basketball in the winter, and track in the spring.  For more information on these programs, you can visit the Goshen Junior RedHawks website.
BE KIND 21 – Model participates in the annual "Be Kind 21" campaign with thousands of other schools and companies globally from September 1 to September 21. The purpose is to intentionally focus on acts of kindness and develop kind habits in our staff and students. We encourage community members to share their acts of kindness with us by posting on social media and in our newsletters.
BOOK FAIR – Model Book Fair is held every year during Parent-Teacher conferences in an effort to raise money for the Model Elementary School library and Model also earns free books for their library, too! By purchasing books at the Model Book Fair, you are supporting our school as well as putting books in the hands of children. Model staff also completes wish lists for their classroom libraries. We encourage you to check out the book fair during our conference days.
CLUBS – Model Elementary has several different clubs for students to participate in during a typical school year. Clubs include chess, Run the Halls, and Happy Day Club.
FIELD DAY – At the end of the school year, we have a field day that all students participate.
FOOD DRIVE – During December, we have a food drive to help out the local food banks.
FUNDRAISERS – Each March, Model Elementary participates in the "Major Saver" card fundraiser to raise money for the Goshen Community Schools Foundation. All profits go directly to the Foundation and are put back into Goshen Schools.
GRADUATION – We celebrate our 4th-grade students moving on to the Intermediate School with a graduation ceremony at the end of the year.
SPIRIT DAYS – Model is known for its Bulldog Spirit! We run themed Fridays and a few themed weeks throughout the year. All spirit days are posted to Model social media, Parent Square, the monthly Bulldog Blog, and teacher newsletters. We also send home spirit day schedules in Monday folders.
STUDENT LEADERSHIP – The 4th-grade leadership team at Model is selected in their 3rd-grade year. These students show Respect, Responsibility, Safety, and Kindness in all areas from academics, to friendships, to their willingness to take initiative and do their part wherever it is needed. They attend a leadership summit and work closely with the school counselor and office staff. They help with morning announcements, Kindergarten Blast-off, and school-wide activities throughout the year.
JUMP ROPE FOR HEART – Each year, the Physical Education teacher heads up the Jump Rope for Heart challenge and fundraiser at Model Elementary School. Each year we raise thousands of dollars for the American Heart Association and there is also usually something silly that the Principal and Assistant Principal have to do when we meet our goals. This is a great way not only to raise money for a great cause but to also teach about heart health to our students.
RED RIBBON WEEK – This is a national program that allows schools and communities to unite and take a visible stand against drugs.  We participate during this week (normally in October) every year to show Model's personal commitment to a drug-free lifestyle.
---
Parent Teacher Organization
Model Elementary has a very active Parent Teacher Organization (PTO) that works to support teachers in the classroom as well as students. Our PTO conducts several fundraisers each year to raise money that is given directly to Model Elementary School. Model PTO sponsors Model Leadership Students summer camp experiences, teachers with $100 grants, assists with field trips, and much much more. Meetings are held at Model Elementary School and information is posted on social media / Parent Square in advance.
"Like us" on FACEBOOK…ModelBulldogs PTO.
Board Members:
Angie Short, President
Amanda Miller, Vice President
Amanda Wills,  Secretary
Tricia Stewart, Treasurer
Contact us at ModelPTO@gmail.com 
---