Building Projects
Goshen High School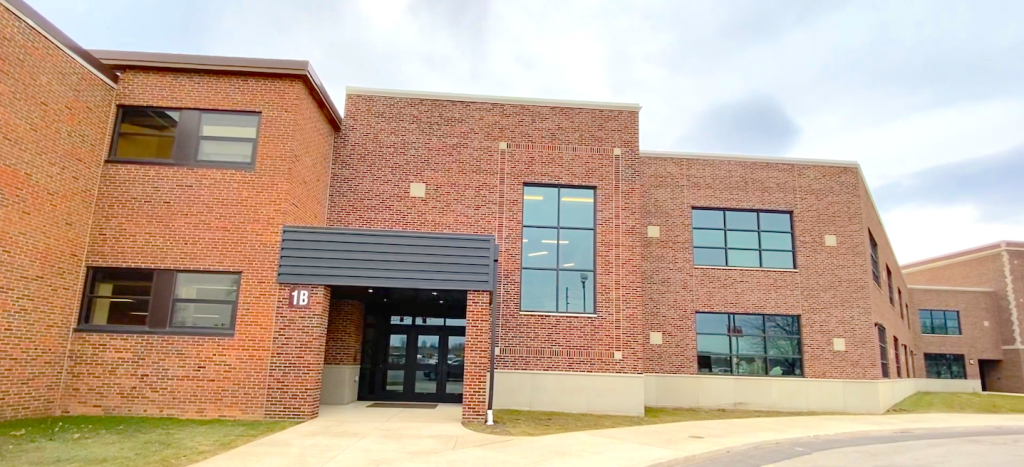 On June 3, 2019, construction began on the new "Classroom Wing" of Goshen High School by Weigand Construction and Barton-Coe-Vilamaa of Fort Wayne, Indiana. The grand opening of the new wing was held on April 26, 2021. This project included the following:
Art
The ceramics room was nearly doubled in size with new flooring, sinks with clay traps, and work tables of varying heights.
A new separate room for 6 new potters' wheels and a glazing area.
A new designated room for the kilns.  In addition to the electric kilns, a large gas kiln was installed.
The 2-D, 3-D, drawing, and painting rooms were updated as well with new flooring, lighting, blinds, and cabinetry.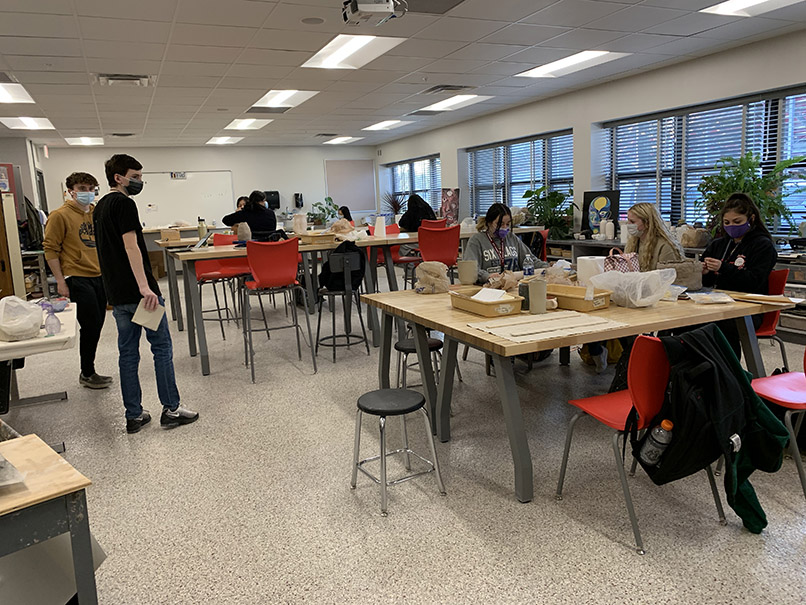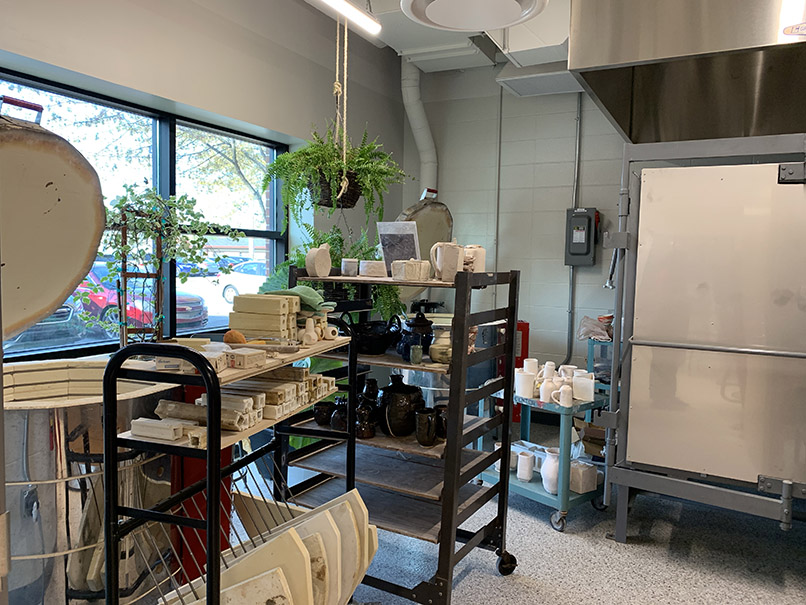 Comments
"Both students and teachers are thrilled and grateful to have these spacious, bright, and inspiring studios to work in."
Engineering & Manufacturing/Building Trades
Dedicated Manufacturing Lab space.

Room for expansion for additional equipment as the Manufacturing Academy grows.

Dedicated welding location with ventilation system for three welding stations.

Fully vented and lighted paint booth.

Power and compressed airdrops through the manufacturing lab.

New manufacturing equipment allowing students to experience using up to date methods currently used in industry, (NC Mill, NC Lathe, Virtual Reality Welding Trainer, MIG Welding equipment.)

Learning modules to allow students to experience project-based learning addressing Industry 4.0 broad-based foundation, (pneumatics, hydraulics, electronics, robotics, IT, system integration and equipment troubleshooting, measurement systems).

Dedicated classroom area.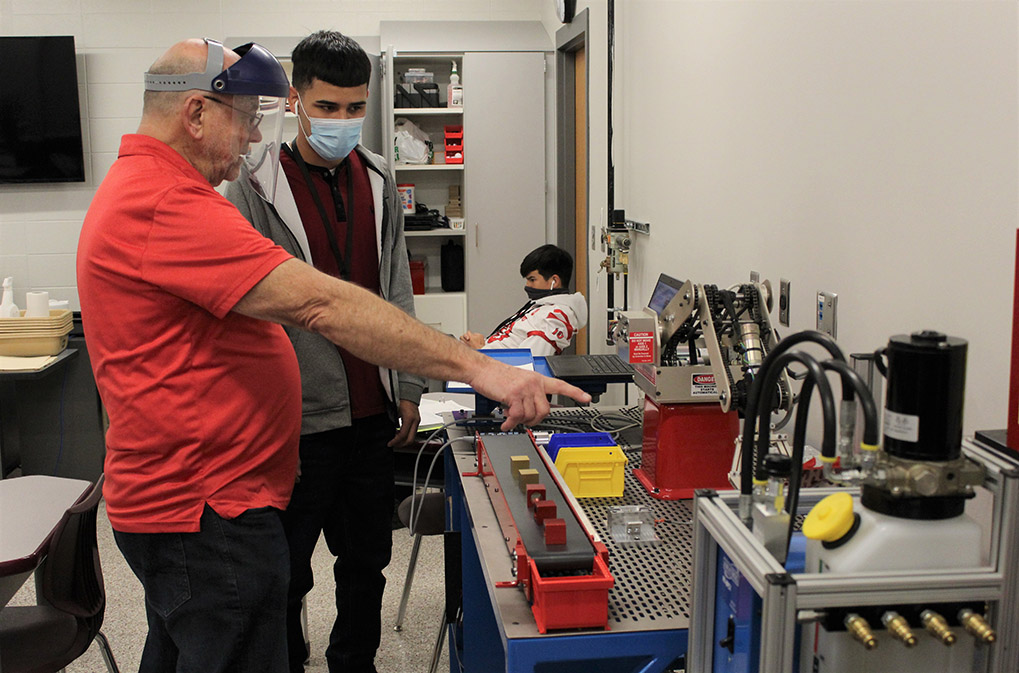 Comments
"Students and I love the additional space in our construction lab. The new dust collection system is also a great addition. Both of these features make for a safer and more comfortable environment in which to work and learn!"
"The newly renovated design classroom offers students a creative and inspiring workspace that helps foster new ideas. Access to materials and flexibility with how the room can be set up is inspiring for students and facilitates more teamwork. This room allows the creative problem-solving process to come out in all students. This is where the magic happens!"
Science 
2 new rooms 

4 renovated rooms in the old building (one of these was an existing science classroom and the others became "new" science classrooms)

This construction project increased science lab classrooms from 9.5 to 14.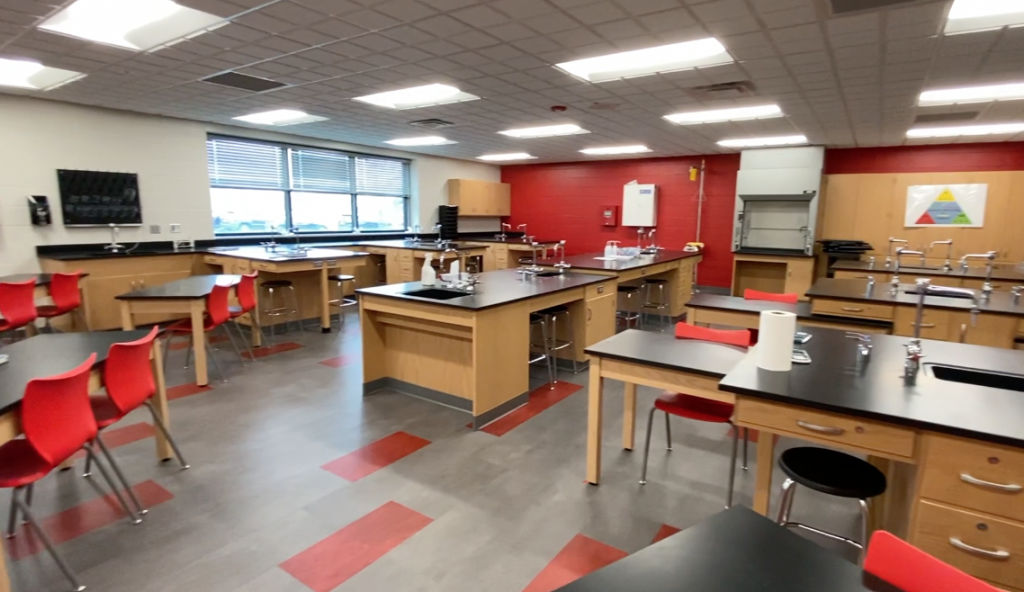 Comments
Overall, I love the new room!

A sliding whiteboard gives more space and is at a good angle for students to see.

Promethean boards are much easier to read from far away than a projector.

Separate lab space is great for lab and desk time.

Lots of cabinet storage space.

Lots of windows, light.

Room natural gas shutoff makes it easier to check that gas is off.

The lab station setup allows small groups of students to work together more collaboratively.

Lab stations can be stocked with most of the lab materials needed for the year. This means students can assume more responsibility for identifying, cleaning, and returning lab materials.

The additional/new space in our science classroom room 1400 has been used frequently this year. Students have been able to conduct labs in an area apart from their table/classroom area, which is extremely advantageous. We have been able to set up ICP equipment, pig dissection labs, and numerous other labs ahead of time so that we are ready to conduct the experiments/labs after preparing up front in class and having a flow and efficiency in our lessons. This has also been helpful with protecting expensive equipment and lab supplies.

Students have been able to have guest speakers in the larger areas such as Birds of Prey–which allowed more than one class to combine when necessary for presenters' schedules. Our organ donor speaker was able to visit this year and have an area to house the organs and other lab/hands-on activities they brought for students to use. Because of the additional space, students were able to circulate through the stations provided by the organ donor speaker and work more productively in small groups.

We now have lab stations where students can work together facing each other – we no longer have to rearrange the room to accommodate group work and lab activities!
Math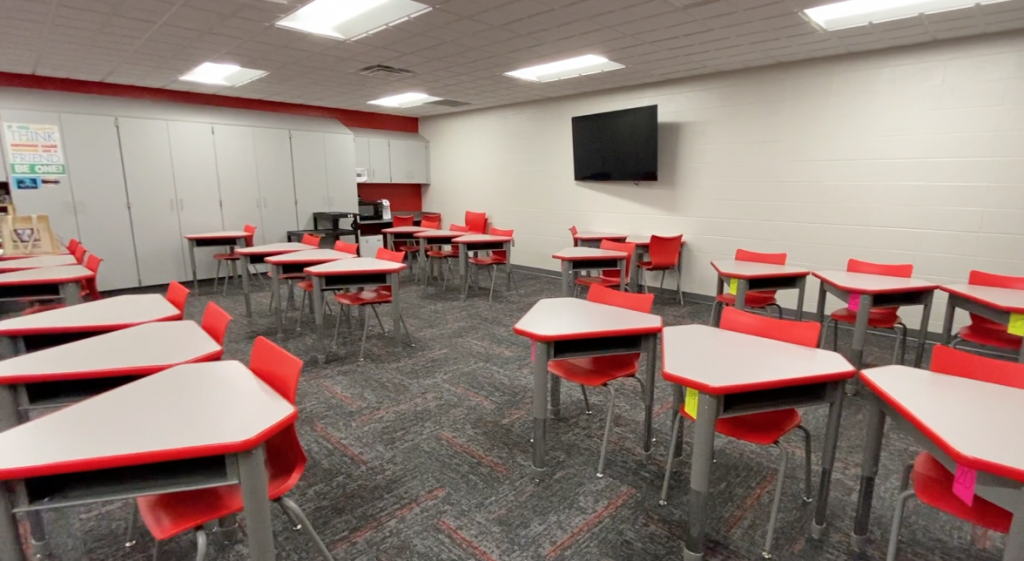 Comments
There is a lot of good storage and I like the movable desks. Obviously, I like the windows, but some people don't have them.

I think having another hallway spreads out the kids a little more and helps with some crowding.
One of the best aspects is that the cart teachers all get to have their own rooms and not have to go scooting around between classes.
I love my Promethean board! Having the touch screen available made my transitions from in-person, to hybrid, to completely virtual so much more manageable. The Promethean board has made it possible to easily let students on zoom simultaneously get the "same" lesson as students in person.
Teachers are happy to have more classrooms so that we all can have our own classrooms. This helps teachers to feel more organized and settled, which in turn helps students to be successful. In addition, students have an easier time seeking us out when we each have a "room" where we can be found.
Learning Commons
Wall-mounted monitors throughout for instructional purposes, announcements

Robust, adjustable lighting

Stacks were moved to create a larger/open workspace for students/faculty

New furniture/flexible seating – can be moved to create useful configurations for group work

Instructional area in the open space with mounted projector/screen

Booths for reading, eating, relaxed environment

Individual/small group study rooms with tables, stools, monitors, whiteboards

Attached classroom/meeting space with Promethean Board, monitor, flexible tables/seating, whiteboards

Café/coffee shop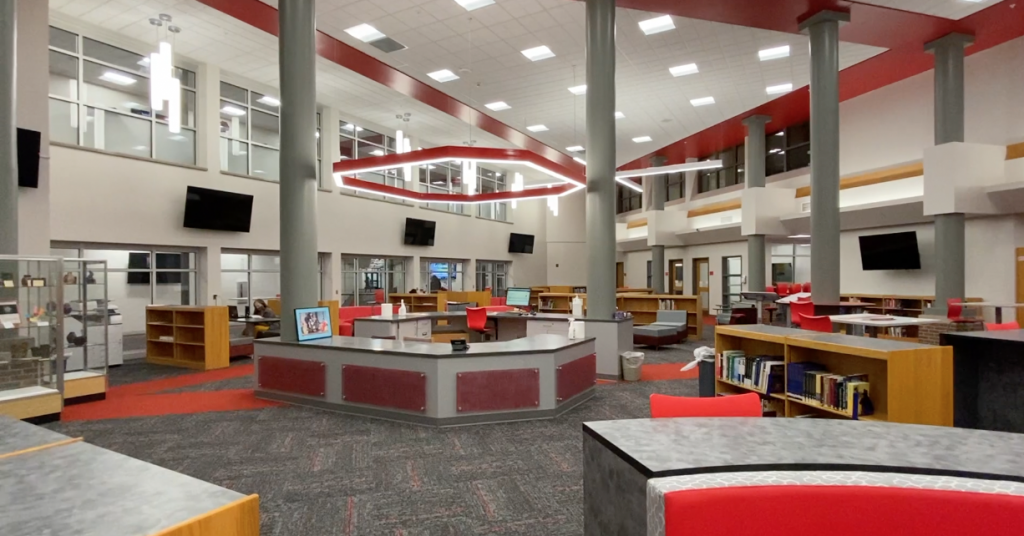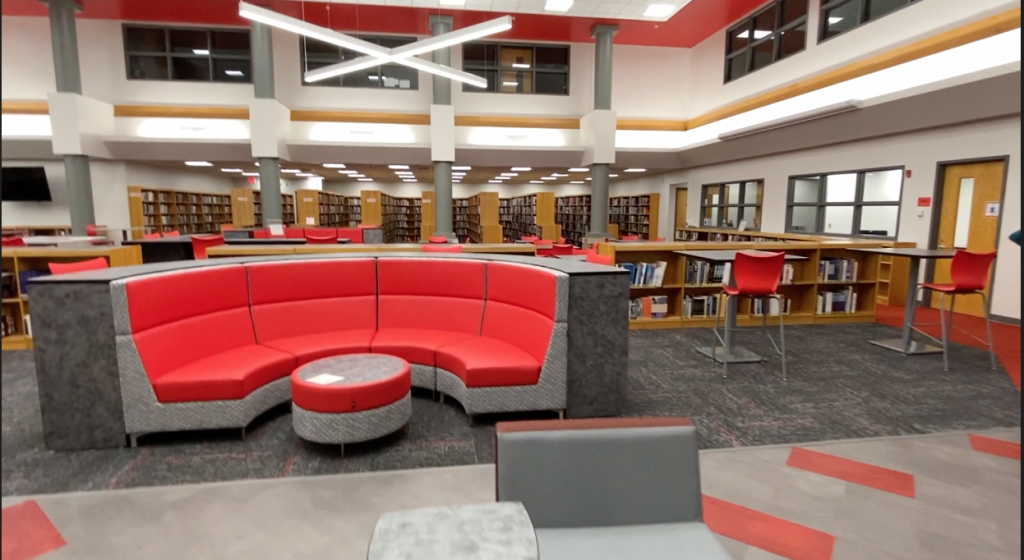 Bathrooms
4 new
Extra-long doors on stalls for more privacy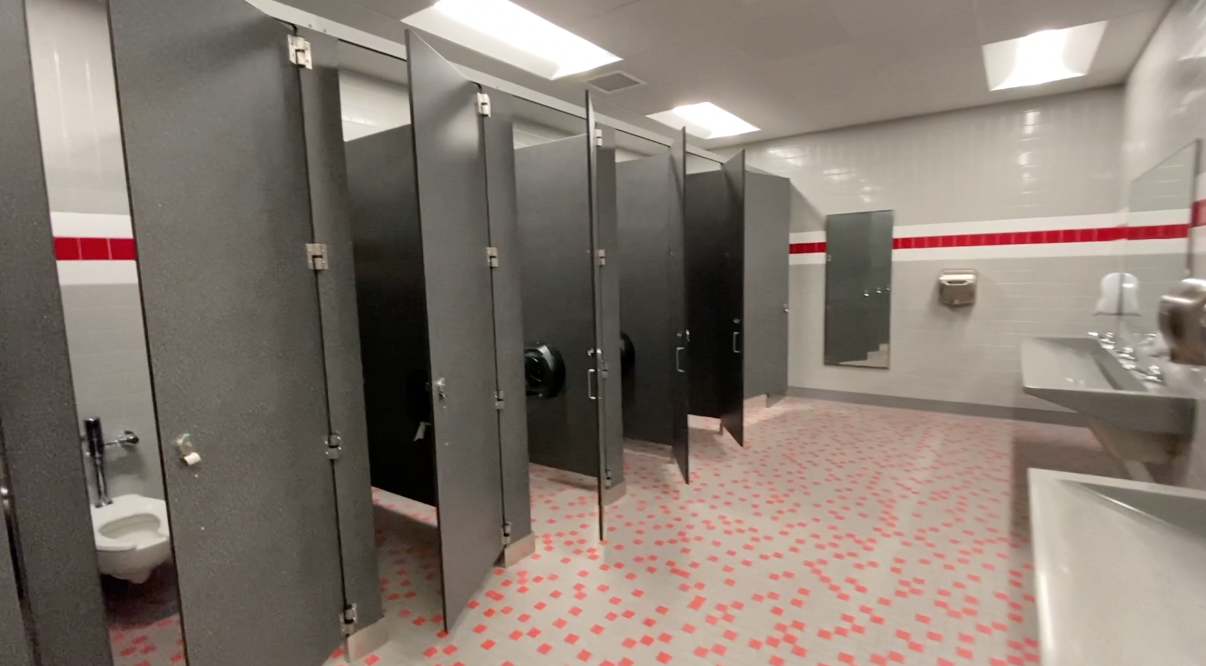 Technology
All classrooms have multiple monitors mounted on the walls.
Promethean boards installed in all classrooms.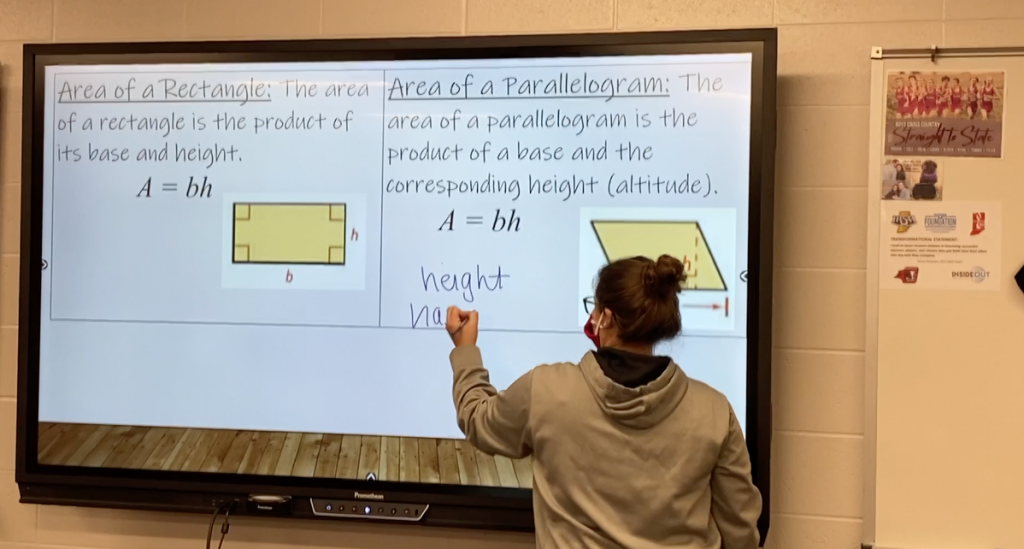 Comments
"I love my Promethean board! Having the touch screen available made my transitions from in-person, to hybrid, to completely virtual so much more manageable. The Promethean board has made it possible to easily let students on zoom simultaneously get the "same" lesson as students in person." – GHS Math Teacher